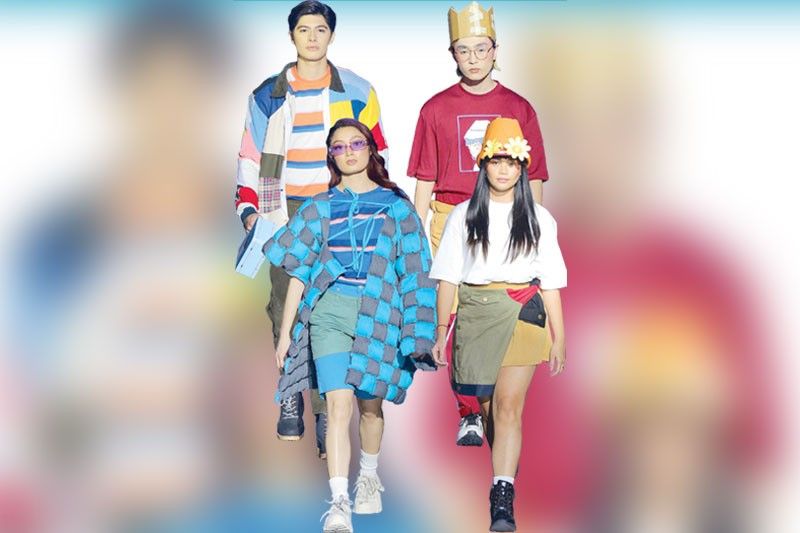 The memories we hold dear and expressive fashion rule Day 1 of the summer edition of Bench Fashion Week.
For friendship: Human X Trnz
Fresh off the success of collaborations with hit TV shows Stranger Things and Manga for their tee offerings, Human taps the visual artist TRNZ (Terence).
Terence was immersed in the Japanese anime series airing daily on local television as a teen, which influenced his art. The Good Friend Circle collection, he shares, "nods to the apparent tragedies brought about by the Internet era and the quintessence of having a few true friends in this day and age."
Presented as if we were seeing young characters walk out of a storybook or television set, each look was somewhat cohesive with the others in its funky, playful way — as if each model represented a personality that translated through even unusual elements and placements, with a unique story to share.
Mahal kita: Secret Fresh
Christian Robert "Bigboy" Cheng is an influential figure in the rise of contemporary street art, fashion, design, and pop culture in the Philippines through his collective brand Secret Fresh. He walks the talk with his personal, ultra-rare niche collection of sneakers and streetwear. In Secret Fresh's fashion line, he weaves the impact of street art and the craftsmanship of fashion.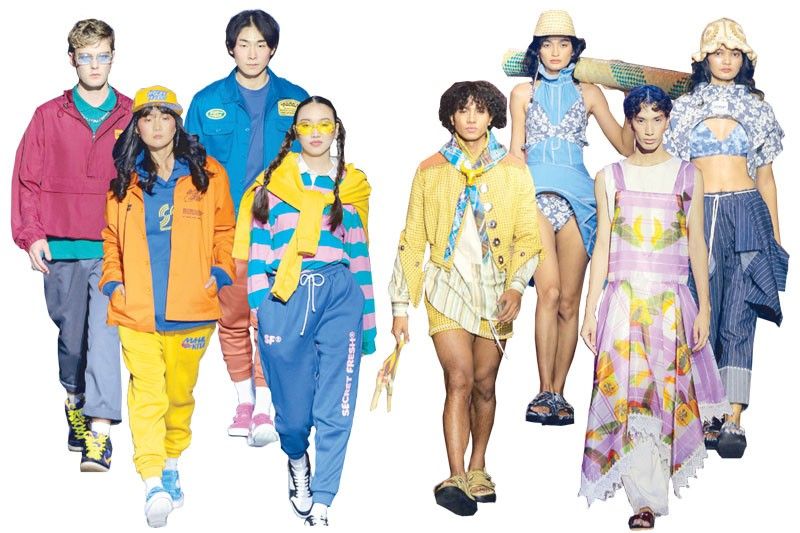 In this new collection, there was a play of very bold colors; one might say that the component combinations could translate into a sneaker, even. Each look had layers that might seem simple and direct, but put together you see the expression of one's creativity to mix and match loud components that can definitely make a statement. Some pieces can even transcend the younger generations and some pieces can even be played around with at any age. It's fun and a statement, yet inclusive for everyone.
A personal odyssey: Jaggy Glarino
Closing the first day of BFW S/S 23 was a modern Filipiniana extravaganza collection by Jaggy Glarino called "Core Memory."
"It is a personal odyssey through my childhood core memories: our humble cafeteria (karinderya) as my playground; growing up observing my grandmother weave buri mats (banig) and crochet pillow covers; and playing dress-up with my sister using our printed cotton linen and curtains," shares the designer and Ternocon alum on his BFW return.
Glarino's playful combination of elements and prints embedded in daily Filipino life call to mind summer days in the provincial beaches and farms of the Philippines yet executed in contemporary, unconventionally sexy and confident cuts that can be pictured in music and art festivals or summer trips around the world. You definitely see several international influences in the shapes and fabric choices that blend into a new perspective and entice beyond just the local market. It was a treat to cap off day one with his nostalgic prints and cheeky designs.
The filipina to the world
Day 2 is all about tailored silhouettes and the intricate details and lively fabrics made for seeing the world.
Simoun says: Bon Hansen
Designer Bon Hansen Reyes, known for menswear brand Hansen, started off Saturday with his "Simoun Collection." He shares that it's one that is heavily inspired by Jose Rizal's El Filibusterismo, demonstrated through cuts that are unusual for one's everyday look. The dramatic effect of the tailoring does take you back into the past era of Filipino mischief and mayhem with a more modern styling that one can take notes from. Some pieces can be utilized to add funk to corporate everyday. Hansen shares, "Through Simoun, I wanted to remind everyone never to submit to what society dictates and encourage them to be more expressive and assertive."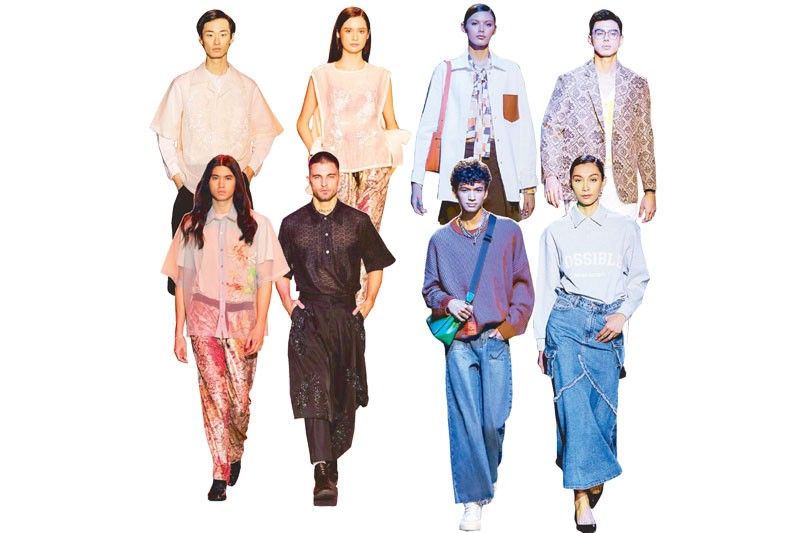 Special dedication: Ched Studio
Christian Dalogaog is the current creative director for CHED Studio with experience and notable features from all over the world. The "Greatest Hits Collection" showed guests a playful mix of modern Filipiniana and barong looks with colorful stitching, uniquely paired with sequin ensembles from skirts, dresses, and tops. It's a fun take and inspiration on how we can pair pieces we already have in our wardrobe with his unique piña garments. The design studio shares that the ensembles presented are a "love letter to our friends and loyal patrons. The collection is our statement that while we are going through tough times, we are always grateful."
City Glam: Urban Revivo
Urban Revivo's collection with sleek silhouettes can elevate everyday wear. These looks are perfect for days that you're on the go, as the looks can keep you looking quite stylish during meetings, while it can also translate through the night to dinner and drinks. You see a blend of corporate chic that can double as streetwear as well for those who live in the city. Comfort is a key word, seen in some of these pieces, and it's easy for anyone to dabble with mixing and matching for any occasion, from essential daily wear to travel-ready ensembles.
Jetset: Kashieca X Rhett Eala
Renowned Filipino designer Rhett Eala has created several pieces presented across runways, beauty pageants, and societal gatherings. For the final show of BFW's Day 2, Eala's collaboration with Suyen Corporation's womenswear brand Kashieca gives us a breath of fresh air and a bit of excitement for the summer season that is upon us: lots of prints with blends of neutral tones, along with safari-like hues such as nudes and olive green.
Eala chose cool tones for the summer with cuts that are perfect for upcoming travels. You'll also find playful sleeves that work with the assortment of hat sizes and shapes, which hopefully one can find in Kashieca stores as well. These classy, clean looks with intricate details for the modern Filipina emulate elegance and sophistication with the shapes and fabric, all while complementing a woman's figure despite some demure cuts. Rhett's collaboration with Kashieca is an ode to his beginnings as a designer — a poignant recall of his early relations with ready-to-wear.
*****
Credit belongs to : www.philstar.com