Do we have enough time?
Hmmm, I don't think so, I told Maymay Entrata and Edward Barber (a.k.a. MayWard). Twelve minutes on Zoom may not be enough for them to retrace their fruitful journey from 2016 when they "graduated" from the PBB (Pinoy Big Brother) Lucky Season 7, she as champ and he fourth placer. To summarize, so many things have happened to them, radically changing their lives. They made movies, did TV shows, traveled the world (Maymay even scored as the first Filipina to walk in the Arab Fashion Week).
Like Pia Wurtzbach, Marydale "Maymay" Entrata, 23, succeeded in breaking into PBB only on her third try (the first was for Teen Clash 2010 edition when she was 14 and the second in 2015 for the 737 edition in 2015). The Camiguin native was raised by her grandparents in Cagayan de Oro when their mom left to work in Japan (their dad left them when Maymay, a Technology Communication Management undergraduate from the Mindanao University of Science & Technology, was one year old).
Edward John Abellera Barber, 20 (July 15, 2000), was born in Heidelberg, Germany to British-German entrepreneur Kevin Barber and Filipina mom Cathy Abellera. He studied at the European School where he discovered his interest in acting. His favorite subject is English and is fond of reading and writing. He would have pursued a course in film, literature and psychology but opted to join PBB.
MayWard is starring in the Star Cinema rom-com Princess DayaReese in which she plays dual roles, as Princess Ulap, the runaway princess from Oro Kingdom and Reese, who dreams of living like a princess and who agrees to the witch for money. Something like, you know, The Prince and the Pauper with a twist. Edward plays Caleb, a journalist in search of the truth about the secrets of the kingdom. Thus, starts the fight between the "liar" (Reese, the daya [fake] princess) and the truth-seeker (Caleb). Shot for 36 lock-in days in various places (Bulacan, Bataan and Alabang), the movie reunites MayWard with Barry Gonzalez who directed them in the 2018 Metro Manila Film Festival (MMFF) entry Fantastica.
Which of the two characters is Maymay?
"Both. Reese is open, loud and medyo materialistic while Ulap is mahinhin and would sacrifice everything for love na kahit alam niyang mali gagawin at gagawin pa rin niya. Like Reese, I would do anything for my family as a breadwinner hangga't tama."
And Edward?
"Like Caleb, I would pull all the tricks to find the truth."
Unlike other young loveteams who would pretend that there is "something" between them when actually there is nothing, Maymay and Edward claimed that they are happy where they are.
Said Edward, "We are happy with our friendship; we don't need to push it beyond that. We understand each other perfectly."
Seconded Maymay, "I agree."
As friends, they do confide in each other but to a certain extent.
"There are things that I'd rather not share with her," explained Edward, "like family problems since Maymay is not that close to my family. No need to burden her with issues concerning my family. But on the set, she's my anchor. Sometimes as an actor, you are physically in a situation but your mind is actually flying, somewhere else, and Maymay has a way of bringing me down to earth."
"What I like about Edward is his being there anytime you need him," shared Maymay. "Kapag humingi ka ng tulong, andyan siya agad-agad. He's like that to people close to him, not only to me. Also, he is a fast learner. And humble. When he realizes that he has offended somebody, no matter how small the issue is, he is quick to say sorry. Nire-respeto din niya ang space ko."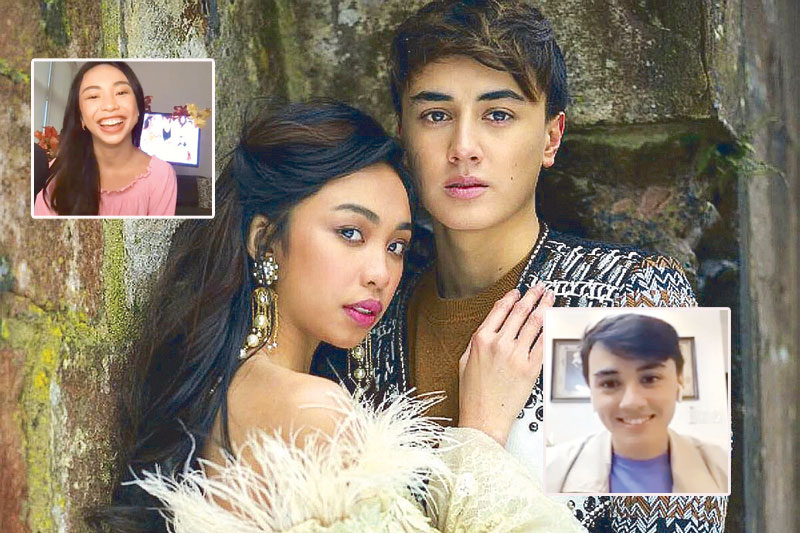 Maymay and Edward in a fairy-tale scene from Star Cinema's Princess DayaReese which starts streaming today (Jan. 1) in various platforms (check end of this story). Above (left) and above (right), during an engaging Zoom interview with Funfare.
It helps that they are both Christian.
Added Edward, "Her faith has unlocked and enabled me to do so many things and I find it very inspirational. It challenges me to improve myself. It's one of the things that I don't find in many people…the challenge to make myself a better person."
They also share the idea of what love is.
Maymay: "Love is sacrifice. Kapag nagmahal ako, lahat ibibigay ko. We do that if we love a person, don't we? God is love, isn't He? He sacrificed His son (Jesus Christ) to save us (mankind). In interviews, I've been saying that I would die for love; kaya kong mamatay para sa minamahal ko. But," she qualified, "hindi lahat dapat mong i-sacrifice. You must know if it's really worth sacrificing for."
Edward: "I'm the same with Maymay when it comes to my faith. As a passage (verse) in the Bible says, referring specifically to men, I believe they are leaders of their own household and they should be willing to do what Christ did for the Church, He died for it."
And would he, like Maymay, sacrifice everything for love?
"Yes," said Edward, "for the one that I love, yes, I'm ready to sacrifice. Again, there are things worth sacrificing for and some things you need to figure out if they are worth it. But for my family, yes, anytime."
They are both single (and available?). If ever, what kind of guy/girl would catch their fancy?
Maymay: "Somebody who is honest, responsible and mature."
Edward: "Somebody who is respectful, faithful (not only just to me but also to God) and wise."
(Note: Princess DayaReese is streaming starting today, Jan. 1, on iWant TFC, TFC IPTV, Cignal Pay-Per-View and SKY Pay-Per-View, for only P150.)
(E-mail reactions at rickylophilstar@gmail.com. For more updates, photos and videos, visit www.philstar.com/funfare or follow me on Instagram @therealrickylo.)
Credits belong to : www.philstar.com