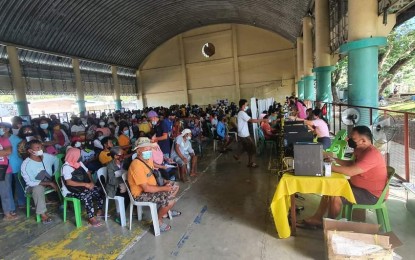 SAN JOSE DE BUENAVISTA, Antique – Around PHP165.6 million cash assistance has been released by the Department of Agriculture (DA) to 33,118 farmer-beneficiaries to purchase needed rice seeds, fertilizers, and other farm chemicals.
Sonie Guanco, DA Agricultural Program Coordinating Office (APCO) officer-in-charge here, said in an interview Tuesday that each of the recipients received PHP5,000 during the March 14 to 30 payout. There were 34,333 targeted recipient farmers in the province.
The assistance to recipients, or rice farmers tilling two hectares and below, is provided under Republic Act 11203 or the Rice Tariffication Law (RTL).
"The Municipality of Sibalom has the most number of farmer-beneficiaries with 4,377," he said.
The other farmer-beneficiaries were from the towns of Anini-y with 992; Barbaza, 2,131; Belison, 776; Bugasong, 1,885; Caluya, 198; Culasi, 1,900; Hamtic, 2,466; Laua-an, 2,492; Libertad, 350; Pandan, 1,103; Patnongon, 3,425; San Jose de Buenavista, 956; San Remigio, 2,905; Sebaste, 1,074; Tibiao, 1,078; Tobias Fornier, 2,940; and Valderrama, 2,070.
Guanco said the remaining 1,215 farmers were unable to receive the assistance for various reasons such as transfer of residence, already deceased, or abroad working as overseas Filipino workers (OFWs).
"I am not yet sure if those qualified and not able to receive their assistance could still get it after the May 2022 election," he said.
Guanco is still waiting for instruction from the DA Regional Office in Western Visayas on the unclaimed assistance amounting to more than PHP6 million. (PNA)
*****
Credit belongs to : www.pna.gov.ph