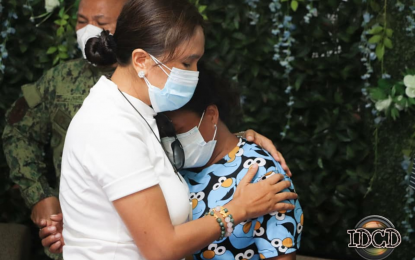 KIDAPAWAN CITY – Local officials here have offered a PHP200,000 bounty for anyone who can provide information on the identities and eventual arrest of the perpetrators in the burning of the Yellow Bus Line (YBL) unit in M'lang, North Cotabato.
Mayor Russel Abonado of M'lang and North Cotabato Governor Nancy Catamco each offered PHP100,000 for the arrest of at least three still unidentified arsonists who carried out the torching of the YBL unit with 10 passengers along the national highway in Barangay Bialong at 4 p.m. Thursday.
"We will not stop until the perpetrators are behind bars and justice is given to the victims of this heinous crime," Abonado told reporters.
Catamco has condemned the attack and directed the provincial police to conduct a thorough investigation "to achieve justice to the victims of this unacceptable criminal act." She provided financial assistance to relatives of those who died in the attack.
One of the passengers claimed that the bus was at a full stop as the bus inspector was about to get off along Bialong village when two men quickly boarded and had an altercation with the bus conductor.
The passenger, who asked that she be named only as 'Cecile' for security reasons, said the man ordered all 10 passengers to proceed to the rear portion of the bus.
"Move toward the back for I will set you all on fire," she quoted the man as saying while splashing what looked like gasoline into the bus seats.
She said one of the two arsonists lit a lighter and tossed it to the seats, causing a blaze inside the bus.
Thereafter, she said the two men quickly jumped off the bus and sped off onboard a waiting motorcycle driven by a third accomplice.
Cecile said the bus personnel quickly smashed the glass window to allow passengers to escape as the fire has already engulfed the inside of the bus.
"We hurriedly leaped through the window but three of our companions failed to make it, there's no way to save them as flames were already big," recalled Cecile, who sustained bruises and minor injuries.
No group has claimed responsibility for the attack. In the past, the Koronadal City-based YBL has been receiving extortion demands from several extortion groups asking for "protection money". (PNA)
*****
Credit belongs to : www.pna.gov.ph