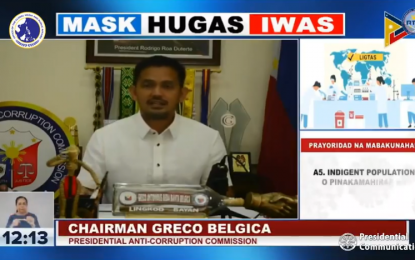 MANILA – The Presidential Anti-Corruption Commission (PACC) on Wednesday vowed to fulfill President Rodrigo Duterte's resolve to be relentless in the fight against corruption.
Newly-installed PACC chairman Greco Belgica made the vow, as he acknowledged that Duterte is set to step down from office in June next year.
"Kayang-kaya po natin iyan labanan at pigilan (We can fight and stop that [corruption])," Belgica said during the "Laging Handa" program.
The PACC has launched "Tokhang Laban sa Corruption" campaign to step up the government's efforts to stop irregularities in all state departments and offices.
The new program aims to enjoin all government officials to participate in the anti-corruption efforts.
Belgica admitted that achieving "zero corruption" is a big challenge.
He, however, said public cooperation would make it easier for the government to go after corrupt public servants.
He also cautioned erring government workers that they would face charges before the Office of the Ombudsman.
"Hinihikayat natin ang taumbayan at mamamayan na tumulong, dahil as long as people are there standing up against evil, hindi po ito mananalo completely (We are encouraging our fellow Filipinos to help the government because as long as people are there standing up against evil, this [corruption] will not win completely)," Belgica said.
Belgica said his office is also drafting legislative proposal and recommendations that will be transmitted to the Office of the President to intensify the government's anti-corruption drive.
On March 24, Duterte said he is pleased by the PACC's efforts to clean up the bureaucracy.
Under Executive Order 43 inked by Duterte on Oct. 4, 2017, the PACC is created to serve as the agency mandated to eliminate all forms of corruption in the Executive Department in close coordination with various government and law enforcement agencies.
The PACC investigates and gathers evidence for referral to the Ombudsman against public officials accused of corruption.
It has established fact-finding investigations on cases, lifestyle checks for government employees and the creation of special investigating panels to curb corruption within the government.
Led by Belgica, the PACC on Tuesday witnessed the signing of a manifesto against corruption by the officials of the Bureau of Customs led by Commissioner Rey Guerrero. (PNA)
*****
Credit belongs to : www.pna.gov.ph