Palace urges travelers from South Africa to report to authorities, undergo COVID-19 testing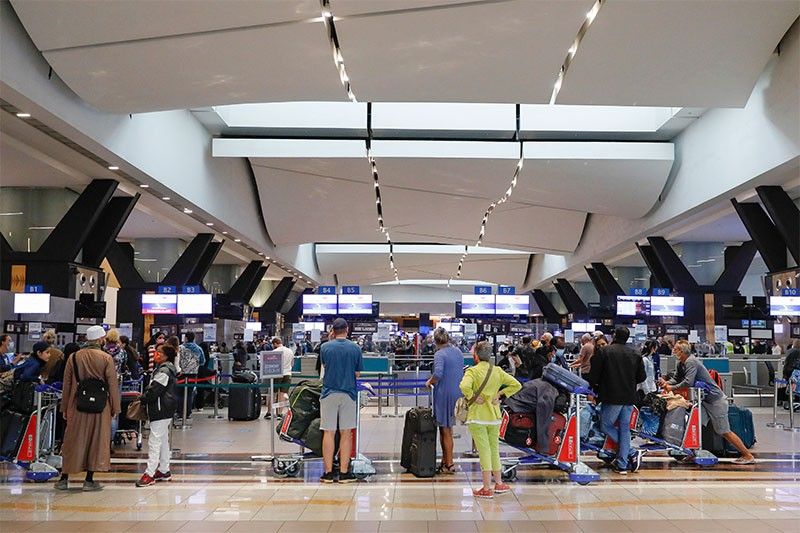 MANILA, Philippines — Malacañang on Wednesday urged the unlocated travelers from South Africa who arrived last month to report to authorities, noting that the giving of false information during a public health emergency is punishable by the law.
The government is still looking for seven travelers from South Africa who entered the country from November 15 to 29 as a precautionary measure against the Omicron variant. Some of the travelers provided incomplete or incorrect contact numbers while others were unresponsive, according to the health department.
Acting presidential spokesman Karlo Nograles noted that the Mandatory Reporting of Notifiable Diseases and Health Events of Public Health Concern Act enumerates penalties for anyone who gives false information during a public health emergency.
"First and foremost, I do not want to scare them. Whoever you are, please come immediately and report yourselves, submit yourselves for testing immediately and report yourselves immediately to authorities. We're not scaring you; we want your cooperation," Nograles told CNN Philippines.
"I will leave it to our law enforcement agencies or our prosecutors to investigate. So it (imposition of punishment) will not be immediate. We will investigate first, we'll have to ask them also. They'll have to ask them questions," he added.
Nograles, also the spokesman of the government's pandemic task force, clarified that the filing of cases against those who provided inaccurate information is the "last resort."
Among the prohibited acts under the law are non-cooperation of persons and entities that should report or respond to notifiable diseases or health events of public concern; and non-cooperation of persons or entities identified as having the notifiable disease or affected by the health event of public concern.
Any person or entity found to have violated the law shall be penalized with a fine ranging from P20,000 to P50,000 or imprisonment of not less than one month but not more than six months, or both depending on the decision of the court.
The Professional Regulation Commission has the authority to suspend or revoke the license to practice of any medical professional who violated the law. The Civil Service Commission may also suspend or revoke the civil service eligibility of a public servant who committed any of the violations mentioned in the law.
If the offense is committed by a public or private health facility, institution, agency, corporation, school or any juridical entity, the chief executive officer, president, general manager or officer-in-charge shall be held liable. The business permit and license to operate of the erring facility, institution, agency, corporation, school, or legal entity shall also be canceled.
Nograles said the government is ramping up its vaccination drive to protect Filipinos from Omicron and other COVID-19 variants.
"Because this Omicron variant… will not be the last variant of COVID-19. So we will just have to live with this virus and hopefully we will all be able to defeat it by everybody getting vaccinated and everyone just following the minimum public health standards especially this December, during Christmas time," he said.
The Philippine government banned inbound flights from South Africa, Botswana, Namibia, Zimbabwe, Lesotho, Eswatini, Mozambique, Austria, Czech Republic, Hungary, The Netherlands, Switzerland, Belgium, and Italy from Nov. 28 until Dec. 15 to prevent the entry of the Omicron variant. Filipinos coming from these countries may enter the Philippines but they can only do so through government or non-government-initiated repatriation and bayanihan flights.
As It Happens
LATEST UPDATE: December 8, 2021 – 9:15am
Follow this page for updates on the new COVID-19 variant, dubbed Omicron and originally detected in South Africa. Photo courtesy of the The STAR/Miguel de Guzman
December 8, 2021 – 9:15am
There is no indication that Omicron causes more severe disease than previous Covid variants, and existing vaccines should protect people who contract it against the worst outcomes of the disease, a top WHO official tells AFP Tuesday.
"We have highly effective vaccines that have proved effective against all the variants so far, in terms of severe disease and hospitalisation, and there's no reason to expect that it wouldn't be so" for Omicron, Michael Ryan, the World Health Organization's emergencies director, tells AFP in an interview, stressing that more research was needed. — AFP
December 6, 2021 – 10:50pm
Russia has registered its first two cases of the new Omicron variant of the coronavirus in its nationals returning from South Africa — where the variant was first detected — the country's health agency says on Monday.
"Two citizens who returned to Russia from South Africa have been diagnosed with the Omicron coronavirus strain," the Rospotrebnadzor health agency says in a statement.
The agency says that all Russians returning from South Africa and its neighbouring countries are tested at the border and placed in special observatories. — AFP
December 6, 2021 – 7:35pm
South African President Cyril Ramaphosa on Monday urges citizens to get vaccinated as the country battles an unprecedented surge in cases driven by the new Omicron variant.
The number of daily infections rose five-fold in the space of a week, from 2,828 on November 26 to 16,055 last Friday.
About a quarter of tests for coronavirus have been positive, compared to just around two percent of those tested a fortnight ago.
"We are experiencing a rate of infections that we have not seen since the pandemic started," Ramaphosa warns in his weekly newsletter. — AFP
December 4, 2021 – 4:07pm
The new Omicron variant of COVID-19 could slow the global economic recovery, just as the Delta strain did, IMF chief Kristalina Georgieva says.
"A new variant that may spread very rapidly can dent confidence and in that sense, we are likely to see some downgrades of our October projections for global growth," she says at a Reuters event.
In its most recent World Economic Outlook, the fund projected global growth of 5.9% this year and 4.9 percent in 2022, but the United States and other major economies suffered sharp downward revisions after the spread of the Delta variant "caused some friction," Georgieva says. — AFP
December 4, 2021 – 9:03am
The emergence of the Omicron variant of the coronavirus is the "ultimate evidence" of the danger of unequal vaccination rates around the world, the head of the Red Cross says.
In an interview with AFP during a visit to Moscow, Francesco Rocca, the president of the International Federation of Red Cross and Red Crescent Societies, also raises concerns about the politicization of migrants and for the plight of civilians in Afghanistan as winter approaches.
Asked about the global approach to vaccinations, the head of one of the world's largest humanitarian groups say more needed to be done to fight rampant vaccine inequality.
*****
Credit belongs to : www.philstar.ca