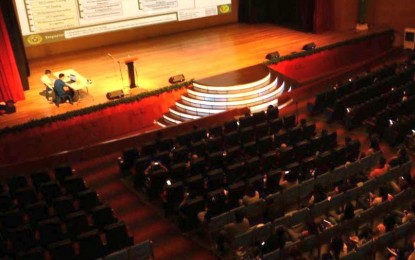 MANILA – In preparation for the mass rollout of the nationwide coronavirus disease 2019 (Covid-19) vaccination program, the Pasig City government through the Department of Health (DOH), has started the comprehensive training of the city's vaccinators on the Covid-19 vaccine deployment, facilitation, and inoculation plan.
"This is a crucial step as we prepare to be the first LGU [local government unit] to implement the DOH's Covid19 Vaccination System. As soon as vaccines arrive, we'll be ready," Mayor Vico Sotto said in a social media post on Friday.
Sotto cited the importance of providing comprehensive training and competency assessment for the Covid-19 vaccinators.
It would be better for the local government to become equipped and ready to mobilize once the Covid-19 vaccines arrive in the country, he said.
While he noted that no one knows when the vaccines become available, Sotto said the city government should be prepared to facilitate the inoculation of its residents and keep them safe from further risks of Covid-19 infections.
Sotto said the city-wide vaccination program will depend on the Food and Drug Administration's (FDA) approval of the candidate vaccines, the promulgation of DOH guidelines, and the availability of the supplies.
Sotto earlier said that the city government has allotted funds amounting to at least PHP300 million in preparation for the city-wide Covid-19 vaccination program.
The city government, he added, is currently coordinating with the DOH and the Inter-Agency Task Force for the Management of Emerging Infectious Diseases (IATF) as well as the Metro Manila Council to prepare the needed logistics for the Covid-19 inoculation program.
Sotto said the city government will prioritize to vaccinate medical and healthcare front-liners to further provide better services to Covid-19 patients.
It will be followed by the vulnerable sector such as senior citizens and persons with disabilities (PWDs), he added.
"[Phase 1] medical front-liners first; [Phase 2] senior citizens and persons with disabilities, then we will assess and go from there," he said.
Sotto said planning for the Covid-19 vaccination program will "require a great effort from all stakeholders".
The national government earlier said the country is now in advanced stages of negotiations with Covid-19 vaccine developers as it targets to inoculate 50 to 70 million Filipinos this year. (PNA)
Credit belongs to : www.pna.gov.ph