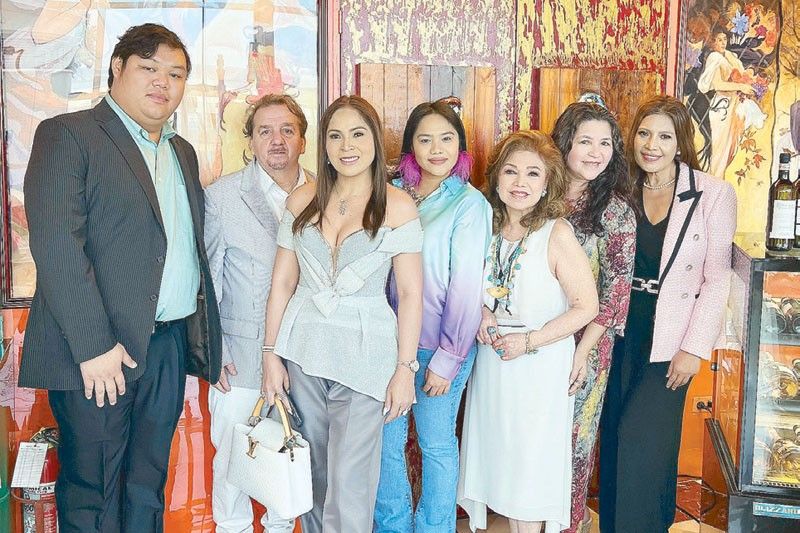 American sports analyst Jimmy Johnson once said: "The difference between ordinary and extraordinary is that little extra."
One unforgettable film entitled Mistral's Daughter written by Judith Kranz features an Italian painter whose passion for his art is enigmatic. The film came to mind when I set foot in Pavarotti Ristorante Italiano, the newest authentic Italian resto in the Coral Wing of Okada Manila. As I immersed myself in the exquisite artwork that surrounded me, the mosaic murals illumined from behind, eye-catching paintings and Murano masterpieces seemed to come alive. Here, I had the privilege to meet Marcoroberto Ascione, a Venetian painter, artist and merchant. He is one of the owners of this new restaurant, his many talents and passions catapulting the way to this brilliant endeavor.
From the outside, the Pavarotti enclave looks like a nondescript kiosk with wine selections, but as you walk into the eclectic doors, you are mesmerized like Alice in Wonderland. What captures your senses is a dramatic, dimly lit club setting where the walls are adorned with unique art pieces, an eclectic bar and an open kitchen, highlighting the cooking of several chefs, led by the talented Italian chef Gino Amodio.
Five years ago, Pavarotti Restaurant started as a small kiosk in Okada Manila. Named after the iconic tenor Luciano Pavarotti, this integrated space is an ode to his appreciation for the best things in life. The owners had the idea to cater to inside casino players in the kitchen area. However, when Okada offered them a space in the Coral Wing kiosk, they decided to go big with their concept of a dramatic, artsy restaurant with enchanting music.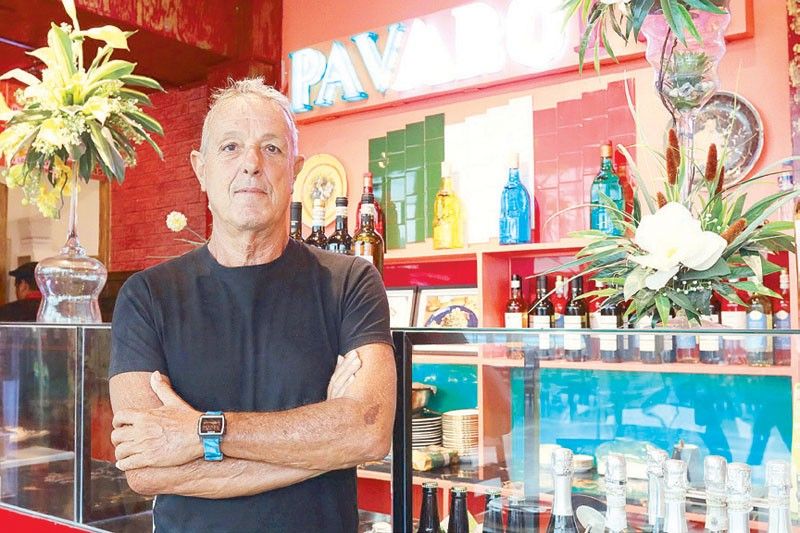 Chef Gino Amodio: Pavarotti's Italian consultant chef in front of the expansive bar with several wine, cocktail and mocktail choices
The cuisine at Pavarotti can be described as gustatory poetry. The menu features classic Italian dishes such as risotto, pasta, Chicken Milanese, Braciola di Maiali, all made with the freshest ingredients. The Pasta Amatriciana with the rich smokiness of guanciale transported me back to the bistros in Rome.
The Lasagna Bolognese is a crowd pleaser with the right blend of beef and freshly made sheets of pasta layered with a creamy sauce. Simply divine. Savor their main entrees like the Cotolleta di Pollo with peperonata and Involtini di Pollo which is served with a gorgonzola fondue. Our table was pleased with the Salmone in Aqua Pazza, a silky salmon fillet simmered in white wine and the freshest cherry tomatoes. Dining at Pavarotti would not be complete without sampling their Bistecca ai Ferri, perfectly paired with any red from their extensive wine selection.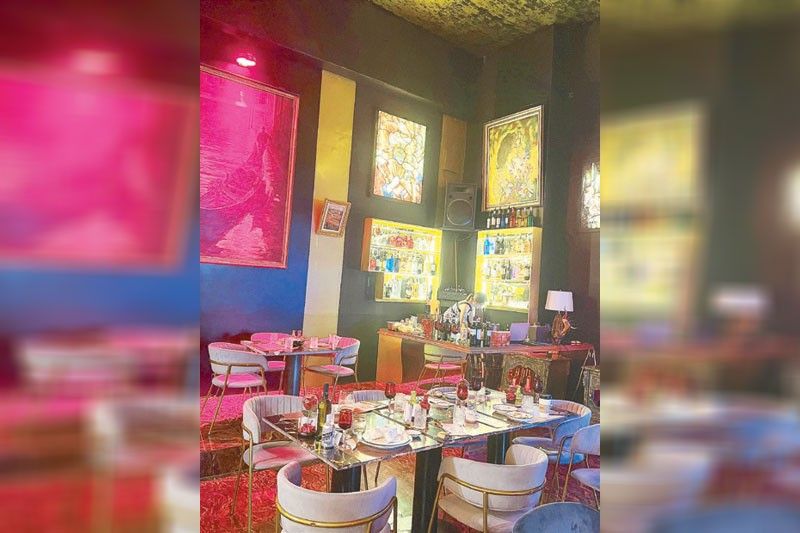 Pavarotti Restaurant in in front of the fountain Okada Manila
LORNA LLANES and JOSE MELARA
My dear friends Riza Asa and Mel Martinez both enjoyed listening to classic Italian love songs. While Volare and Besame Mucho were playing in the background, it felt as though we were in the heart of Italy where romance fills the air, delicious food satisfies the appetite and heartwarming music tames the heart.
Another highlight of the festive afternoon was when the freshly cooked pasta and pizza was served for all to appreciate: the perfectly crusted pizzas topped abundantly with full-flavored cheese, fresh roasted vegetables and handpicked juicy tomatoes. Every ingredient is carefully selected to ensure that every dish is bursting with flavor and texture.
For a sweet ending to your dining experience at Pavarotti, be sure to indulge in their Honey-Crunchy dessert. This delectable treat is a fusion of flavors and textures, consisting of layers of caramel, sponge cake and honey crunch. Unlike overly sweet desserts, the Honey-Crunchy strikes the perfect balance, leaving a delightful taste in your mouth. Pavarotti's Italian Cheesecake uses a unique cheese blend that creates a light and airy texture. It's the perfect way to end your meal on a high note and add a touch of sweetness to your day.
The heart and soul of any successful establishment lies in the people behind it, and Pavarotti is no exception. Among the driving forces behind this exquisite haven of art, food and music are the brilliant and accomplished Pavarotti partners Jessie Maloles, Marcoroberto Ascione, Olah Gray Padilla Brady and Ralston Austin Dy.
With such brilliant and successful leaders and investors at the helm, it's no wonder that we can anticipate even more exciting events and endeavors to come from Pavarotti.
Great things come in wonderful packages. There may be restaurants serving authentic Italian food, museums that showcase magnificent art, and places that feature classical and romantic music — but these three amazing treats are rarely found in one haven. In Pavarotti Ristorante Italiano, the newly opened Italian spot in front of the fountain in the Coral Wing of Okada Manila, all these complement one another seamlessly.
All of a sudden, the ordinary is transformed into the extraordinary and that extra is… Pavarotti.
* * *
For reservations at Pavarotti, call Olah Brady +63 927 294 8517.
*****
Credit belongs to : www.philstar.com