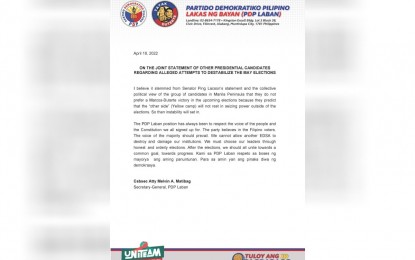 MANILA – The ruling Partido Demokratiko Pilipino–Lakas ng Bayan (PDP-Laban) called for unity even after the May 9 national and local elections.
On Monday, PDP secretary-general Melvin Matibag responded to the joint statement of other presidential candidates regarding "alleged attempts to destabilize" the poll day.
"I believe it stemmed from Senator Ping Lacson's statement and the collective political view of the group of candidates in Manila Peninsula that they do not prefer a Marcos-Duterte victory in the upcoming elections because they predict the other side (Yellow camp) will not rest in seizing power outside of the elections. So then instability will set in," Matibag said in a statement.
The PDP-Laban, he added, will remain respectful of the voice of the people and the Constitution "we all signed up for."
"The party believes in the Filipino voters. The voice of the majority should prevail. We cannot allow another EDSA to destroy and damage our institutions. We must choose our leaders through honest and orderly elections," Matibag said.
Respecting the voice of the people is the main purpose of democracy, he added.
"After elections, we should all unite towards a common goal, towards progress," he said. (PNA)
*****
Credit belongs to : www.pna.gov.ph