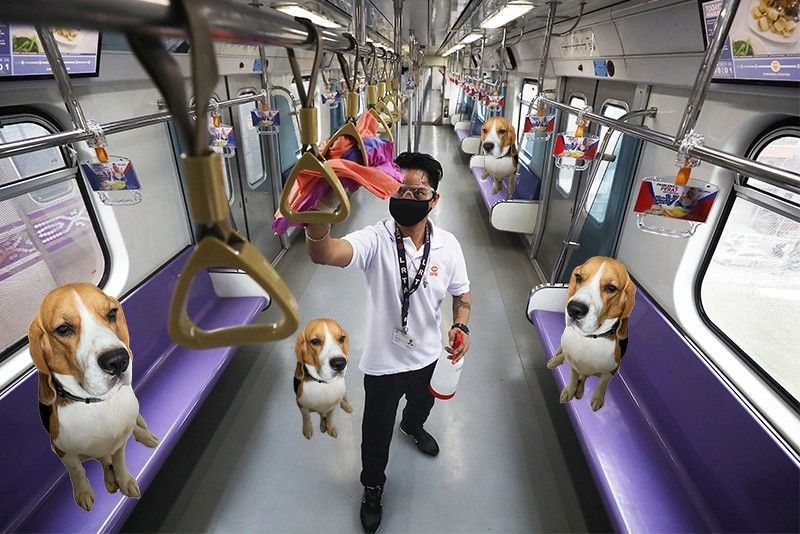 MANILA, Philippines — "Hoomans" will finally be allowed to bring their pets to LRT-2 come February 1 as long as the latter are in cages, diapers and are not too "big".
Specifics regarding size prohibition are still left unclear.
Light Rail Transit Authority (LRTA) administrator Hernando Cabrera on Thursday announced the shift to a more pet-friendly policy after the MRT-3 implemented the it in 2021.
"The usual guidelines in pet-friendly establishments, that will be the same set of policies we'll implement," said Cabrera in Filipino in a Laging Handa briefing Thursday, highlighting the need for pets to be confined in cages.
"They must be in cages since we might encounter operational problems with leashed animals when they get to the train or station. That's why it's better if they're in a cage."
The LRTA management earlier hinted about the relaxation of policies when it comes to pets last Wednesday, showing a cat and a dog tilting their heads
May mga bago tayong pasahero sa LRT-2!????‍??????‍??????

Abangan… pic.twitter.com/IUxBS0l4nZ

— LRT2 (@OfficialLRTA) January 25, 2023
A pet too big for LRT-2?
Owners bringing their pets are required to abide by the following before boarding the trains next week:
full vaccination of pets
confined to a proper cage to avoid bothering other passengers
must be clean and wearing diapers
must have a "certain size" and cannot be too big
Cabrera did not specify exactly what constitutes a prohibitted "big" pet though, with no mention of a specific breed, height, length, width or weight permissible.
"We may run into some problems with huge pets… it may be difficult for them to enter the train. We all know what sometimes it gets too crammed inside," the LRTA official said.
Cabrera added that they purposely chose February 1 as the start of its implementation so there would be enough time to brief their security personnel about the new policy and for its operations to run smooth.
'LRT-1 hopefully follows suit'
The government-owned public transport operator said that confusion regarding the new policy is expected for the first week. However, they insist to implement it already and adjust depending on the problems that would arise later.
"Our only objective here is to make our system more friendly," he said. "This is only applicable in line 2. I know that the MRT-3 implemented the same policy years ago. There's still no word for [LRT] line 1. Eventually maybe we could involve the private operator of line 1 to have the same policy."
While the Department of Transportation owns the LRT-1 through the LRTA, the Light Rail Manila Corp. operates the said line following its privatization.
All of this is happening amid a fare hike being proposed for LRT-1 and LRT-2, a petition already approved by the Land Transportation Franchising and Regulatory Board. This should still be approved by the DOTr and other government agencies. Groups have challenged the said move due to a "lack of public consultation."
*****
Credit belongs to : www.philstar.com