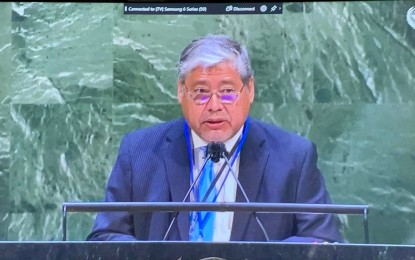 MANILA – The Philippines has been elected as one of the vice presidents of the upcoming 76th Session of the United Nations General Assembly (UNGA), the Department of Foreign Affairs (DFA) said Tuesday.
Ambassador Enrique Manalo, the country's permanent representative to the UN, will represent the Philippines at the session from 2021 to 2022.
The election was held on Monday where Bangladesh, Kuwait, and Laos were also elected as vice-presidents to represent the Asia-Pacific Group's (APG) 54-member states.
The APG endorsed the four nations' nomination last May 12 through the so-called silence procedure, a decision-making method to reach an agreement without the need for in-person meetings at the UN headquarters.
"I look forward to working with the President of the General Assembly and representing the Philippines as Vice-President of the 76th Session. Together with the other Vice-Presidents, I will work collaboratively with colleagues to contribute efficiently towards addressing the complex issues the UN faces," Manalo said.
Maldives Foreign Minister Abdullah Shahid, meanwhile, was elected as the session's president.
There are 18 elected vice-presidents also elected across other regions, which include the African Group (AG), the Group of the Latin American and Caribbean States (GRULAC), Western European and Other States Group (WEOG), and the Eastern European Group (EEG).
Established in 1945 under the UN Charter, the General Assembly occupies a central position as the chief deliberative, policymaking, and representative organ of the UN.
Comprised of all 193 Members of the UN, it provides a forum for multilateral discussion of international issues covered by the Charter. It also plays a significant role in the process of standard-setting and the codification of international law. (PNA)
*****
Credit belongs to : www.pna.gov.ph