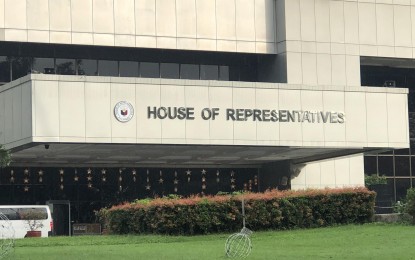 MANILA – The chairman of the House Ways and Means Committee on Tuesday said the government can fund the proposed Bayanihan 3 Act considering that the Philippines still has fiscal space for more government support toward recovery.
Albay Rep. Joey Salceda made the statement following the pronouncement of the International Monetary Fund (IMF) that the Philippines still has fiscal space which it could utilize to support its recovery from the coronavirus-induced economic crisis.
"The IMF's statement shows that we can approve Bayanihan 3 with little adverse consequence on our credit standing. Together with the revenue-generating efforts of the House, we should be alright," Salceda said.
He said Bayanihan 3, particularly its universal basic income component, is crucial while the vaccines have not been administered en masse.
"Ultimately, because we are a consumption-driven economy, when household income goes down, the economy suffers severely. So, our priority is really to support household income with government aid, protect jobs by supporting businesses, and try to stabilize prices so that real income does not suffer," Salceda said.
He said more fiscal support, particularly for vaccination, is also important, adding that vaccination efforts could be funded with more fiscal space.
"There is no way back to the old normal without mass vaccination. And if the funding for vaccine rollout is not there, vaccines procured will go to waste. To waste vaccines in this crisis is an offense to humanity," he said.
He noted that the budget for the vaccine rollout at PHP4 to 5 billion is "totally inadequate" to do mega-vaccination, when the global supply becomes looser after July.
"So, we in Congress will need to have some foresight and prepare fiscal space for vaccine rollout requirements," Salceda said. "I get the impression that the DOH has not simulated the costs of mass vaccination well. That worries me. We need to be ready to authorize more funding."
The proposed Bayanihan 3 earmarks PHP420 billion for the Covid-19 response and recovery interventions grounded on economic inclusivity and collective growth.
The measure allocates PHP108 billion for additional social amelioration to impacted households, PHP100 billion for capacity-building for impacted sectors, PHP52 billion for wage subsidies, PHP70 billion for capacity-building for agricultural producers, PHP30 billion for Internet allowances to students, and PHP30 billion for assistance to displaced workers.
It also states that each household member will receive PHP1,000 regardless of their economic status. On top of this, a PHP1,000 allowance will be distributed to each student and teacher and PHP8,000 for every displaced worker.
It also allots PHP25 billion for Covid-19 treatment and vaccines and PHP5 billion for the rehabilitation of areas impacted by recent floods and typhoons. (PNA)
*****
Credit belongs to : www.pna.gov.ph