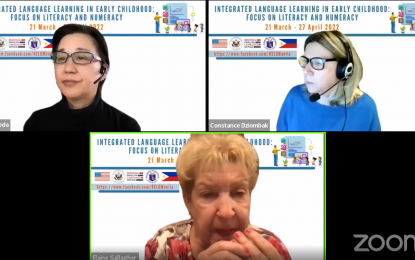 MANILA – To optimize Filipino teachers' competence in securing quality education among learners from kindergarten to Grade 3 (K-3), the Department of Education (DepEd) and the Regional English Language Office Manila have started their six-week webinar series on Monday.
The online series is expected to set its focus on literacy and numeracy, subdivided into three clusters in Luzon, Visayas, and Mindanao until April 27.
In a webinar livestreamed on Facebook, three American English Language Specialists shared effective approaches to ensure the learners' ability to speak, read, and comprehend during their formative stage.
During the event's kickoff, Rosalie Bongon, a Supervising Education Program Specialist in the Teaching and Learning Division, attested how effective language integration in subjects can help students learn English, particularly with the use of the Content and Language Integrated Learning (CLIL) concept.
"English is not a subject, it is a tool for communicating as is any language, and that CLIL is teaching a language via a subject and teaching the subject using a target language. This tells us that both the language and the content mutually support each other," she said.
Bongon said children's knowledge-acquisition on the English language is not solely achieved through direct translations or introduction to grammatical structures, but is effectively learned from simple hearing up to interactive applications.
"(CLIL) allows us to provide rich optimal input, following the idea that when the student-speaker is right, they are showing what they already know, they are practicing in fact. Whereas when they listen or read, they are learning new things," she added.
Meanwhile, Ellaine Gallagher, one of the invited American English language specialists, emphasized the use of the English language in teaching during this formative season, alongside the consideration of promoting the use of the mother tongue.
"If kindergarten is being taught in the mother tongue, then there's no room for English. How is English being taught? But if the school system decides that they want the mother tongue to be promoted, they can have part of the day in the mother tongue and then some subjects being taught in English. For example, they could do Music and Art in English," she said.
According to the DepEd, more than 300,000 teachers from various district offices nationwide are expected to join the month-long training. (PNA)
*****
Credit belongs to : www.pna.gov.ph