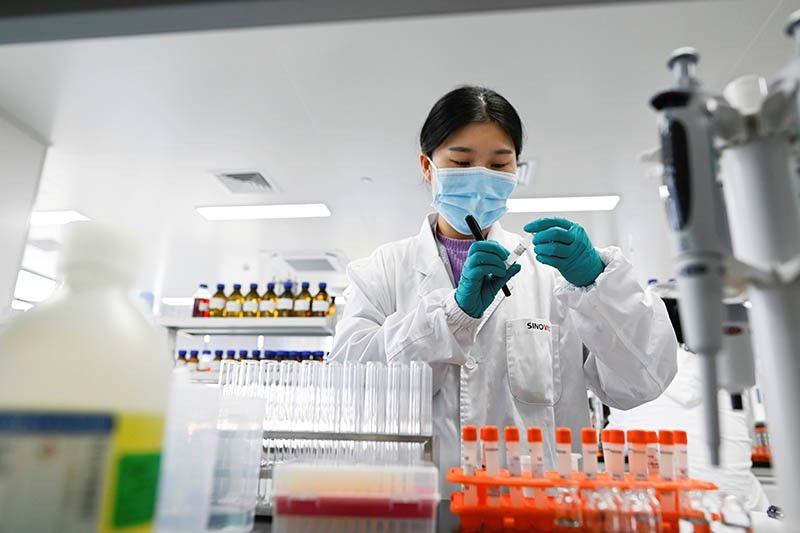 This file photo taken on September 24, 2020 shows an engineer working in the general laboratory during a media tour of a new factory built to produce a Covid-19 coronavirus vaccine at Sinovac, one of 11 Chinese companies approved to carry out clinical trials of potential coronavirus vaccines, in Beijing.
MANILA, Philippines — Vaccine screening authorities in the Philippines will look into reports alleging that Chinese drugmaker Sinovac Biotech has a record of bribing drug regulators, the Department of Health said Wednesday.
The Washington Post reported that court records showed that Sinovac's CEO bribed China's drug regulator to expedite approvals for their SARS vaccine in 2003 and swine flu vaccine in 2009. The firm acknowledged the bribery case involving its CEO but said he cooperated with prosecutors and was not charged.
The report, however, noted there is no evidence that any of Sinovac's products involved in bribery cases were faulty. But experts interviewed by the Washington Post said the company's history of bribery "casts a long shadow of doubt" over its vaccine claims.
In a briefing, Health Secretary Francisco Duque III said the department is aware of the report. He said the country's vaccine screening authorities will validate and investigate the allegation.
"This will form part of the work of the vaccine experts panel. They will assess the veracity first and foremost of such a report to know if there is some truth to it," Duque said.
"If true, then it's up to the vaccine experts panel to include this in their final report and also the Food and Drug Administration. There is also the Single Joint Ethics Review Board to ensure we won't fall victims to these questionable transactions if it really happened," he added.
"CoronaVac"—the coronavirus vaccine developed by Sinovac—may be the first vaccine to be rolled out in the country, inoculation czar Carlito Galvez Jr. said in an interview on ANC's "Headstart."
The Chinese pharmaceutical firm also applied to conduct a large-scale clinical trial in the Philippines to assess the efficacy of its product.
The Philippine government is eyeing to vaccinate around 24.7 million Filipinos in the first part of the immunization program against COVID-19.
Some 1.76 million health workers would be first in the list of priority beneficiaries for COVID-19 vaccination. Medical frontliners would be followed senior citizens, indigent Filipinos and uniformed personnel.
Sinovac has sent Indonesia—the country with the worst COVID-19 outbreak in Southeast Asia—1.2 million doses of its vaccine. Another 1.8 million doses are expected to be delivered in January.
Brazil's Sao Paulo state said it would begin its vaccination program using Sinovac's vaccine next month.
As It Happens
LATEST UPDATE: December 9, 2020 – 3:11pm
Pharma giants Sanofi and GSK said on July 29, 2020, that they have agreed to supply Britain with up to 60 million doses of a potential COVID-19 vaccine. The agreement covers a vaccine candidate developed by France's Sanofi in partnership with the UK's GSK and is subject to a "final contract."
This thread collects some of the major developments in the search for a vaccine to ease the new coronavirus pandemic. (Main photo by AFP/Joel Saget)
December 9, 2020 – 3:11pm
The United Arab Emirates on Wednesday officially registers the coronavirus vaccine produced by Chinese drug giant Sinopharm, saying it was 86% effective according to analysis of third-phase trials.
The health ministry "has announced the official registration" of the vaccine, state news agency WAM says, without elaborating on how it would now be used.
The vaccine has been undergoing third-phase trials in the Emirates since July, and it was approved for emergency use for healthcare workers in September. — AFP
December 8, 2020 – 6:42pm
Britain's Prime Minister Boris Johnson calls the roll-out of a new Pfizer-BioNTech vaccine against COVID-19 a "tremendous shot in the arm for the entire nation".
But with most people not expected to get vaccinated until early 2021, he says the public still needed to be careful to stop the spread of the virus.
"We can't afford to relax," he says on a visit to a central London hospital. — AFP
December 8, 2020 – 3:20pm
Briton, 90, first person to receive Pfizer's approved COVID-19 vaccine, according to BBC.
December 8, 2020 – 2:19pm
Britain hails a turning point in the fight against the coronavirus pandemic, as it begins the biggest vaccination programme in the country's history with a new COVID-19 jab.
The first patients in line on what has been dubbed "V-Day" — the over-80s, care home workers and at-risk frontline health and social care staff — will roll up their sleeves for an initial dose from early morning.
They will then require a second jab in 21 days' time. — AFP
December 8, 2020 – 10:39am
Officials say Indonesia has received 1.2 million doses of a COVID-19 vaccine made by China's Sinovac as the world's fourth most populous nation struggles to get soaring case rates under control.
The doses arrived in Jakarta late Sunday on a flight from Beijing, with another 1.8 million expected to be sent again next month.
Although Chinese regulators have yet to clear any of country's vaccines for mass distribution, they have approved some advanced candidates for emergency use. — AFP
Credit belongs to : www.philstar.com