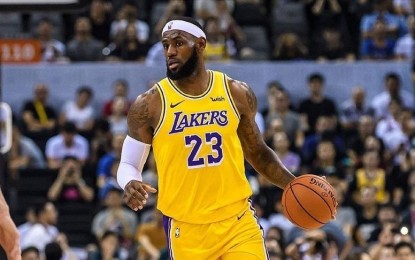 ANKARA – The Phoenix Suns beat the Los Angeles Lakers 140-111 in a Sunday NBA game to spoil US superstar LeBron James' career milestone.
A four-time NBA champion James, 37, became the only player to tally at least 10,000 career points, rebounds, and assists after his 10,000th assist to Lakers power forward Carmelo Anthony in the second quarter of the game against the Suns at Phoenix's Footprint Center.
The Suns, who secured an NBA playoff berth last week, scored 48 points against the Lakers in the first quarter to crush their opponents.
The Lakers clocked up 22 points in that quarter.
James is now the sole member of the 30,000 points, 10,000 rebounds and 10,000 assists club in the NBA.
He has scored 36,824 points, took 10,150 rebounds, and made 10,004 assists in his 19-season NBA experience.
The experienced small forward had played for the Cleveland Cavaliers and the Miami Heat before moving to the Lakers in 2018, where he won the 2020 NBA title.
Devin Booker scored 30 points and made 10 assists for the Suns' 54 regular season win.
The Western Conference leaders lost 14 games in the 2021-22 NBA campaign.
Phoenix center Deandre Ayton racked up 23 points and grabbed 16 rebounds, and Mikal Bridges added 18 points for the Suns.
Meanwhile, Lakers' James scored 31 points to be the game's highest scorer. He took seven rebounds and produced six assists during the Suns game.
Anthony scored 18 points for the Lakers.
The Lakers are currently in the ninth spot in the West standings, having a 29-38 win-loss record this season.
The 2020 champions are now among the play-in franchises but may finish in lower ranks if they lose several games.
The New Orleans Pelicans, who are 10th in the West, are chasing the Lakers with 28-40.
Meanwhile, 11th in the standings, the Portland Trail Blazers are going 26-40 as they are struggling for the 2022 play-in berth.
Like the Trail Blazers, San Antonio Spurs, who ranked 12th, won 26 games but lost 42 others.
The top six teams of both conferences will directly qualify for the 2022 playoffs, where they will be joined by two each from both sides after a play-in tournament for those finishing seventh through 10th in the regular season.
The playoffs are scheduled to start on April 16, with 16 teams in the running for the 2021-22 NBA title.
Other results: Brooklyn Nets – New York Knicks: 110-107; Detroit Pistons – Los Angeles Clippers: 102-106; Boston Celtics – Dallas Mavericks: 92-95; Orlando Magic – Philadelphia 76ers: 114-116 (Overtime); Atlanta Hawks – Indiana Pacers: 131-128; Oklahoma City Thunder – Memphis Grizzlies: 118-125; New Orleans Pelicans – Houston Rockets: 130-105. (Anadolu)
*****
Credit belongs to : www.pna.gov.ph