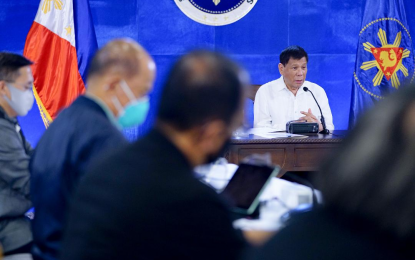 MANILA
– The Philippines landing at the bottom of the list of countries resilient to the coronavirus disease 2019 (Covid-19) pandemic came no longer a surprise, Malacañang said on Wednesday.
Presidential Spokesperson Harry Roque issued the statement after Bloomberg's Covid-19 Resilience Ranking report showed that the Philippines has ranked last out of the 53 countries in the study that measures their resilience amid the pandemic.
The Philippines, according to the report, obtained a score of 40.2.
Bloomberg's report is based on 12 indicators, including the Covid-19 virus containment, overall mortality, quality of healthcare, vaccination coverage, the severity of lockdowns and restrictions, and progress on restarting travel and easing border curbs.
Other Southeast Asian nations that joined the Philippines at the bottom of the list include Indonesia, Thailand, Malaysia, and Vietnam.
European countries topped the list, with Ireland securing a resilience score of 79.4 followed by Spain (78.2), Netherlands (76.4), Finland (76.1), and Denmark (75.3).
"We take note of Bloomberg's latest Covid-19 Resilience Ranking report," Roque said in a press statement. "We are not surprised that the Philippines, together with other Southeast Asian countries such as Indonesia, Thailand, Malaysia and Vietnam are at the bottom of the list while countries which topped the list are developed countries such as Ireland, Spain, Netherlands, Finland and Denmark."
Roque acknowledged that Covid-19 vaccines are vital in the Philippines' fight against the dreaded disease.
He, however, said the Philippines is a "classic case" of poor nations with lack of vaccine supplies because of rich countries' supposed hoarding of the "life-saving" jabs.
"Vaccines are key towards defeating Covid -19. Unfortunately, as President Rodrigo Roa Duterte articulated in the United Nations (UN), 'rich countries hoard life-saving vaccines, while poor nations wait for trickles.' The Philippines is a classic case in point, where inoculation is highly dependent on the availability and stability of vaccine supplies," Roque said.
Roque was referring to Duterte's remarks about the alleged "man-made drought" of Covid-19 vaccines during the 76th session of the UN General Assembly (UNGA) held on September 22.
In a keynote speech during the UNGA, Duterte lamented that developing nations are still struggling to ramp up their vaccination efforts because of the wealthy countries' "selfish act" to hoard Covid-19 vaccines.
Roque said the Philippines' stance to have universal access to Covid-19 vaccines still stands.
"Having said this, the Philippines, in many numerous occasions, has advanced its position on the universal access to Covid-19 vaccines, for the plain fact that the pandemic will not end unless the coronavirus is defeated everywhere through vaccination," he said.
Roque added that the Philippines is exhausting all efforts to reopen the economy to help Filipinos recover amid the prevailing pandemic.
"This resilience ranking is in line with the notion of total health, which we personally advocated, where the reopening of more industries and businesses allowing more people to return to their livelihood must be balanced with improving the country's healthcare system capacity," Roque said. (PNA)
*****
Credit belongs to : www.pna.gov.ph