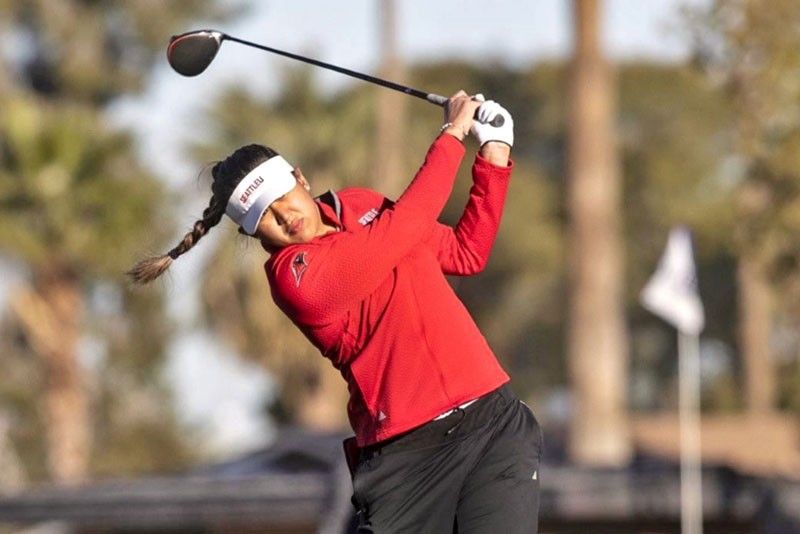 MANILA, Philippines — There's a Seattle University varsity golfer creating a stir in the NCAA and the Filipina parbuster is likely to follow in her former national teammate Yuka Saso's footsteps on the pro tour in one or two years. Samantha Bruce, 20, was named to the All-Western Athletic Conference second team last Friday, ending her first Redhawks season with an average of 74.4 and the individual championship at the Bobcat Desert Classic where she set a new program record for the lowest score in a 36-hole event of 138 (69-69), posted nine birdies and led the tournament in par four scoring with a stroke total of 3-under.
"Sam is an extremely hard-working young woman with a clear vision," said Seattle head coach Marc Chandonnet. A junior student, Bruce was the varsity's most consistent performer and was one of two golfers to compete in all 16 rounds, chalking up four top 20 finishes. Bruce is a BS Computer Science major with a specialization in Business and a minor in Math. She has a 3.80 GPA and is a consistent Dean's and President's Lister. After graduating from Assumption high school in Makati, Bruce went to San Jose State University where she played sparingly as a freshman then transferred to Seattle, known as a tech corridor and home of Microsoft and Amazon.
"Sam is currently one of the best performers among Filipina golfers in US colleges," said Bruce's father Bobbet, a lawyer and former Junior Golf Philippines Foundation Executive Director and President. "She's a long hitter with a 105 mph swing speed. Her driver carry is upwards of 260 and she averages 280+ with her drives. Her average 7-iron distance is 170. Right now, she has a short compact swing that is very repeatable, similar to Tony Finau's. Although Sam has an advantage off the tee with her length, it's her maturity on the course, her short game and putting that are her strong points. Even if she misses shots, she has the strength to recover and score. She wins with her sheer will and desire to succeed and will only get better."
When Bruce was 14, she was on the Philippine women's team with Saso and Bianca Pagdanganan. She was on the national squad that won the 2015 Putra Cup. Bruce was on track to play at the 2015 SEA Games but was a last minute scratch and relegated as alternate. After turning 15, Bruce went down with golfer's elbow and lost her love for the game. She eventually recovered, got back on course and is now taming the greens. Bruce could blossom into the female version of another Sam, Slammin' Sam Snead who won 82 PGA tour events, including seven majors, in a Hall of Fame career. Snead was 5-11 and 185 pounds while Bruce is 5-10 and 175 so they're not far apart physically.
Bruce will graduate from Seattle next year but has the option to play in the NCAA up to 2022-23 or turn pro. "She wants to play for the national team again," said her father. "Hopefully, she plays well enough to merit a call-up. She has a small window as an amateur. I hope Sam finds a way to play in the 2021 SEA Games, 2022 Asian Games and 2023 SEA Games. Sam and Yuka have been very good friends since they were eight. We're also good friends with Yuka's parents." Bruce has an older sister Nikki, also a competitive golfer, and her mother Maida is Vice President and Head of Strategic Finance at Metro Pacific Investments Corp.
*****
Credit belongs to : www.philstar.com