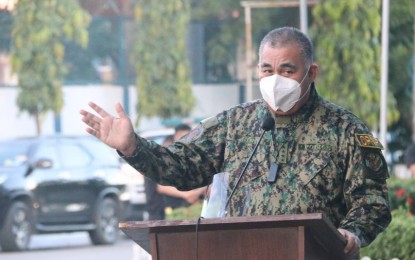 MANILA – Philippine National Police (PNP) chief Gen. Debold Sinas lauded the Police Regional Office Bangsamoro Autonomous Region (PRO-BAR) for solving the murder of a 20-year-old student in Maguindanao.
"This is another fine example of proper case management and investigation leading to the early solution of the crime," Sinas said in a statement on Thursday.
Citing reports from Brig. Gen. Samuel Rodriguez, PNP-BAR regional director, Sinas said two witnesses led police investigators of Upi Municipal Police Station to a shallow grave in Barangay Kibucay, Upi where the remains of Mondjahid Tauf, 20, was exhumed by Scene of Crime Operations forensic examiners on Dec. 21.
Upon the discovery of the body and additional testimonies from other witnesses, police arrested Rafzanjani Tatak alias Datu Raprap Tatak, 22, in Cotabato City on Dec. 22 from whom arresting officers confiscated a handgun believed used in the crime.
Another suspect, a certain Datu Nash, remains at-large and is now the subject of follow-up operations by tracker teams of the Criminal Investigation and Detection Group and PRO-BAR.
Probers are eyeing an old grudge as the motive behind the murder.
Tauf was reported missing on Dec. 20 by his mother Amera Abubakar who told investigators that her son was fetched by the suspect from their residence in Barangay Salimbao, Sultan Kudarat, Maguindanao at 2 p.m. on Dec. 18 and never returned.
Acting on information provided by some confidential informants in the community, a follow-up team scoured a farm in Barangay Kibucay, Upi and found a t-shirt, short pants, and underwear which, relatives of the victim identified as belonging to Tauf.
Two caretakers of the farm led investigators to a freshly-dug shallow grave where the victim was allegedly killed and buried. (PNA)
Credit belongs to : www.pna.gov.ph