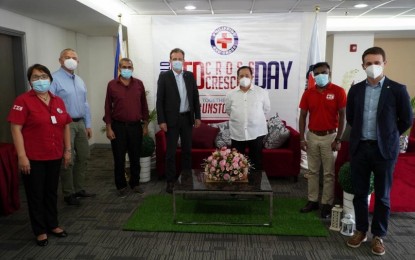 MANILA – The Philippine Red Cross (PRC) was cited for its crucial role in helping the country fight the Covid-19 pandemic during the World Red Cross and Red Crescent Day celebration on May 8, 2021.
PRC, together with 191 Red Cross and Red Crescent National Societies all over the world, gathered in a virtual celebration that was attended by chairman and chief executive officer Senator Richard Gordon, PRC secretary general Elizabeth Zavalla, PRC Board of Governors, representatives from the International Federation of Red Cross and Red Crescent Societies (IFRC) and the International Committee of the Red Cross, and staff and volunteers who served the humanitarian organization from five to 41 years.
Department of Foreign Affairs Secretary Teodoro Locsin Jr., a guest speaker, lauded PRC in its fight against Covid-19, natural disasters, man-made disasters, and conflicts.
"Today, we are celebrating the birth anniversary of Henry Dunant, the founder of the International Red Cross and Red Crescent Movement […] I know another man who was born to serve as much as he is made to lead, embodying Henry Dunant's kindred spirit. He is Dick Gordon, the hero of Olongapo, the savior of Subic. He transformed these cities which were obliterated by an earth-shattering volcanic eruption, so strong it lowered the temperature of the planet by two degrees. He dug them out of the ash and raised them up to become models of peace, order, and progress. He keeps on changing our country for the better. No wonder the PRC soared to greater heights under his leadership," Locsin said in his speech.
Deputy Chief Implementer of the National Action Plan against Covid-19 and testing czar Secretary Vince Dizon recalled the problems of the country's testing capacity of less than a thousand people per day at the start of the outbreak of Covid-19.
"Frankly, the government was at a loss on how it could increase its testing capacity. We went to Senator Gordon and in classic Gordon style, he said, 'we can solve this together'. And in a matter of just a few months, our testing capacity grew from roughly a thousand tests a day to more than 10,000 a day," Dizon said.
IFRC president Francesco Rocca also congratulated PRC for being at the forefront of our country's efforts to curb the pandemic, having conducted over 2.8 million tests in 13 molecular laboratories nationwide, contributing 25 percent of the total testing output in the country, aside from giving food and financial aid to those affected by strict quarantine measures.
IFRC secretary general Jagan Chapagain also congratulated PRC on its 74th anniversary on April 15, praising its lifesaving support to Filipinos.
"The dedication of the volunteers and staff of the Philippine Red Cross inspires all of us to do more, to do better and to go further, to reach the last mile and to make a difference on the lives of the most vulnerable people," Chapagain said.
To Gordon, he said "you have inspired a generation of volunteers to join the Red Cross' humanitarian journey. I thank you for your outstanding leadership. And please continue to keep inspired." (PR)
*****
Credit belongs to : www.pna.gov.ph