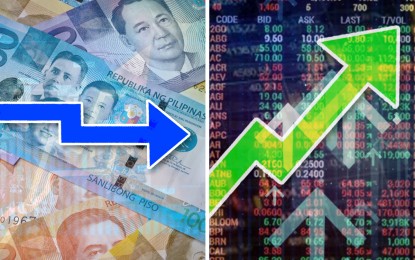 MANILA – The local stock barometer posted a new three-week high on Wednesday and it was trailed by the peso, which touched the 51-level to a US dollar mid-trade.
The Philippine Stock Exchange index (PSEi) inched up by 0.73 percent, or 51.93 points, to 7,167.02 points.
Rizal Commercial Banking Corporation (RCBC) chief economist Michael Ricafort said the main stocks index registered its "new three-week highs or since March 8, 2022, as global market risk appetite improved recently with the easing of global oil prices to among one-week lows, thereby supporting the recent gains in the US/global stock markets, with the US stock markets at new highs in 1.5-2 months."
The PSEi's performance was tracked by all the other counters, with All Shares rising by 0.64 percent, or 24.22 points, to 3,794.75 points.
Services led the sectoral gauges with an increase of 1.39 percent and was followed by Mining and Oil, 1.09 percent; Holding Firms, 0.99 percent; Property, 0.46 percent; Industrial, 0.43 percent; and Financials, 0.23 percent.
Volume was thin at 719.59 million shares amounting to PHP6.87 billion.
Advancers surpassed decliners at 106 to 81, while 44 shares were unchanged.
Meanwhile, the local currency finished the day at 51.01, sideways from its 52.075 close a day ago.
It opened the day at 52.02 and traded between 51.92 and 52.04. Average level for the day stood at 51.96.
Volume totaled to USD1.12 billion, higher than the previous session's USD1.05 billion.
Ricafort said the local currency also benefited from improved global market risk appetite after the peso posted its strongest close since March 4, 2022 when it finished the trade at 51.74 against the greenback.
He also attributed the local unit's performance to the continued drop in global oil prices on "mixed signals on Russia-Ukraine talks and after some lockdowns in China, which is the world's biggest oil importing country."
Ricafort said the government's plan for the implementation of a nationwide Alert Level 1 status, along with several other measures to reopen the economy, are also positive for the peso during the day.
"The final month of the national and local campaign could also lead to some inflows of US dollars/remittances into the country to partly fund the said election-related spending/campaign," he added.
Ricafort forecasts the peso to trade between 51.90-52.10 against the greenback on Thursday. (PNA)
*****
Credit belongs to : www.pna.gov.ph