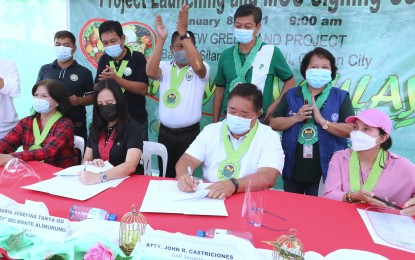 MANILA – The city government of Quezon City has allotted seven hectares of land for the Department of Agrarian Reform's (DAR) urban farming project dubbed as "Buhay sa Gulay".
Mayor Joy Belmonte and DAR Secretary John Castriciones signed a memorandum of understanding (MOU) for the project in the presence of officials from other government agencies such as the Department of Agriculture (DA), Technical Education and Skills Development Authority (TESDA), representatives from Barangay Bagong Silangan, and private stakeholders.
The seven-hectare lot located in New Greenland in Barangay Bagong Silangan will be planted with various vegetables by about 70 residents of the area who will also be the direct beneficiaries of the project.
Castriciones said the project will make people, especially from the cities to appreciate farming more so now that the country is in the middle of the coronavirus disease 2019 (Covid-19) pandemic
"Sa panahon ng pandemya kailangan buhayin natin ang pagmamahal sa pagsasaka (in this time of the pandemic we should make people love and appreciate farming)," Castriciones said.
He added that if the coronavirus disease pandemic persists and the economy continues to slow down, the country should have a strong agricultural sector.
He said that this is to be able to give food security to the country.
Meanwhile, Belmonte said the city has already started the project of urban farming 10 years ago, most of which are backyard farming.
She also believes that urban farming has many benefits and with the partnership, the project is being leveled up.
"During this pandemic, we have been giving food assistance but we are not giving enough nutritious foods because we were distributing canned goods as we have no choice. If we can make this project succeed, we can strengthen our program and eventually be the source of vegetables for the city," Belmonte said.
She said that the city government is planning to re-zone Barangay Payatas and Bagong Silangan and make the vast vacant lots in these areas to become agricultural zones.
Belmonte said that she believes that farming may be done even inside highly urbanized areas such as Quezon City.
To further help and encourage farmer-beneficiaries, she said that they are willing to buy their products and make these part of the city's feeding program to help eliminate malnutrition among the youth.
"We will engage with these farmers, bibilihin ng lungsod ang ani ninyo at gagamitin namin sa feeding programs na ibababa namin sa mga lugar na kung saan mataas ang malnutrition ng kabataan natin (we will buy your harvest and use them for our feeding programs and bring them to areas in the city where malnutrition among our young people is high)," Belmonte said.
Castriciones said he expects that these farmers from New Greenland may start harvesting their vegetables as early as next month. (PNA)
Credit belongs to : www.pna.gov.ph