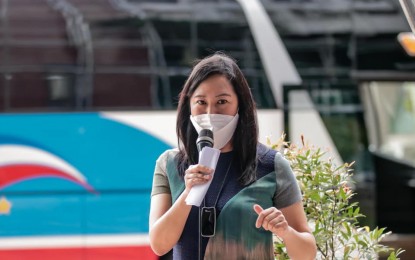 MANILA – Amid the rising new cases of coronavirus disease 2019 (Covid-19) in Quezon City, the local government continues to rescue street dwellers to protect them from possible infection.
The city government, in a social media post on Friday, said joint rescue operations were done headed by the Social Services and Development Department (SSDD), Task Force Disiplina (TFD), Quezon City Police Department, and the Department of Public Order and Safety (DPOS) to intensify Oplan Kalingang QC and help street dwellers.
The QC Disaster Risk Reduction and Management Office (QCDRRMO) has also installed and disinfected tents where the affected families were brought and will temporarily stay while an official list is being prepared.
"Tatanggap sila ng ayuda, hahanapan ng hanapbuhay kung sila ay kwalipikado, o ibabalik sa kanilang bayan o probinsya kung kinakailangan. (They will receive assistance and if they are qualified, we will help them get a job or we will bring them back to their town or provinces if needed)," the post reads.
Mayor Joy Belmonte told the Philippine News Agency that they were able to rescue about 200 individuals.
Strict health protocols are also being imposed by the city government.
Barangay Tandang Sora under lockdown
Meanwhile, to further mitigate the spread of Covid-19, the city government has placed a compound in Barangay Tandang Sora under special concern lockdown.
"We had to place this area under lockdown so as to stop further infections. From an index case, she has infected more people because of a social gathering," Belmonte said.
She said that the index case was identified as a government employee working in an agency where a number of their people got infected with Covid-19.
Belmonte said that the person started experiencing symptoms in the first week of December.
However, despite experiencing such symptoms, she together with some family members and friends celebrated a birthday in their compound.
On December 9, she underwent a Covid-19 test that turned out positive.
There were 81 individuals who were listed as her close contacts that included one pregnant, seven senior citizens, and six minors.
Belmonte said that as of the latest, out of the 44 individuals who were subjected to the Covid-19 swab test, at least 10 tested positive.
Results of the other close contacts who were also tested are still pending.
She said that this raised the alarm of the local government and caused the implementation of the special concern lockdown.
"This is a perfect example of why it is important not to engage in any social gathering such as parties and reunions because one can get infected just by co-mingling with a symptomatic individual," Belmonte said.
She also stressed that the city government has always reminded their constituents to avoid mass gatherings in the meantime as research groups have already predicted a surge in the Covid-19 case.
Special concern lockdowns are imposed in identified alleys, streets, or compounds where there are reported clustering of cases and where authorities are having a hard time implementing quarantine protocols.
"Let us celebrate the holidays in the new normal. We understand that you miss your relatives already but in order to protect them and yourself, we should celebrate separately. I ask all QC residents to please be responsible in their actions during this season," Belmonte appealed. (PNA)
Credit belongs to : www.pna.gov.ph