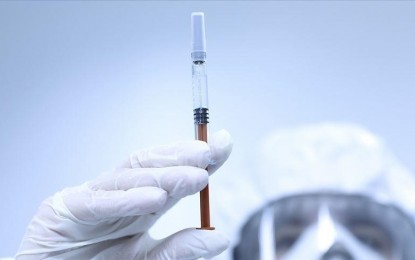 MANILA – Quezon City residents on Wednesday expressed hope that coronavirus vaccines will soon be available after Mayor Joy Belmonte confirmed signing a tripartite agreement for the initial acquisition of Covid-19 vaccines.
"Sobrang saya ko dito sa balitang ito. Ang laking chance na talaga ang pagbalik natin sa normal life dahil sa vaccine na ito (I was so happy with this news because there is a big chance to return to our normal lives through this vaccine)," said Vergel Concepcion in her post on the Facebook page of the QC government.
Belmonte, in an interview with the Philippine News Agency, confirmed that the city has signed a tripartite agreement with the national government through the Department of Health (DOH), the National Task Force on Covid-19, and the AstraZeneca Pharmaceuticals Philippines for the purchase of the initial doses of Covid-19 vaccines.
She said the deal is for the purchase of 750,000 doses of AstraZeneca.
"Finally we'll have peace of mind. The vaccine is on the way!" Joy Agustin said in a post.
The city has allotted an initial budget of PHP1 billion for the purchase of Covid-19 vaccines, which may still be raised if the need arises, according to Belmonte.
She assured that there will still be more remaining budget after the purchase from AstraZeneca has been paid.
She said the city government is now in the process of communicating with other pharmaceutical companies.
The target, Belmonte said, is to be able to vaccinate 70 to 80 percent of the total residents to achieve herd immunity.
For QC, there will be no pre-registration as compared to what other local government units are doing.
"We must convince our people to have themselves vaccinated so we could achieve at least 80 percent of vaccination to achieve herd immunity…we have to exert effort on our part to convince people that they must be vaccinated for the good of the city and the recovery of the economy," Belmonte said.
Belmonte said they will be launching the QC ID system on Thursday, which is similar to the national ID system, to help them put in place an accurate database of all QC residents.
She said the ID system is not only for the vaccine but for future services that the QC government offers its residents.
Belmonte also said the priority sector to receive the Covid-19 vaccines remains to be senior citizens, health workers, essential workers, uniformed personnel, persons with disabilities (PWDs), and the generally vulnerable sector such as those with comorbidities.
Belmonte said that she is very much willing to be the first to receive the Covid-19 vaccine.
"I don't want to be treated like a VIP but if receiving the vaccine first will convince the people to be vaccinated, I am willing. At the end of the day if this is what it takes to keep the people healthy, to keep the economy running, and to bring back confidence in our country we have to do this," Belmonte said. (PNA)
Credit belongs to : www.pna.gov.ph