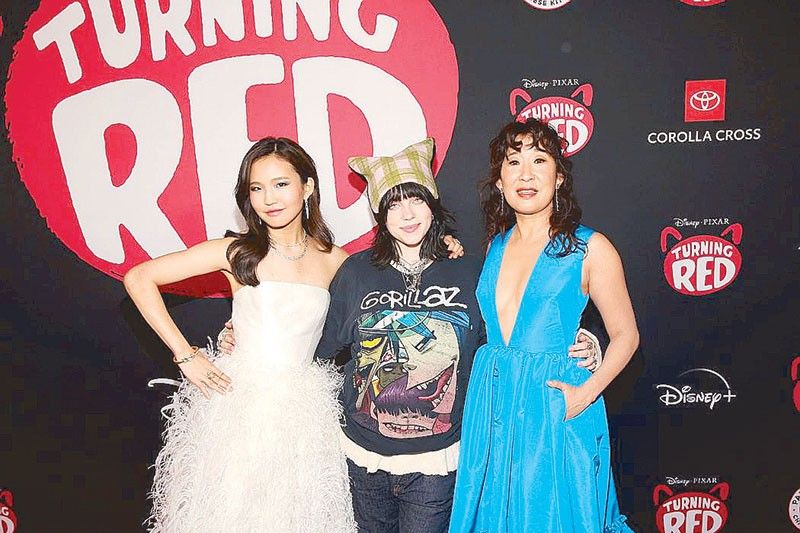 Disney and Pixar's newest offering, Turning Red, couldn't have chosen a more perfect time to roll into theaters than this Women's Month.
The animated movie about girl power, sisterhood and ties that bind mothers — or Asian moms, to be specific — and their daughters is setting a record as Disney/Pixar's first feature with an all-female leadership team.
Set in the '90s to 2000s era of CDs, flip mobile phones and Tamagochis, Turning Red introduces Meilin Lee, an overachieving and slightly dorky 13-year-old Chinese-Canadian girl. All is expected to go well in her middle-school life with her super tight group of besties and a better-than-average relationship with her family, with whom she runs an ancestral temple/tourist attraction at the heart of Toronto's Chinatown.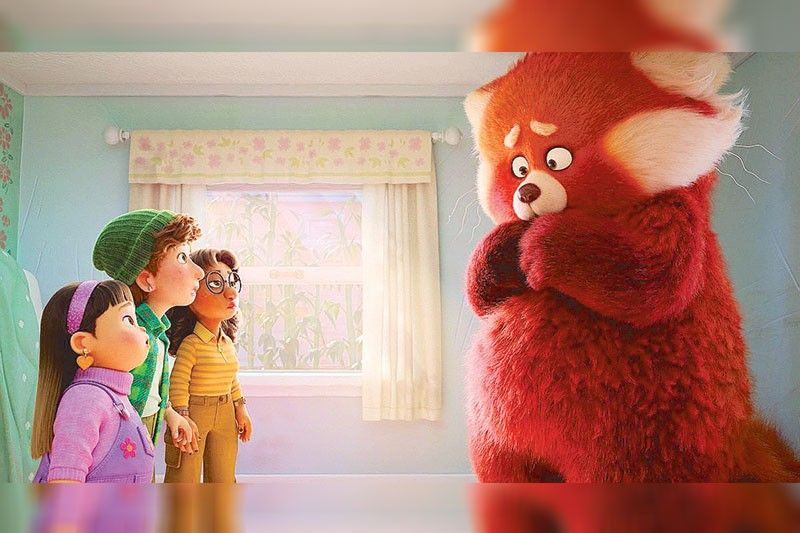 Disney and Pixar's Turning Red tells the story of Mei, a Chinese- Canadian girl who hits a magical kind of puberty and turns into a Giant Red Panda. The animated film rolls into Philippine theaters on March 10. — Publicity stills are courtesy of Disney/Pixar while premiere pics are from Turning Red's official Twitter account.
But as Meilin — or Mei to her friends — dives into the world of adolescence, things start to change. She begins to notice boys, obsess over boy bands and show a rebellious streak to the disbelief of her overprotective mom Ming. And there's more: Mei isn't just becoming a full-fledged teenager. She also magically turns into this Giant Red Panda amid her rollercoaster of emotions.
The movie is helmed and written by Domee Shi, who also wrote and directed the Oscar-winning short film Bao. Lindsey Collins serves as the producer while Julia Cho is Domee's co-writer.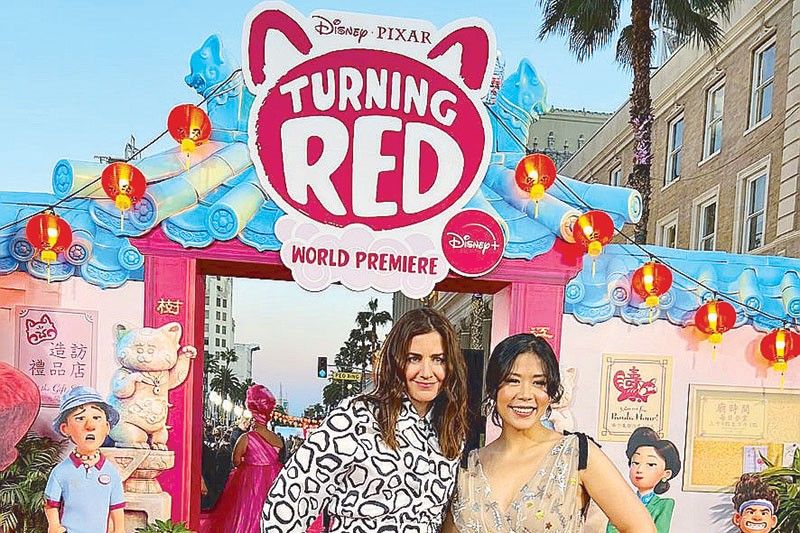 Turning Red is Disney/Pixar's first feature with an all-female leadership team, including director Domee Shi (right) and producer Lindsey Collins.
On Tuesday, The STAR met Domee and Lindsey in a virtual interview. Both admitted that having an all-women team heading the production meant there was a wellspring of real-life inspiration to ground the story about a teen who "poofs" into a "beast."
Lindsey, who co-produced the Oscar-winning WALL•E and produced the Disney/Pixar hit Finding Dory, said, "Telling the story that we were telling, which is this 13-year-old girl going through puberty, and having an all-female leadership team really gave us a lot of interesting stories and fodder to mine as we were talking about embarrassing moments or things that happened during that period of time (in our lives).
"But (it was) also just a real kind of permission to be bold and unapologetic. Because when we told the story — I think every time we started to kind of maybe hesitate and be like, 'I don't know, is that too much?,' you had a bunch of women in the room going, 'No, that's exactly as embarrassing as I think I was,' 'I was totally that way,' and 'I was that kid.'
"So, I don't know if we went into it knowing that was going to be kind of a benefit. But man, I think we really, really felt it as we were making the movie. The power of having a majority of women in the room really gave us permission in some moments," Lindsey added.
For her part, Domee, who first interned at Pixar in 2011 before getting hired as story artist for the Oscar-winning Inside Out, said they experienced freedom working on Turning Red.
Using the "red panda as an adorable metaphor for the very unadorable phenomenon of puberty," Domee had no problem finding that "well of cringy, amazing, awkward and embarrassing stories to draw from because we all have been there. So, that was really cool, too."
The Chinese-Canadian director first pitched Turning Red in 2017 after Pixar asked her for three ideas for what would become her first full-length film. "All of my ideas were about girls coming of age in different ways. But Turning Red was, I think, the most autobiographical — at least at first, because I didn't turn into a giant red panda. I think that's what drew Pixar to it because it felt the most personal but also the most unique, strange and most relatable. Everybody that I pitched to could relate to that feeling of being 13, going through big changes physically and emotionally. And everyone just loved the image of this big, awkward red panda running through the hallways at school," she said.
Lindsey recalled that when Domee was prepping for her pitch, she was Pixar's vice president of development and her job included giving feedback and "being like, okay, that was funny or I didn't understand that."
But listening to Domee "kind of tell and develop this one in particular," she further noted, "it was so clear to me that she had such a strong sense of the characters right from very beginning. Like Mei was Mei and Ming was Ming, and the red panda was the red panda, and then the question was how it was all going to come together?"
"But just to have that kind of specificity and confidence in your characters at that early of a stage, to me, was like wow, that's a huge head start. Because sometimes, it takes years to get that kind of clarity and depth into characters," she added.
Over the course of making the film, Lindsey said she learned a lot. "Domee is obviously from a culture that I'm not from, and in the same way, she was educating many of us on the crew. We all went to the School of Domee for a while.
"Then we broadened that out and talked to experts inside the studio about various characters and various parts of the film. Then externally, we talked to a lot of people that lent their expertise in religion, architecture, culture and all of those things," said Lindsey, adding that Domee also made her watch Japanese anime like Sailor Moon.
This plus other references and Domee's other long-time influences — from Hayao Miyazaki (of Spirited Away and My Neighbor Totoro fame) to Edgar Wright films — coupled with the director's own filmmaking approach, the film became a "colorful and vibrant" visual feast. According to Lindsey, the design is textured, tactile, chunky and cute, with characters' facial expressions "pushed," and their movements and poses fresh. (More on the award-winning director in a follow-up story.)
Meanwhile, in the production notes, the filmmakers also revealed how they found their voice cast. Newcomer Rosalie Chiang lends her voice to Mei and "brought her teenager vibe to the role."
"Rosalie is this amazing girl who we auditioned in the beginning to do the scratch — or temporary — recordings as we were working on the story. She's super close to her mom, she was home-schooled and an A student — in many ways she's just like Mei," shared Lindsey.
"Her genuine, unrehearsed, authentic performance breathed such life into Mei. After two years, we were ready to cast the role. We listened to a lot of auditions, but we'd already fallen in love with Rosalie, and in the end couldn't imagine Mei being voiced by anybody else," she added.
They also tapped Killing Eve and Grey's Anatomy star Sandra Oh to voice the "hypervigilant" mom Ming. "Ming is a force. In the wrong hands, she could come off as unlikable. It's a balancing act: She's super strong, yet funny and a little wacky. Then the next minute, she's incredibly nurturing," Lindsey said.
"When Sandra went into the recording booth for the first time — just to play around and see what she could bring to the role — she was everything we imagined and more. She's such a pro — a total gift."
Other cast members include Ava Morse, Hyein Park and Maitreyi Ramakrishnan who voice Mei's best friends. The filmmakers also turned to the Grammy-winning and hit-making duo of Billie Eilish and her brother Finneas O'Connell for the soundtrack, specifically the songs performed by the fictional boy band 4*Town that Mei and friends go crazy about.
(Disney and Pixar's Turning Red premieres in Philippine cinemas on March 10.)
*****
Credit belongs to : www.philstar.com