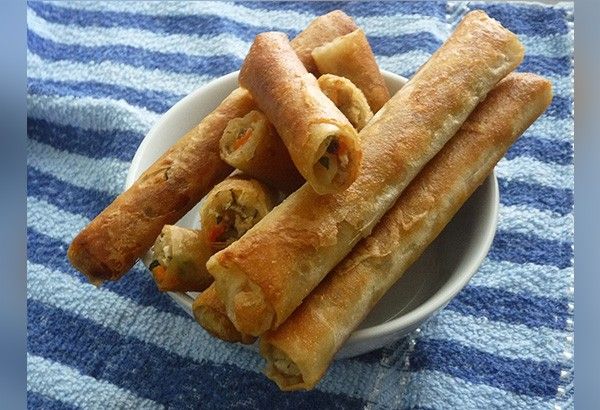 MANILA, Philippines — You love Lumpiang Shanghai for its flavor and crunch. You sometimes wish variations could be made on it, too, and not always the Lumpiang Shanghai that you find in fast-food restaurants and birthday parties.
Well, the filling can always be changed for variation. You can, for instance, have a fish filling for it. Here's one using Galunggong (GG). It's easy to make, delicious and healthy, too.
Lumpiang GG
INGREDIENTS:
1/2 kg. Galunggong fish
1 pc. medium-sized potato
1 pc. medium-sized carrot
1-2 tbsps. cooking oil
3 cloves garlic, minced
1 pc. small onion, minced
Chicken powder
Salt and pepper to taste
Kinchay, chopped
20 pcs. lumpia wrapper
Cooking oil
PROCEDURE:
1. Boil the fish in water seasoned with a little salt. Remove and let cool.
2. Flake the fish. Set aside.
3. Peel and dice potato and carrot separately.
4. Heat the oil in a wok or sauté pan. Add garlic and onion. Sauté until the garlic is fragrant and the onion is translucent.
5. Add diced carrots and potatoes.
6. Add flaked fish.
7. Season with chicken powder, salt and pepper to taste.
8. Mix in the kinchay.
9. Cook until done, stirring continuously. Remove from heat and let cool.
10. Scoop a little of the Galunggong mixture onto a piece of lumpia wrapper. Form a thin cylinder and wrap and roll tightly, folding in both ends in the process. Set aside and repeat the procedure with the rest of the lumpia wrappers and Galunggong filling.
11. Fry in hot oil until golden and crispy.
12. Remove from the oil and drain off any excess oil on the paper towel or wire rack.
*Makes 20 long pieces.
RELATED: Lumpiang Kalabasa: A healthy take on popular fried food
*****
Credit belongs to : www.philstar.com