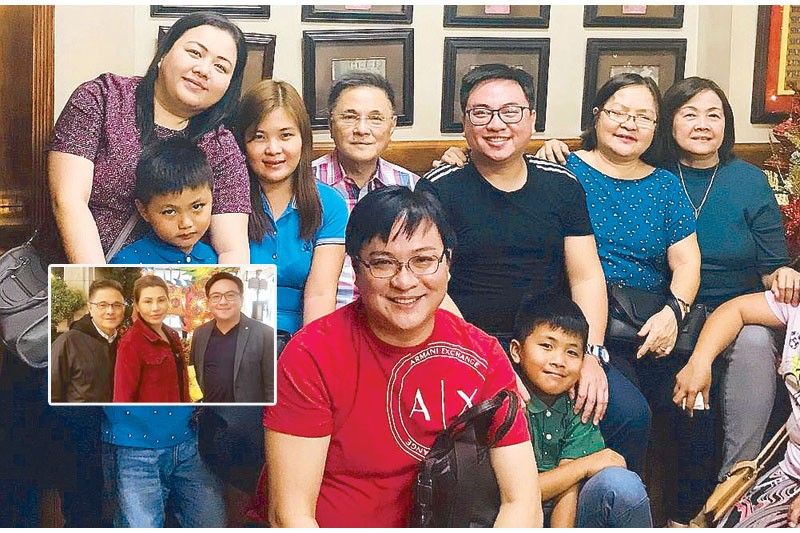 (Note: Today marks the 40th day since the passing of the late STAR entertainment editor and columnist Ricky Lo.)
I have been struggling for weeks to finish this article for Tito Ricky.
How can I grieve for someone who in my heart remains as alive as ever?
How can someone impress on me that my Uncle Cardo (that's how we call him in the family) has died some weeks back and that he is truly gone?
How can I expect for life to go back to normal once the pandemic is over when one of the persons dearest to me would not be coming out the door of his house to welcome me when I go back home for a visit?
For all the many beautiful tributes and kind remembrances that have been shared by many of his friends over the past month, how is it possible to convince me that, to me, at least, Uncle Cardo has really passed on and not merely just hunkering down at home waiting out this horrible plague?
But he is dead.
Full acceptance of that fact may take some time. In the days after his sudden passing, I was telling my friends that his death felt unreal. To this day, it still does.
I have written many versions of this article. I couldn't find the right words to write and I find it hard to fully remember many beautiful stories about Uncle Cardo that I wish I could share.
May 4 would mark one of those days that would forever hold a special meaning in my life.
When my father died 25 years ago, Uncle Cardo became a father figure to me and to my siblings. I was 19 then and was just months away from graduating from college. I had nothing. My father was ill for many years before he passed on, and with my mother's salary as a public teacher, we had next to nothing. Immediately after my father died, Uncle Cardo talked to me and reassured me that he would take care of my sibling's education and told me not to be scared of what lies ahead.
From him, I learned not to be easily discouraged. From him, I learned to share and be generous. From him, I learned that love is greatest when you offer it to your family.
Uncle Cardo was the rock of our entire family. He united all of us. There are no perfect families with perfect relationships, but Uncle Cardo made sure that all of us were united. He loved his siblings and he loved all of us, his nieces and nephews. He especially loved my grandmother, our Inay, his Nanay. He built her a house in Quezon City and gave her everything. When she died in 2002, a part of Uncle Cardo died and he never fully got over Inay's passing.
In 2003, I moved to Los Angeles. It was not the easiest transition. A couple of days before my scheduled departure, my mother got diagnosed with a form of brain tumor, and she had to be operated on immediately. I already resigned from my job at Citibank and was ready to leave. If I were to leave, I'd have to leave without delay. Otherwise, I would have no choice but to stay. I consulted with my mom and she told me I should go. I asked Uncle Cardo and he advised me to go and assured me again that he would take care of things.
I had a meager savings that I set aside to get me started in the U.S. I left all of it to fund my mother's medical procedure and I was telling my friends in L.A. that I was coming with no money and that they had to help me out. On the night before my departure, Uncle Cardo handed me a small envelope and told me, "Baon mo." He learned that I had only a couple of hundred dollars with me and was worried that it might not be enough. I still have that envelope with me to this day and I have kept the same amount of money inside, and every time I look at it, I am reminded that I owe Uncle Cardo so much. It wasn't just the money; it was his thoughtfulness and kindness that never wavered through the years. His love was immeasurable.
When I started a blog in 2004, I sent him a couple of articles for him to review and comment on. He did not only review it, but he sent me a text telling me that he liked them and that he was publishing both articles. And he encouraged me to write more. I am an accountant by trade and I never went to a journalism school. Whatever talent I have in writing, I got it from him. My love for the movies was influenced by him. My love for fiction was because of him.
From 2003 through the early months of 2020, Uncle Cardo and I bonded every time he was in L.A. We would spend countless hours at his favorite Barnes & Noble bookstores looking for books, magazines and DVDs to bring back home to his friends. From the bookstore, we would meet one of his dearest friends in L.A., lawyer Jemela Nettles, and we would go to his favorite Chinese restaurant inside the Farmer's Market at The Grove in West Hollywood. During dinner, and after, we would spend hours talking about things. We would talk about his health regimen, we would talk about my weight, we would talk about family stuff, we would talk about the latest Hollywood news, we would talk about tsismis in showbiz, and we would talk about our plans to go to Mexico City.
I am always quick to correct those who say that I was his favorite pamangkin although, in my heart, he was my favorite uncle — and I would fight anybody who would dare cross him.
Back in 2012, at the height of the Anne Hathaway brouhaha, I met in L.A. a Saladmaster cook, who dared to insult Uncle Cardo to my face. I quietly fumed for a few minutes but when he wouldn't let up, I gave him a mouthful that totally shut him up. Nobody insults my Uncle Cardo. And, nope, the identity of that wannabe cook shall never be known.
*****
Credit belongs to : www.philstar.com