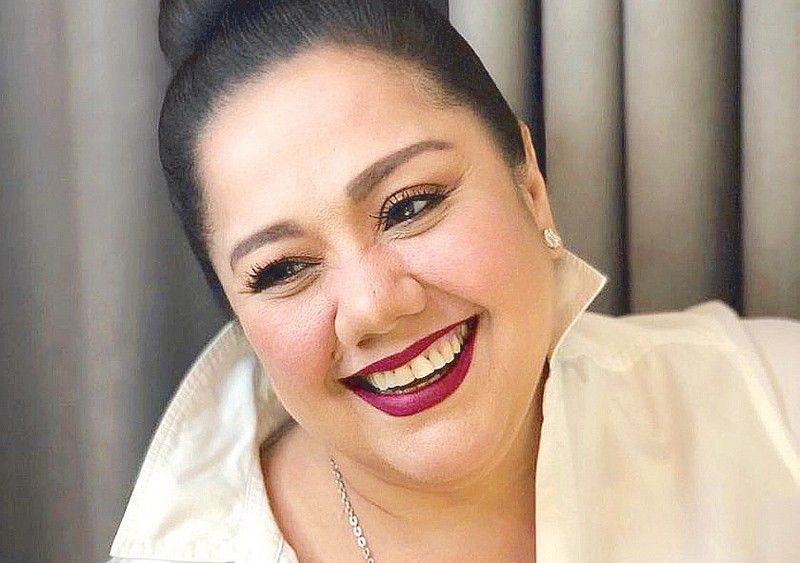 MANILA, Philippines — Ruby Rodriguez surprised many when she recently posted online about her new life as a "working girl" in the United States.
The photo has since been deleted but not before media outlets picked up the story of her being employed with the Philippine consulate in Los Angeles.
"Nabuking na. Di ko dapat sinabi dun ako nag-work. Nung nag-post ako because I'm not techie, I didn't realize na naka-tag pala ang location ko," the former Eat, Bulaga host explained during a recent virtual interview organized by her new talent management team, Viva Artists Agency.
"We have protocols that we cannot divulge because it's very confidential what we do with the consulate. It's a government policy, it's government papers that we cannot divulge, even our position. (I was told) just say that you work with the consulate (helping Filipino people)."
The 55-year-old actress-comedienne stressed that she went through the proper employment procedures to get her current job.
"I was not appointed. I went through the proper channels. I applied, I submitted my curriculum vitae. I did all the requirements that were asked. I did their tests and all. And then when I passed, it was all sent to the consulate. And it so happened that they have a vacancy for local hire," she said.
Ruby, whose last onscreen project was the Kapuso series Owe My Love, further explained how and why she is in the States in the first place.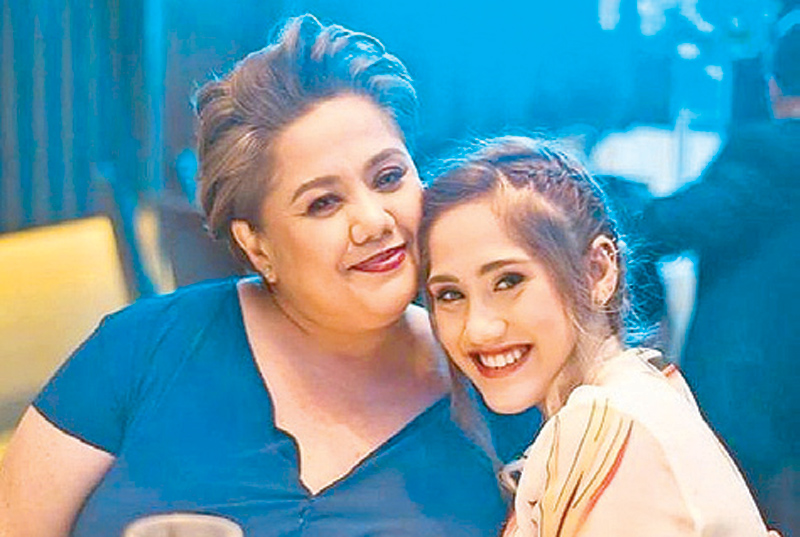 The former Eat, Bulaga! host with her two children Toni and Don AJ
"My husband and my kids are all citizens and I've been a permanent resident here in the United States for over 10 years. So, kung minsan napapansin niyo sa Bulaga, 'O, bakit wala si Ruby?' Tapos lolokohin nila ako sa pagpasok ko, 'O, balikbayan!' It's because I always had to exit because of my status… I could stay out of the US for a year or two years depending on the approved travel document. So, I've been going back and forth, and all my siblings are here."
It seems Ruby is settling down nicely in her new home and workplace. She's been sharing glimpses of her everyday life, from taking the subway by her lonesome to being driven around by daughter Toni who's also working in the US.
Contrary to speculation, Ruby said she's there not because of the pandemic nor because she hasn't been asked to resume hosting duties in the noontime show in the new normal.
There's a major reason why she had to move to the States, and it's family-related.
"With the pandemic and all, it's not the real cause. Matagal na kasi ito naka plan na mag-be-break talaga ako because as everybody knows, I'm not ashamed of it and I'm very proud of him, my son is a special student and aside from that, he has a very rare autoimmune disease, Henoch-Schönlein Purpura, na ang tinitira nun is the kidneys. Usually daw pag-uma-attack yun, one-time lang. Kaya lang sa kanya chronic… kaya na-damage yung kidneys niya."
In Manila, her son's nephrologists encouraged Ruby to seek treatment for him in the US.
"Na-kidney biopsy na nga siya because he already has Stage 2 nephritis (kidney inflammation). So, we had to bring him here since he's a citizen to get medical treatment.
"Sabi ng mga doctor d'yan, sige pa-check (in the US) because they have better medications. They're more advanced in some ways. We have a doctor here and what he's trying to avoid with the medication of my son, is him getting dialysis at a very young age or the worst-case scenario is a kidney transplant because he's too young to get that."
It's a given that Ruby has to be with her son every step of his treatment. "Pwede wala ang ama, pero ang ina hindi. Family first. It's my son. Why are we working? It's for my children, especially for my son AJ."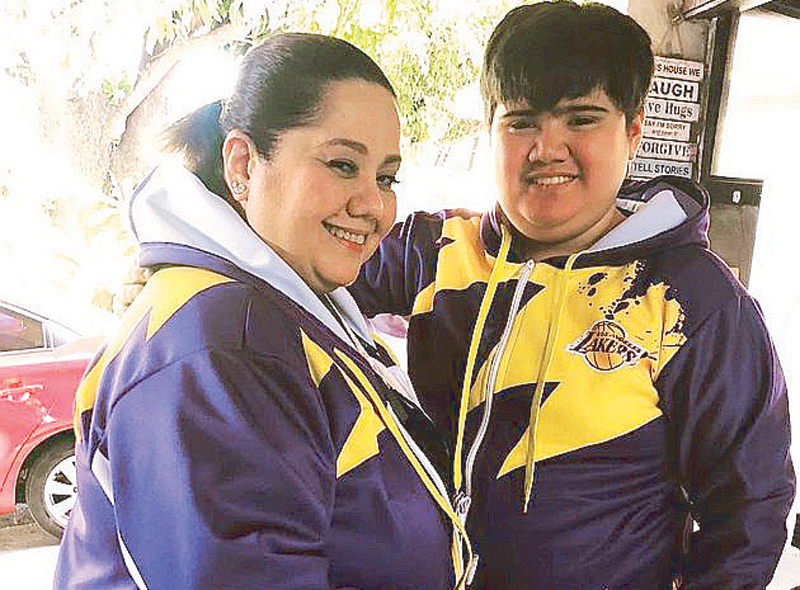 Remembering her sister
Ruby became emotional as she recalled how much she used to lean on her late sister, Dr. Sally Gatchalian, for support when it came to her son. Her Manang Sally was the pediatric infectious disease specialist at the Philippine General Hospital and Research Institute for Tropical Medicine, who became one of the first heroic frontliners who succumbed during the onset of the COVID-19 spread in the country.
"Yung biglang namatay yung ate mo, she was our major supporter because she was the pediatrician of my son and she even went here, she was my companion in December 2019. She talked to all the doctors here of AJ and explained his illness to them, and she was the one who was like, 'Ruby, whatever you need for AJ, let me know. If you need money, let me know,' things like that.
"You know, how painful that is because we were very close as the two of us were the only ones living in the Philippines. All my siblings are here in America. So when she died, my feeling was, I was orphaned again because my parents are no longer around. My mom passed away in 2016, and my dad a long time ago. Then my Ate was gone, I felt like, what will happen now? I had no one to run to. Wala na akong paghihingahan ng kahit ano or someone from whom I could ask for advice. Ang hirap lang talaga and ang sakit, sorry napaluha ako… but (you have to) keep the faith and everything will be better."
Helping kababayan
Of course, Ruby said, she had to find work while starting a new life in the US.
"Paano naman ako mabubuhay kung hindi naman ako mag-wo-work kasi mahirap buhay dito, alam naman natin lahat yan. We don't want to be spoonfed by siblings who are here. Ano yun, forever nalang kami doleout? That cannot be."
She has no answer though if the "relocation" is for good. "People are asking, are you permanent here? I don't want to say yes and I don't want to say no because we really don't know what's going to happen. Just like with the pandemic, did we even know that it would come? Of course not! We don't know what's going to happen but for now, I'm trying to fix the medical (treatment) of my son for the betterment of his health and his education as well because he's doing SPED."
Nevertheless, it wasn't much of a big adjustment for her doing office work. According to Ruby, her decades-long showbiz experience has been a "huge help" in dealing with different Filipino migrants and overseas workers in the US.
"You know, even before I joined showbiz, I had a regular 8 to 5, 9 to 5 job at Bristol-Myers/Mead-Johnson, then I got into teaching. So, I know that life. Then I went into showbiz and then pasok ulit ngayon. I didn't really adjust that much. I feel like it's also public relations when you're working here because you're dealing with Filipinos, mga kababayan, and it really feels so good to help. It's such a great feeling that whenever they ask you and you're able to respond to them well, and then they say thank you.
"I feel like I'm teaching again. Even when I was in showbiz, I went back to school to study SPED so as to better understand my children. Yung office work, yung Ate ko, tinutulungan ko kapatid ko, 'Ruby, isulat mo 'to, i-type mo 'to,' so, it feels the same. But it really feels good that you're treated normal, alam mo yun? Yung inutusan ka, ang sarap ng pakiramdam. Hindi porke't artista ka, ayaw ka utusan, dito hindi."
But she said she misses the country. "I miss the food. My angels, my kasambahays, I miss them so much. I appreciate them more now because I'm doing everything."
Ruby is also not turning her back on showbiz, saying that she will take on whatever project Viva will give her. It's a homecoming of sorts because she was originally a Viva artist, starring in Alabang Girls (1992), Ipagpatawad Mo (1991) with Vilma Santos and Kaputol Ng Isang Awit (1991) with Sharon Cuneta.
*****
Credit belongs to : www.philstar.com