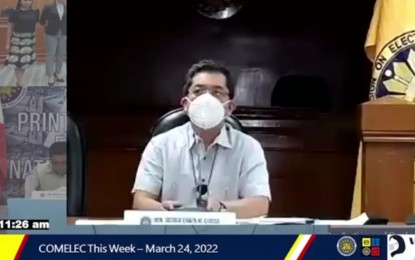 MANILA – The Commission on Elections (Comelec) en banc ruling on the disqualification cases filed against presidential aspirant Ferdinand "Bongbong" Marcos Jr. may be out late next month, the poll body said on Thursday.
Comelec Commissioner George Garcia said the motions for reconsideration (MRs) filed by the petitioners against the candidacy of the former senator are now being hastened.
"The chairman (Saidamen Pangarungan) is committing number one before the end of April a decision by the en banc will be forthcoming," he said in a press briefing.
Garcia admitted that he did not participate in the session that tackled the disqualification cases.
"A decision on the consolidated cases, as well as the case with motions for reconsideration will be decided before the elections…before the end of April," he said. "The earliest the second week of April, the latest will be the third week of April."
The Comelec First and Second Divisions previously dismissed a total of six cases filed against Marcos due to "lack of merit".
The petitioners filed their respective MRs before the Comelec en banc.
Meanwhile, Garcia said presidential bet Senator Panfilo "Ping" Lacson, who resigned from his political party, Partido Reporma, will not be considered as an independent candidate in the May 9 polls.
"Whatever is your party at the time of the filing of the candidacy stays. Your CONA (Certificate of Nomination and Acceptance) stays. Whatever changes in your affiliation after the filing of the candidacy, it doesn't matter," Garcia added.
On Thursday, Lacson announced his resignation from the Partido Reporma after his party decided to endorse another presidential candidate.
Partido Reporma president and Davao del Norte Rep. Pantaleon Alvarez has endorsed the presidential candidacy of Vice President Leni Robredo despite admitting that Lacson is the "most qualified" to be the next president of the country. (PNA)
*****
Credit belongs to : www.pna.gov.ph