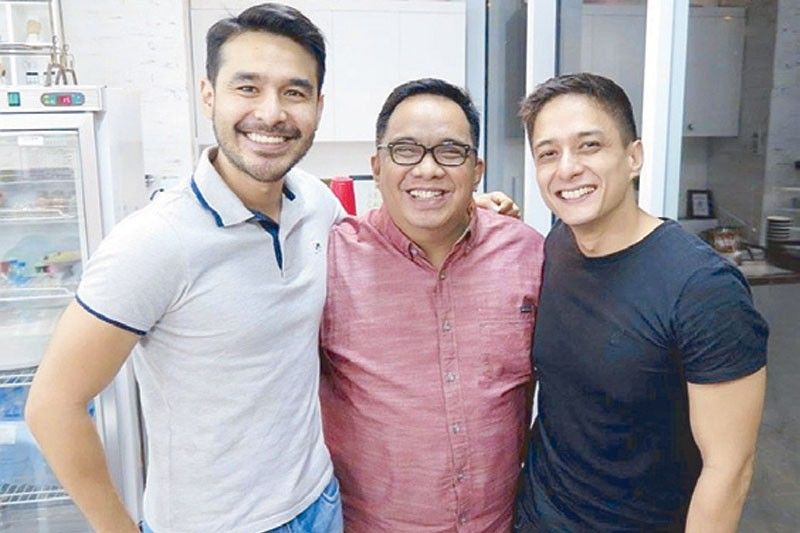 I am a COVID survivor; and I don't say this as a badge of honor, nor it is something to be looked down upon. After 10 days in isolation, I have a better understanding of what people go through in trying to battle this much-dreaded virus.
Honestly, I don't know how I got it. I have been so careful. Since the Enhanced Community Quarantine (ECQ) before Holy Week, I have never left the house, except two times for my two vaccine jabs — the last one on May 5 — almost two weeks before I tested positive.
I had to be swabbed in preparation for a commercial shoot of my talent Atom Araullo and the report really puzzled my doctors; but instead of taking a retest, they made me isolate immediately and condition my mind to take time off and rest.
The major concern was to be responsible not just for myself but for the family and household whom I have been exposed to, most especially my 80-year-old mom whom I was with for her vaccination the same day I got my positive result.
I have to make special mention of the Office of the Vice President's Bayanihan E-Consulta which promptly facilitated my family's tests and provided me with the COVID-19 Care Kit, complete with thermometer, oximeter, vitamins, various medicines and related literature, disinfectants, face masks, waste disposal bags and a daily tracking system.
As soon as we got the negative COVID test results of the whole household, half of the stress was gone. All I had to focus on was to be well. The thermometer and oximeter became my best friends. I had to take my digits three times a day and submit them to the E-Consulta staff Jane and doctors who attended to me — Dr. Melfred Hernandez and Dr. Jonas del Rosario of PGH and Dr. Mike Muñoz of Medical City.
Dr. Melfred's research on the CT levels in my test with very low viral load had Dr. Jonas saying that I will be safe and asymptomatic, all pointing to Dr. Mike's statement that the vaccine may be serving me well.
I can only thank the family who took care of me, saw through my needs and faced even the DILG and barangay authorities (which at times can be challenging), thanks to QC Mayor Joy Belmonte for having clear guidelines and making fast action.
If at all, family should be our first line of defense and protection — not only against the virus — but also from discrimination, fake news, paranoia, judgment and anxiety.
And then, there are friends. Judy Ann and Ryan Agoncillo, Mamee Jane, Joy Young and Dra. Gigi always asked for what food I want. The Joses of Arlington sent dozens of vitamins and supplements. Kim Atienza and Chris Tiu would send in devotional prayers. Colleagues Gorgy, Dr. Ali and Christopher de Leon sent daily prayers and even Mass offerings, along with greetings from busy people: Martin Nievera in Alabang, Richard Gomez in Ormoc and Zsa Zsa Padilla in Las Vegas. The Barks, #TeamNoel, PEP, MMFF, Pinoy Playlist Curators, Custaroons and Radyo Katipunan families are my prayer warriors.
Being in isolation made me feel like I'm in a long retreat like the ones we had back in our days in the university. Keeping The Faith Masses, as well as Fr. Tito Caluag's text messages never failed to uplift. In one serendipitous moment, VP Leni would send such an assuring message with the screenshot of Fads Tito celebrating Mass, and it just moved me to tears. During times of anxiety, prayers keep you calm.
The Pentecost Sunday Mass of Fr. Jet Villarin summed up my COVID experience. There are three waves: Fear, light and love.
Fear comes from everywhere — created by sounds, things we hear, words we gather. The COVID fear is real. Iza Calzado would tell me to expect all sorts of calls and opinions from people. Indeed, these days, statements, opinions and interpretations have become weapons. Somehow, they have become cheap. I had to sift the well-meaning words from those that would just project people's fears on me, which usually result in blaming, "Saan mo ba nakuha 'yan? Bakit ka pa kasi naglalalabas?"
And so those who spoke in a language that understands and wanted to be understood were appreciated. I leaned towards words that would create rather than destroy, unite rather than divide. Words that won't sow anxiety and fear but heal.
In prayer, the light of our soul becomes a beacon in this time of tempest. It is the light that comes from God and radiates from our soul. Soul on deck shines like gold in dark times.
I am not alone in this COVID journey. A lot have suffered more and some are still battling with it, but it is important for struggling souls to catch light from others who are fully lit like Doc Jonas, Christopher, Iza, Marco Alcaraz and Rowell Santiago, who advised me based on their COVID experiences. Theirs were fierce battles and major acts of bravery and mercy.
For all the harm that this crisis has inflicted on us, we know that it is thrusting us to our core; this pandemic has bared our soul to ourselves. True character comes clear during times of unclarity. The light of a person's soul radiates during times of tribulations.
Love is patient and kind, so they say, but as Fr. Jet puts it, love is brave. I'm in awe of how people reached out to me in so many ways as their own love languages. Instead of being sad over some who avoid COVID-positive patients like a plague (for fear of contracting the virus), I am just so appreciative of those who made me feel safe, well and loved. As in Fr. Jet's homily, Love, that defies inertia. Love, that makes the first move by going through doors locked long in fear and anxiety. Love, that breaks the silence and speaks the first word. It is this love that rouses people to action. Truly, love awakens love.
And through my whole COVID experience, as I am exposed to the different manifestations of love (the 4Fs — Faith, Family, Friends and Food for the body and soul), I am more convinced with what my doctors said, that the vaccines saved me.
The past year has taught us caution. And that's a good thing. Caution has saved lives. We have been cautious when it comes to protecting our health, as well as the health of our loved ones and our communities amidst the pandemic.
The next step in that caution is trusting the science and listening to the advice of health authorities about getting vaccinated so that we can continue to protect ourselves, our loved ones and our communities for the long term.
I look forward to hugging and carrying my pamangkins and inaanaks. Bonding with my senior citizen mom and my loved ones. Traveling with friends. Having family over for the holidays. Seeing friends and co-workers in person. These are just some of the things we are eager to get back to doing as we aim to return to what we had before.
The reality of vaccines brought the things we love into focus. It's not something we do for ourselves, we do it for the people we love. Let's get vaccinated so that we can do these again.
The light at the end of the tunnel is starting to feel closer. Basta bakunado, OK na maging close tayo!
*****
Credit belongs to : www.philstar.com