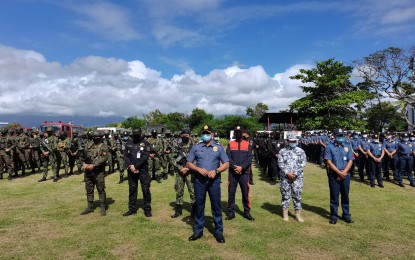 DUMAGUETE CITY – Officials of the Commission on Elections (Comelec), the Armed Forces of the Philippines (AFP), and the Philippine National Police (PNP) told security forces in Negros Oriental to remain apolitical and neutral during the May 9 national and local elections as they were officially deployed on Friday.
The call was sounded off during the official send-off ceremony of government troops at the Negros Oriental Provincial Police Office (NOPPO) grounds in Barangay Agan-an in Sibulan town, which was spearheaded by the Provincial Joint Security Control Center (PJSCC) headed by the Comelec.
Lawyer Lionel Marco Castillano, Comelec-Negros Oriental provincial election supervisor-designate and head of the PJSCC, formally accepted the symbolic turnover of forces and resources from the different security and non-security agencies for poll duty.
Col. Germano Mallari, provincial police director, said the NOPPO was deploying 117 vehicles, 66 mobile patrol vehicles, 49 motorcycles, one Man Truck, one police bus, 3,000 short and long firearms, 354 radios and cellphones, and 2,048 personnel.
Brig. Gen. Leonardo Peña, commander of the 302nd Infantry Brigade of the Philippine Army based in Tanjay City, Negros Oriental, committed to deploying mobility and air assets, and a 1,100-member team from the AFP.
This is only covering half of the province under his area of coverage as the 303rd Infantry Brigade based in Negros Occidental is in charge of the other half comprising the central and northern parts of Negros Oriental.
Lt. Junior Grade Marc Anthony Tolentino, commander of the Coast Guard Station-Negros Oriental, said all logistical assets and 79 personnel are ready for deployment.
From the Bureau of Fire Protection, Supt. Joel Abarquez, the provincial fire director of the BFP, said the agency will deploy 45 trucks and 400 personnel.
In their respective messages to the troops, the agency officials reminded them of their primary role as peacekeepers to ensure that the elections are carried out peacefully and with no violent incidents.
"To the men and women in uniform, please remain apolitical. Be true to your oath, be proud of your uniform (because) the people of Negros Oriental has given you great responsibility to secure their vote for that sacred vote to be counted accurately," Castillano said.
"I always believe that it is only during elections that we Filipinos are truly equal. Each of us, regardless of status of life, is only entitled to that one precious vote," he said.
He told the security forces to protect that vote.
Peña said in mixed English and Filipino that "we in the security forces are here, united to bring hope and protection to our citizens so that they may vote properly without doubt,"
He reminded the soldiers that they are authorized "to legally bear firearms not to oppress, to take advantage, or to abuse but to carry out the mandate entrusted to us our nation, by the Filipino people and the government and not allow themselves to be used by those with ill intentions".
Mallari, on the other hand, said the main objective of the PNP is to have peaceful, honest, and orderly elections.
"Please be reminded that we are non-partisan. The PNP is apolitical and our mission is to secure the voters," he said.
"They must be free from intimidation and let us ensure that all the voters in Negros Oriental can cast their votes on May 9," he said.
Msgr. Julius Perpetuo Heruela, convenor of the Diocesan Electoral Board of the Diocese of Dumaguete, blessed the troops and was joined in an ecumenical prayer by Pastor Noel Bactol of the PNP-Moral and Spiritual Transformation program and Imam Abdul Maulah Muhsin, Ustad/Imam of the Muslim Community.
Meanwhile, Dr. Senen Paulin, Department of Education (DepEd) schools superintendent of the Division of Negros Oriental, said 3,808 teachers, non-teaching personnel, and administrators are all ready for poll duty as well.
He said 1,121 classrooms have also been made available as polling precincts.
Paulin clarified the numbers mentioned do not include those from the other DepEd divisions from the other cities in the province. (PNA)
*****
Credit belongs to : www.pna.gov.ph