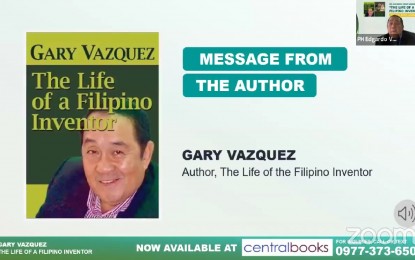 MANILA – Finding opportunity amid the Covid-19 pandemic helped Filipino inventor Gary Vasquez to come up with an idea that eventually became popular, his mist-dispensing innovation, Misty Kool.
"Covid is a disaster, but it also gives an opportunity," Vasquez said at the virtual launch of his book, Life of a Filipino Inventor, on Wednesday.
"I invented it for myself, just to satisfy my curiosity to solve the problem. Then my friends noticed the machine that I was using. They inquired where I got it or what did I do and asked me to make one for them. Their friends asked them where did they get it, and they ordered," he added.
Other clients, such as restaurants, factories, warehouses, private homes, came in.
"I was sanitizing the Palace, villages, using misting canons," Vasquez said.
Misty Kool is a misting system that sprays ultra-fine microns of water to cool off any area. The machine has an air-cooling effect and repels insects, dust, smoke, and pollen.
Vasquez said Misty Kool already has several lines, such as a humidifier.
He noted that his invention has been very timely.
"Because of Covid (virus), you need to sanitize the air," he said.
The inventor, who is also an entrepreneur, noted that Filipinos are skillful.
"We have everything. We can put everything in place. We can put up a village at any time. All we need is (to have) the equipment, harness the talent," he remarked.
Vasquez is also the man behind Vazbuilt, a company that builds low-cost modular houses.
"I want to teach people how to build their homes, and I just supply them the materials. It is difficult to build a house in this country, and there are many documents required before building one. If you want to buy a car, you only need to hand a down payment and you can take the car with you. Can we not make it more expensive to buy a car, and make buying a house affordable?"," he said.
Vasquez expressed optimism that a brighter tomorrow awaits after the pandemic.
At the launch, he thanked Department of Science and Technology (DOST) Fortunato de la Peña for believing in him. It was de la Peña who encouraged him to write a book to show the people what he has done.
He said de la Peña wanted him to share his story, but he replied in jest, "Secretary, spelling nga mali mali ako. Libro pa? (Secretary, I could not write correct spelling, and now a book?"
The DOST chief persisted that Vasquez has to write a book and inspire the youth.
In his message, de la Peña said people love listening to stories about inventors and innovators making wonders through their creations.
"Through Gary, I saw a man who can inspire others to work hard and give their best to achieve their goals. This is why I relentlessly convinced him to write this book, for I believe that it is important that lifeworks such as his must be documented so the current and future generations can have something to admire and look up to. For this, I am proud that through my simple contribution of convincing him, we now have this awesome book," de la Peña said.
There are many innovators that the country can always be proud of, he continued, adding that Vazquez is among them.
"His creation Vazbuilt has brought the standard of housing in the Philippines to another level. Through sheer will and determination, he was able to realize his vision of providing affordable, durable, and aesthetically-pleasing housing for many Filipinos. He successfully utilized his knowledge in engineering, construction, and electronics to build some of the most commercially successful inventions in years," de la Peña said.
The book is now available at Central Books. (PNA)
*****
Credit belongs to : www.pna.gov.ph