Senate, Gordon websites cyberattacked amid Pharmally probe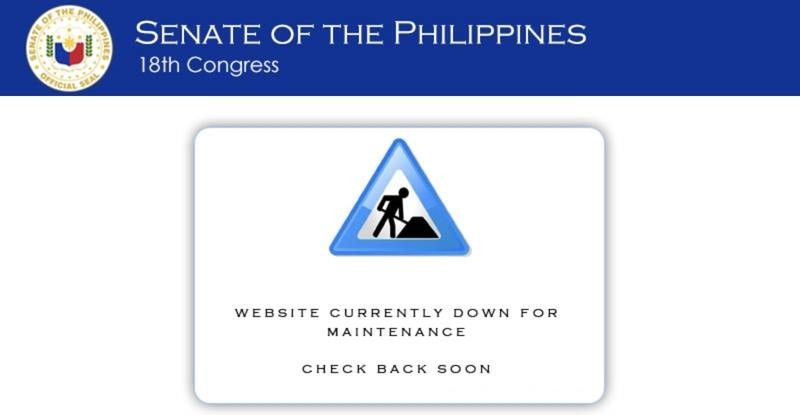 MANILA, Philippines — The websites of the Senate and blue ribbon chairman Richard Gordon fell victim to cyberattacks this week as the panel advanced its high-profile probe on the government's anomalous deals with Pharmally Pharmaceutical Corp.
Access to the Senate's website has been "temporarily blocked" due to "an ongoing distributed denial-of-service (DDoS) attack," the chamber's electronic data and processing-management and information system bureau told reporters.
DDoS attacks are perpetrated to disrupt a website or network's usual online activities by flooding it with traffic requests.
Meanwhile, Gordon's office said his website also suffered a DDoS last Monday, warning that the effort may be connected to the Pharmally hearings that he leads as blue ribbon chairman.
The website, dickgordon.ph, had to shut down from 7 a.m. to 1 p.m. due to a "coordinated online attack" from foreign users, information technology officer of Gordon's office Myke Cruz said in a statement released earlier Wednesday.
"We view such service outage or disruption as a serious concern as its timing comes when the Senate blue ribbon panel is investigating alleged irregularities in government procurement for COVID-19 supplies and equipment," Cruz said.
Cruz said the majority of traffic requests to Gordon's website came from China, the United States, Ukraine, and other Southeast Asian nations, causing the typical bandwidth traffic to skyrocket from less than 100MB to almost 1.8GB in less than an hour.
Administrators were able to contain the problem by barring entry of traffic from outside the Philippines at around 1 p.m., but the foreign-led attack persisted until 3:04 p.m.
While Gordon's site is back to normal, the Senate's official website is still inaccessible as of this writing.
Sen. Richard Gordon's office says there was a "coordinated online attack" on his website Monday, causing it to shut down for hours. @PhilstarNewspic.twitter.com/IZ24Nt7WwA

— Bella Perez-Rubio (@BellaPerezRubio) October 6, 2021
Duterte lashes out over Pharmally probe
The attack comes as President Rodrigo Duterte continues to assail members of the Senate, Gordon especially, over their investigation that has closed in on the chief executive's appointees and other individuals linked to him.
Executives of the embattled Pharmally met with the president in Davao City as early as 2017 along with his then-economic adviser Michael Yang.
Yang, who first tried to deny any ties with Pharmally, has since been named by the firm as its financier and guarantor to suppliers.
Meanwhile, it was a Duterte appointee who headed the Department of Budget and Management's procurement service when it awarded the largest pandemic contracts to the new and undercapitalized firm.
Senators estimate that contracts awarded to Pharmally could be worth as much as P12 billion, significantly higher than the P8.68 billion logged by the Commission on Audit.
READ: 'Shortcut': Senators call out incomplete, anomalous Pharmally procurement papers
The official in question, Lloyd Christopher Lao, former PS-DBM officer-in-charge, worked as Duterte's election lawyer before he entered public service.
Duterte on Monday formally banned members of the executive department from attending the Senate panel's probe. Senators have criticized the order as blatantly unconstitutional.
When the hearing resumed the following day, senators were unable to address questions to the DBM and Department of Health whose executives skipped the hearing upon the president's instruction.
RELATED:Michael Yang, named as Pharmally backer, skips Senate hearing over blood pressure | 'Nalugi kami': Local maker answered call for masks but deliveries 'pushed out, delayed' by gov't
*****
Credit belongs to : www.philstar.ca