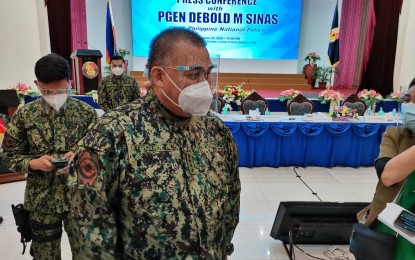 MANILA – Philippine National Police (PNP) chief, Gen. Debold Sinas, has announced the acquisition of more bulletproof vests for police officers in the conduct of anti-crime operations.
"For years, we have been acquiring police equipment that would be used by our personnel in the field while fulfilling their duties as law enforcers. And this time we will acquire more bullet-proof vests to ensure the safety of our personnel whose lives are in peril in times of police operations," Sinas said in a statement on Friday.
This came following an incident where a police officer wearing a bulletproof vest survived after being shot by suspected gun-for-hire suspects in an operation in Labo, Camarines Norte this week.
Sinas also pointed out that "armed criminals are prepared to confront for a shootout against our police operatives".
"Wearing armor vests will save lives of the lawmen during a firefight to prevent possible loss of life and injuries," he said.
He added that as part of his core guidance, all police personnel on operations, such as patrol, anti-illegal drugs, anti-kidnapping, and others, must wear bulletproof vests, and other protective equipment.
On Dec. 16, Staff Sgt. Alex Tortogo Bayona, a member of the PNP Special Action Force assigned at the 94th Special Action Company, was saved by a tactical gear front hard ballistic plate vest during an armed confrontation against notorious gun-for-hire and New People's Army (NPA) suspects in Labo, Camarines Norte.
Based on the assessment of Camarines Norte Provincial Hospital conducted by Dr. Harold Pocholo Mejia, Bayona sustained a second-degree burn on the left deltoid and circular shape swelling anterior chest as the suspect, identified as Jonel Alcanzo, fired at the responding team using a .45-caliber pistol.
Bayona is now recovering in a medical facility as advised by the attending physician.
"Despite the risks that our police operating teams have been facing, we are relentless in accomplishing the mission and duties of the police force. No amount of danger will hamper us in keeping our communities safe to live at all times," Sinas said. (PNA)
Credit belongs to : www.pna.gov.ph