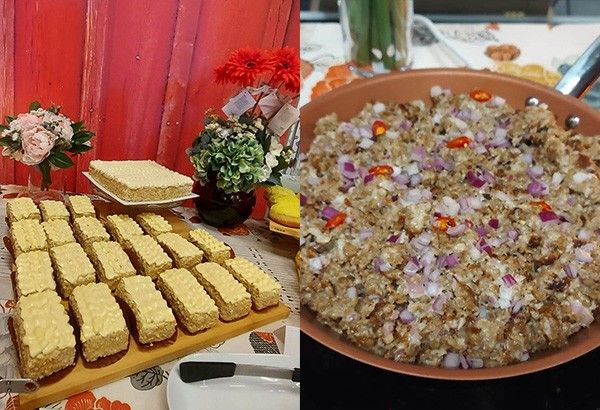 MANILA, Philippines — In time for April, Filipino Food Month, Ikea Philippines introduced yesterday in its Pasay City flagship store its new sustainable selections infused with Filipino flavors.
Kitchen Production Team Leader Maverick Javier presented to the press yesterday the brand's special summer menu.
First, for the Swedish Restaurant, Javier introduced the Meatball Sisig. While the classic Filipino version is usually made of finely-chopped pig parts, the Swedish Restaurant's non-greasy take includes Ikea's signature meatballs prepared Sisig-style: finely-chopped and seasoned with chopped red onions and red chili bits.
"So why did we come up with Meatball Sisig? Basically because we want for many more people to try our meatless meatballs, so we decided to maybe transform it into something familiar, that's why we came up with Sisig," Javier explained.
According to Javier, the Meatball Sisig is only available from Monday to Friday, from 11 a.m. to 3 p.m. and from 5 to 8 p.m., while supplies last, for a 95-peso complete meal together with rice and vegetables.
Another main course option available in Swedish Restaurant from lunch to dinner are Pork Ribs in Barbecue Sauce that go for P490 per order – with potatoes and broccoli.
While meatballs are usually made of pork and/or beef, Ikea's Plant Balls, Javier said, are made completely out of vegetables but are similar in texture as usual meatballs.
"The plant ball is made from pea protein, oats, potatoes, and apples. The meaty taste is achieved by adding umami flavors, such as mushroom, tomato, and roasted vegetables. And because there are no animal-based ingredients it's suitable for vegan and vegetarian diets," the brand elaborated in its website.
Another meatballs alternative is Corn Ball, sold for P100 for three pieces in Swedish Bistro at the third floor of Ikea's, and in Bistro Exit fronting the checkout counters.
As for their new desserts, Javier shared, "We started selling them in the Swedish Restaurant this week and so far, the reception of the market has been quite good. Medyo malakas s'ya at nauubusan kami at times."
Swedish Café Team Leader JV Katigbak introduced the new desserts for Bistro and Café. These include the Pineapple Donut and Mixed Berries Donut that sells for P65 apiece in Bistro Exit.
Also new is Langka Sans Rival, which combines two Filipino flavors: langka or jackfruit that is in season every summer; and Sans Rival or layered cashew cake. Langka chunks are mixed in between the creamy and crunchy crushed peanut and buttercream layers, giving the dessert a fruity summer kick. It is available at the Swedish Café at the third floor entrance for P180 per block or per slice or as a full cake for sharing for P1,380.
To refresh from summer heat, the brand will also launch its new Chocolate Soya Ice Cream by May 8. The soya-based chocolate-flavored ice cream sells for also P10 like the plain flavor. Both flavors will be served at the ice cream machines by the Bistro Exit, and more flavors might be introduced soon, said Katigbak.
For quenching thirst, the label also jumpstarted two new Slushie flavors – Apple and Berry (strawberries, blueberries, apple juice, sweet potato, banana and lemongrass) and Hello Summer (pineapple, mango, apple juice, yellow carrots, sweet potato and sweet puff corn puree), available at the Swedish Bistro entrance on the second floor. The slushies are also sold per bag for 420 grams at the Swedish Food Market and complement the brand's healthy snacks like oat biscuits and vegan chips.
"Because Ikea is pushing for sustainable food and healthier options," Katigbak said. "We're aiming that by 2025, half of our range is plant-based, vegan and healthy."
RELATED:Help end world hunger: Antoinette Taus gives 3 ways to sustainable food consumption
*****
Credit belongs to : www.philstar.com