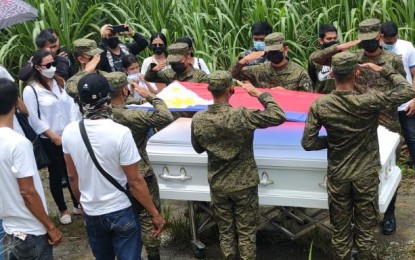 BACOLOD CITY – Both died during an encounter between government troops and communist-terrorists in the hinterlands of Barangay Kapitan Ramon in Silay City, Negros Occidental on Aug. 20.
They were laid to rest, also on the same day on Saturday, but under different circumstances.
Pfc. Christopher Alada, 31, a trooper of the Philippine Army's 79th Infantry Battalion (79IB) based in Sagay City, was interred at noon at the public cemetery in his hometown of Badiangan, Iloilo with full military honors and witnessed by his loved ones and fellow soldiers.
On the other hand, New People's Army (NPA) combatant Joery "Pabling" Dato-on Cocuba, 38, was buried at the Silay City public cemetery at around 10 a.m. without any of his kin.
"The burial (of Cocuba) was arranged after none of his relatives or family members turned up to claim his cadaver after relentless information dissemination," Lt. Col. J-jay Javines, commanding officer of 79IB, said in a statement.
Alada was honored with a gun salute and the Philippine flag was given to his widow, Kaye, "in honor of his committed and dedicated service to the military and the country".
"We condole with the family of late Pfc. Alada. On behalf of the 79IB and the whole Philippine Army, we salute you for your patriotism and heroism. Rest assured, your sacrifices will never be put in vain as we vow to be more relentless in our effort to end the local armed conflict in northern Negros," Javines said.
Javines said that unlike the communist-terrorists who leave their dead behind, the Philippine Army will always respect a person's right to a decent burial.
"Alias Pabling died fighting for a wrong cause but still, he is a fellow Filipino who deserved respect and humane treatment. This incident should serve as a caveat to the remaining communist-terrorists," he added.
Cocuba was a resident of Barangay Consing, E.B. Magalona town, adjacent to Silay City.
Javines renewed his call for NPA rebels to "abandon the armed struggle, lay down your arms and choose the path towards peace".
"Sooner or later, the long arm of justice will reach you and you will suffer the same fate as that of alias Pabling, left behind and abandoned to his grave," Javines said.
Cocuba was killed along with Kerima Lorena Tariman, 42.
They belonged to the Northern Negros Front of the NPA's Komite Rehiyon-Negros, Cebu, Bohol, and Siquijor.
Tariman's father, music critic and writer Pablo, came to Negros Occidental on Aug. 23 to claim his daughter's body.
The Communist Party of the Philippines, with its armed wing, the NPA, is listed as a terrorist organization by the United States, European Union, the United Kingdom, Australia, Canada, New Zealand, and the Philippines. (PNA)
*****
Credit belongs to : www.pna.gov.ph