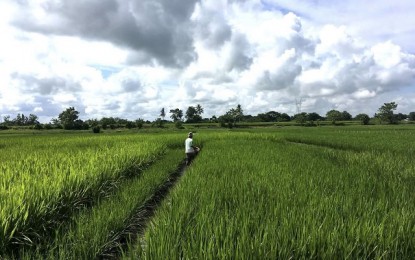 MANILA – A lawmaker on Tuesday said expediting the release of the Rice Competitiveness Enhancement Fund (RCEF) to boost domestic production could help mitigate risks from higher rice prices abroad.
Albay Representative Joey Salceda said this is a necessary government intervention to ease food prices as the inflation rate slightly decelerated in September 2021.
"I welcome certain aspects of the September inflation report, with the caveat that the decline in prices for certain goods can go faster," he said.
He urged the implementing agencies of the RCEF to sustain the implementation of its programs and accelerate the completion of backlogs from the mechanization component to improve farm yields.
"Earlier this year, I already warned about a potential increase in world rice price due to supply pressures in Vietnam, our leading supplier," he said.
He said as rice bran is also a key component of livestock feed, improved domestic rice production will also have positive impacts on the prices of meat.
Salceda also pushed for an increase in the agriculture budget of at least 10 percent to ensure that food production and protection programs are sustainably funded.
Based on the report of the Philippine Statistics Authority (PSA), the headline inflation rate slowed down to 4.8 percent in September 2021 from 4.9 percent in August 2021. This is at the lower end of the Bangko Sentral ng Pilipinas' forecast range of 4.8 percent to 5.6 percent for last month.
Food inflation decreased to 6.5 percent in September from 6.9 percent in August due to lower inflation rates in rice, fish, and meat.
Rice inflation recorded zero growth following the issuance of Executive Order No. 135. Likewise, fish inflation decelerated to 10.2 percent from 12.4 percent.
Meanwhile, meat inflation decreased to 15.6 percent from 16.4 percent, as pork inflation declined to 36.4 percent from 39 percent.
The month-on-month meat inflation also continued to decline at -1.6 percent, suggesting some price stabilization following the implementation of EOs No. 133 and 134.
"The proactive implementation of EOs 133 and 134 have helped stabilize pork prices. The government is continuously accelerating and calibrating its implementation so we can further lower pork prices towards their pre-African swine fever level," Socioeconomic Planning Secretary Karl Kendrick Chua said.
The government adopted EOs 133 and 134 in May 2021 to help increase the supply of pork in the country amid its shortage due to African swine fever. These interventions increased the minimum access volume (MAV) for imported pork, and imposed a temporary reduction of pork tariffs, respectively. (PNA)
*****
Credit belongs to : www.pna.gov.ph