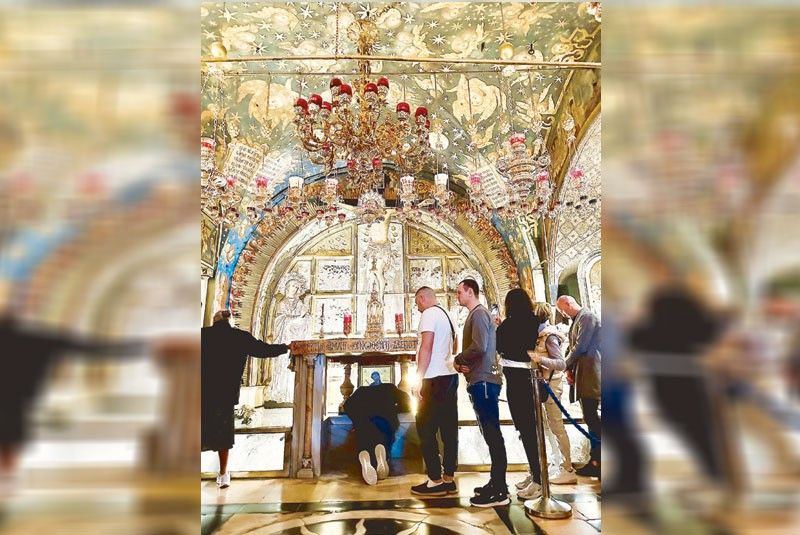 There are no perfect lives, only perfect moments.
There exists a place located at the crossroads of the Mediterranean Sea and the Jordan River, which beautifully blends the nostalgic old and the progressive new. It is said to be the meeting point between heaven and earth where more than a 2,000-year history comes alive right before your very eyes.
Our lively 34 traveling companions with our dear chaplain Fr. Dennis Paez intimated that our journey was specially curated by God. To walk in the Holy Land in the footsteps of Christ is to live a "Fifth Gospel" with lessons about salvation history, the Gospel and where the Bible comes alive.
My late dad said, "When you go to the Holy Land, you will never read the Bible the same way." He was so right!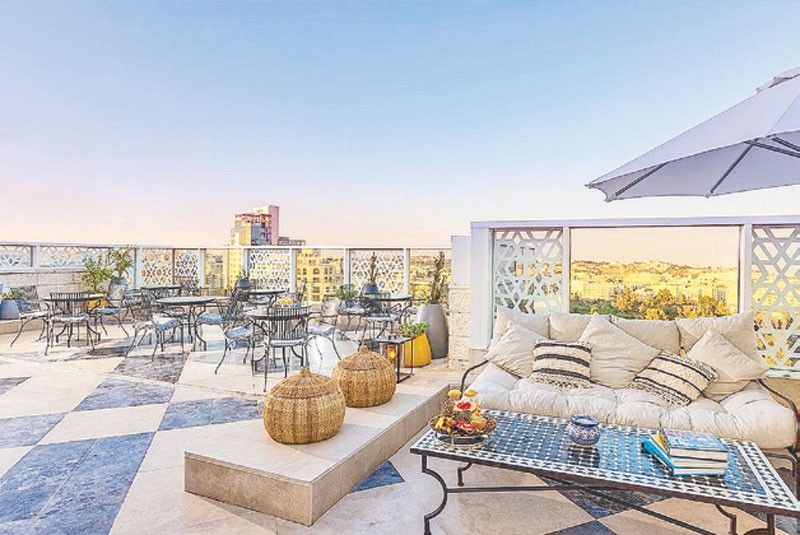 The stunning view of Jerusalem city can be seen from atop the cozy 79-room Bat Sheva boutique hotel
Our competent and most compassionate tour guide, Faris Azar, shared that his mission is to accompany pilgrims and help them intimately encounter Jesus. We were also fortunate to have the very kind Flower, the owner of the bus company, who drove for us.
Daily for 15 days, we had early breakfasts, scheduled embarkations on the bus, the unique pilgrims' prayer, rosary devotions and generous sharing of food, snacks and drinks. Many thanks to Dra. Cecille Marie Rabuco who took our blood pressure regularly. Of course, shopping for souvenirs was a frequent highlight of the trip as well.
One funny anecdote was carrying a huge box in a black garbage bag all the way to the Wailing Wall with a colorful ceramic pitcher and bowls for my sisters Jaqui and Michelle inside. The box had to go through this conveyor belt and they all thought it was an oven toaster. It was hilarious.
Like a beautiful dream, we embarked on precious daily activities. The very competent Patty Pineda organized all our masses and more. The original group that instigated this pre-pandemic trip was the gorgeous "Donkey Pilgrims" composed of my sister Yvonne Romualdez and her 12 batchmates in Assumption.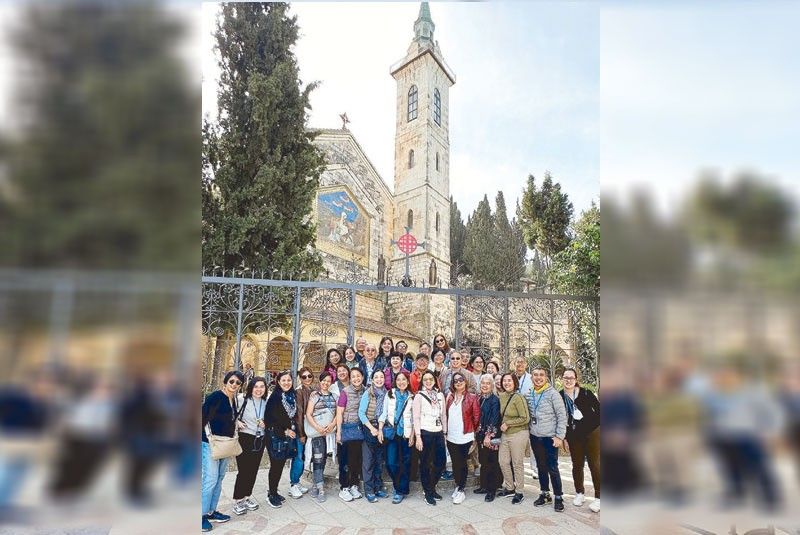 (From left, first row): Mae Cu Unjieng, Clarissa Gonzalez, Tricia Tensuan, Jeanne Romulo, Toots Magsino,Cecille Rabuco, Ada Mamon, Marianne Hernandez, Jenny Hernandez, Patty Pineda, Cymbaline Santiago, Paz Habersatt, Laura Rodrigo, Büm Tenorio, Jelica Asido; (second row) Christine Dayrit, Margie Duavit, General Bong Franco, Malu Franco, Fr. Dennis Paez, Connie Vergara, Ramon Lacson, Bianca Lacson, Jenny Silayan, Margot Perez, Rina Perez, Jay Silayan; (back row) Joey Garing, Ethel Go, Franklin Go, Tess Garing, Yvonne Romualdez
Jerusalem is a fascinating city. What better lodging to witness all these than from the Bat Sheva Hotel Jerusalem, with all of its 79 rooms offering a historical view of Jerusalem: the Dome of the Rock, the Western Wall, and Jerusalem city rooftops. It is a mosaic of flavors, scents and modern design with a touch of past cultures.
Each step is taken in awe and wonder as you visit the place where Jesus was born in the Church of the Nativity and where he was nailed to and died on the cross in the Church of the Holy Sepulcher. We also visited the birthplace of the Virgin Mary. We learned about so many truths not known to many. Mount of Olives is where the Garden of Gethsemane is located and where you will find the rock of the agony where Jesus prayed the night before he was crucified.
In the River Jordan, we reenacted how Jesus was baptized. In the Dead Sea, the gang donned their swimsuits, simply floated and posed like beauty queens. The lowest point of the earth at 1,300 feet below sea level, no organism can live here due to the salinity of the sea.
In the Shepherds' Field where the angels appeared to the shepherds announcing the Savior's birth, we sang Christmas songs.
In Cana, five couples in our group namely, Jay and Jenny Silayan, General Bong and Malu Franco, Joey and Tess Garing, Frank and Ethel Go, Ramon and Bianca Lacson, renewed their vows in this church where Jesus performed his first miracle by turning water into wine as requested by the Blessed Mother.
Other important sites in Jerusalem are the Church of St. Peter in Gallicantu where a prisoner's pit hewn out of bedrock was discovered and where Jesus spent the night before he was crucified, the Church of the Pater Noster where Jesus taught his disciples the Lord's Prayer and the Church of the Visitation in Ein Karem where the Blessed Mother came to visit her cousin Elizabeth, who was with child in her old age.
A quick stop in the most delicious ice cream shop replete with white chocolate with nougat, cookies and cream, lemon sorbet, avocado, and Belgian chocolate had us wanting more.
The main attraction in Nazareth is the Basilica of the Annunciation where the Blessed Mother gave her "yes" and the Church of the Transfiguration where Jesus took Peter, James and John up the mountain to pray. Then there's tranquil Tabgha by the shore of the Sea of Galilee — the site of the Church of the Multiplication of the five Loaves and two fishes where Jesus fed 5,000 people and the Church of the Primacy of St. Peter, where Jesus appeared to his disciples for the third time and commissioned Peter as leader of the Church.
Another unforgettable experience was a boat ride in the Sea of Galilee where we recalled the well-known scene of Jesus' Sermon on the Mount, the Beatitudes; and where Jesus walked on water, calmed the storm, and made Peter and Andrew into "fishers of men."
Our favorite entertainment was playing "Trip to Jerusalem in Jerusalem" with Büm Tenorio as the game master. Our version of musical chairs, we squealed in delight as we were eliminated one by one. Members of the group rushed to the designated seats to the guffaws of everyone. Marianne Hernandez and Jenny Hernandez bagged the top awards for this game.
I will always remember what Fr. Paez said: "Do good things in a hidden way. What you do in secret, the Lord will reward. No need to trumpet your deeds." He also stressed the value of forgiveness and compassion.
Another special pilgrimage we embarked on was a sacred visit to Ephesus, home of the Blessed Mother where St. John the beloved took her after Jesus died and where he built her a home. Charming tour guide Eyup Karapinar showed us the most precious sites here. Three other pilgrims, Joey Mendoza, Noreen and Patrick Santos, joined us here. One main purpose for this visit was to pray to Our Lady of Ephesus for guidance as to how she wants us to build a replica of her home here in the Philippines.
One unforgettable memory that elicited much laughter was during a visit to a huge leather factory and showroom. There was a mini fashion show complete with a lighted stage and booming music. Our very own General Bong, Ethel Go and Büm Tenorio took center stage, sashaying and gamely doing their catwalks!
This was the nature of our trip — a merry mix of solemn visits to holy sites, prayer partners, joyful laughter, delicious cuisine and shopping to everyone's delight. We were both pilgrims and tourists. After all, there is a time for everything. A time to pray and a time to laugh. A time to abstain and a time to shop. A time to play and a time to rest. A time to wake up early and a time to sleep in.
There is no need to wait for a long time to embark on something you love to do. Let the Holy Land and Ephesus pilgrim experience draw you closer to the Lord.
Here, no prayer is left unanswered. Indeed, there are no perfect lives but here in the Holy Land and Ephesus, every moment is perfect.
* * *
For more info about J.Period Travel Group, please call +63 915 1361216 or email [email protected] and look for Jelica Asido.
*****
Credit belongs to : www.philstar.com