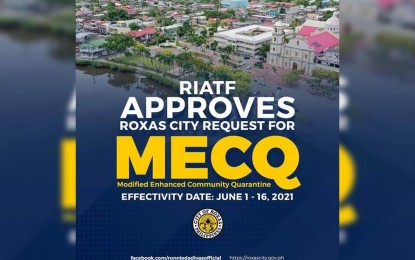 ILOILO CITY – The component city of Roxas in Capiz province will be under modified enhanced community quarantine (MECQ) from June 1 to 16, 2021 to address its increasing cases of coronavirus disease 2019 (Covid-19).
The reclassification of Roxas City from its current modified GCQ status was concurred by the Regional Inter-Agency Task Force (RIATF) on the Management of Emerging and Infectious Diseases and the Regional Task Force (RTF) against Covid-19 through Joint Resolution No. 10 passed during their meeting late evening of May 28, RTF spokesperson Cindy Ferrer said in an interview.
"It will already take effect on Tuesday. They are just given lead time to prepare," she added.
Unlike highly urbanized cities (HUCs) that should be approved by the national IATF, Roxas City just needs an Executive Order from the province.
However, a copy of the declaration is being furnished to the national IATF for its information, Ferrer said.
"It no longer needs the approval of the national IATF because it is only a component city of Capiz. The governor has already come up with an Executive Order that was concurred by the regional task forces," she said.
She added that the city has complied with the requisites to merit the escalated classification such as 25 percent of their barangays have clustering of cases, rising cases for the previous weeks and critical bed capacity of hospitals dedicated to Covid-19 patients.
The Roxas Memorial Provincial Hospital (RMPH), in a statement released on Friday, said that its Covid-19 bed allocation has reached a critical level with reprieve nowhere in sight.
It currently admits six critical cases, 27 severe cases, and 18 moderate cases while six are waiting admissions at the emergency room and triage area.
Two district hospitals have also reached their full 20-bed capacity while the four private hospitals are also in full capacity.
As of May 28, Roxas City has 175 active local transmission cases while 26 front-liners were also infected by the virus.
Under MECQ, residents who are below 18 years old and over 65 years old, persons with comorbidities and with disabilities and pregnant women are prohibited from going out except when obtaining essential goods or for work in allowed offices and industries.
While mass gathering is not allowed, a 30 percent seating of the venue capacity is allowed for religious gathering, 20 percent for dine-in establishments, and 50 percent or skeletal workforce in government offices.
For transportation, only one passenger is allowed for tricycle, 50 percent seating capacity for jeepneys and 50 percent for buses.
The city government strongly discouraged parties but those with paid-up bookings are allowed to a maximum of 20 percent immediate family members. Wakes and funerals will be for a maximum of five days.
Also, tourism sites such as parks and plazas are closed. Swimming in public beaches and pools is also not allowed.
The liquor ban in public places will also take effect while curfew will be implemented from 10 p.m. until 4 a.m. the next day.
Roxas City is the second local government unit in Western Visayas to be placed under MECQ.
First was Iloilo City, which is currently waiting for a response to extend its MECQ status until June 15. It was placed under MECQ status by the national IATF from May 23 to 31, 2021. (PNA)
*****
Credit belongs to : www.pna.gov.ph