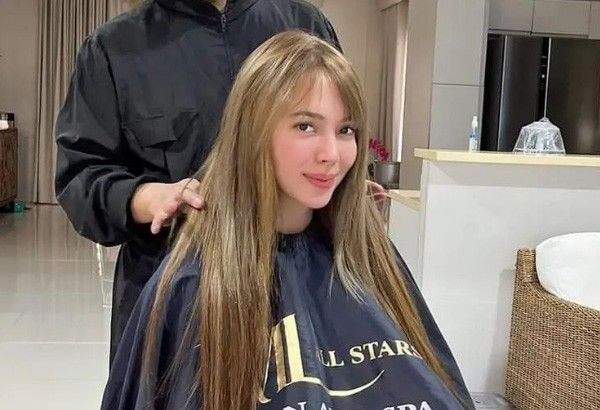 MANILA, Philippines — The temperature is rising, sunny days are calling, and vacation spots are waving!
All of these mean one thing: It's time to plan and curate our summer adventure mood board our way. This will include our summer look goals and summer activities we can do with our loved ones or even by ourselves – to keep worries at bay and just slay!
But first things first. When we think of making the most of summer in a tropical country like the Philippines, we have to make sure that besides our adventure plans, our skin is also primed, pampered, and protected from the sun's harmful rays.
We may be wondering: how does the country's dry and hot ("summer") season affect our skin?
As the weather gets warmer and humidity gets higher, our skin's sebaceous glands produce excess sebum that gets stuck on our skin's surface, causing sweat-induced clogged pores, acne breakouts, and greasiness. But the effects don't end there. Healthline also reports that long exposure to the sun's ultraviolet rays can cause skin redness and sunburns. In addition, the sun can speed up our skin's aging process. The result? We develop wrinkles and fine lines.
The challenge now is, how can we make our summer adventures extra fun and skin-friendly at the same time?
What better way to slay as you color summer your way than by preparing your skincare pals as you pack for your summer adventure. Here are some options:
Warm colors in balayage highlights
Warm hair colors will be hot hair trend this summer.
In an interview with Philstar.com, ML Salon and Spa All Stars owner Mary Letim-Ponce said that Balyage highlights will continue to reign in the hair trends this year with warm colors such as copper, pink, violet and blue.
"Pagdating naman sa pagpili ng haircolor, always Balayage ang nangunguna. But this year, warm and cool colors like Copper Blonde, Brown Tones, Shades of Pink, Violet, Blue are all in," she said.
"And always depende sa pagdadala ng haircolor pa rin ang palagi na sinusunod," she added.
Mary said that celebrity patrons of her salon always ask for hair extensions to become more luscious.
"Usually kapag celebs, nagpapalagay sila ng extension para mag volume at saka maging luscious and mag add ng length para sa mga short hair na gusto mas mahaba. At mas sexy for the summer," she said.
Actress Nathalie Hart said it's important to do hair color in a good salon.
"Its really important kasi at the end of the day need talaga ito. Depending on what you want. But you really have vitamins for your hair. And if you go to the salon, na regular na maalagaan ka, mahalaga na meron magti-treat sayo," she said.
Get your natural essentials ready
Here are some of local brand Human Nature's pro-skin, pro-pocket, and pro-planet skincare pro tips to take every summer adventure to the next level:
Choose genuinely natural sunscreen as chemical ones can absorb UV rays and convert them into heat. Try Human Nature's 100% Natural SafeProtect Sunscreen, which protects the skin from 97% of skin burning UVB rays and blocks harmful UVA rays with its broad-spectrum PA+++ rating. You can also dive into the summer fun knowing that it's one of the few sunscreens in the Philippines that has no oxybenxone and octinoxate that bleach corals. Sunscreens with these harmful chemicals are banned in Hawaii, Palau and Thailand. This is why it's the #1 natural reef-safe sunscreen in the Philippines.
It's also perfect for families as it comes in two variants: SafeProtect SPF30 Sunscreen for adults and SafeProtect SPF30 Sunscreen for babies and kids (both start at P299.75).
Planning the perfect picnic party with your family or hiking trip with your adventure buddies? Don't forget your natural skin-shielding potion. Choose one with protective and moisturizing properties, so you can explore nature and breathe in its pure breeze with peace.
Apply Human Nature's 100% natural, hypoallergenic, DEET-free Skin Shield Lotion or Skin Shield Oil (both start at P104.75) on arms and legs. Keep mosquitoes and other insects away with citronella and keep the skin moisturized with soybean and eucalyptus oils. Want to ease away discomfort from bites or skin irritation? Try also the natural Rescue Balm (starts at P99.75).
If your summer means working out, biking, or playing other sports, it's extra challenging to cool down under the scorching summer heat. With heat stress, our muscles also become prone to cramps. This is why it's important to load your sports kit with a handy cool-down companion. The brand's Cooling Leg & Body Cream (P395) does not have pore-clogging, skin-damaging chemicals like mineral oils, and its SLS/SLES-free Cooling Body Cleanser (starts at P199.75) help revitalize tired muscles with their natural and nourishing formula.
Embarking on a long-haul drive or flight? Keep your hair healthy, well-moisturized, and frizz-free by packing a travel-friendly natural shampoo bar, the brand's Strengthening Shampoo Bar (starts at P159.75). Spritz on instant freshness and give your hair a hydration boost minus the harmful chemicals with the Natural Conditioning Hair Mist (P249.75).
Finally, scrub your stress away with the brand's harmful-chemical-free detoxifying Volcanic Cooling Body Scrub (P499) and indulge in every caress with our Rejuvenating Massage Oil (starts at P229).
KZ Tandingan, Morissette color themselves happy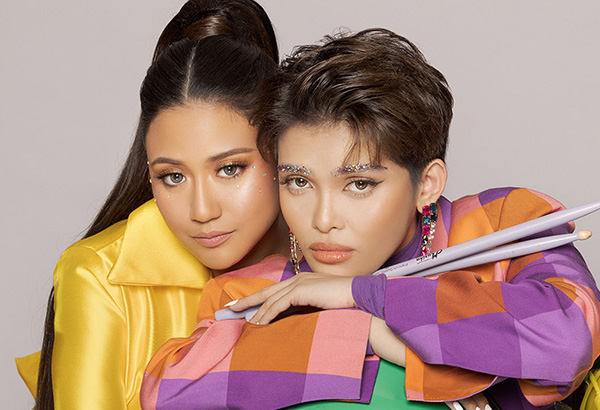 Morissette and KZ Tandingan
Flormar/Released
Makeup, like everything else we wear on our bodies, is a personal choice. It celebrates artistic expression and, if you think about it, the journey of self-discovery. From the excitement of stumbling on a new product and the delight of experimentation to the instant jolt of happy when you see your transformation—it's the way the entire process makes you feel that is profoundly relished. In the same vein, those precious 15 minutes all to yourself is a moment of self-care that shouldn't be dismissed. You see, makeup has been a source of happiness for a lot of us.
Turkish cosmetics brand, Flormar fully embraces the enjoyment one gets from playing around with colors and turning one's face into a work of art for the sake of self-expression. It is known to be one of the fastest growing makeup brands globally in color cosmetics, thriving and expanding in more than 100 countries across the world since it was first launched in Milan in 1970. With high-quality formulas, the latest technologies, and top-notch product innovation, Flormar offers a wide array of makeup, as well as nail polish, in an extensive assortment of hues that we can happily fiddle with and use as tools akin to a painter's kaleidoscopic palette to express ourselves.
"Makeup isn't necessarily good or bad, right or wrong. And in fact, there are fewer rules about buying and using makeup than society makes out. Our goal at Flormar is to stir up that wonderful feeling we get from the ritual of putting on makeup whenever, wherever, however we want and feel like it. Color your way, color yourself happy," urges Angie Goyena, president of ZFace, Inc.
Colors abound at Flormar—colors that spark a variety of emotions. The thing about makeup and nail polish as pick-me-ups is that they give you a more concrete way to echo how you feel, in the same way music potently elevates your mood. On that account, it is a no-brainer why Flormar Philippines signed on award-winning artists, Morissette and KZ Tandingan, household names who perfectly embody the manifesto of the brand.
Both Morissette and KZ have steadily gained global recognition with their sold-out international concerts and performances. They are also known to be experimental with their beauty looks, never afraid to tinker with pigments on their faces and nails, bold and subdued and everything in between—something that Flormar encourages.
"Makeup makes me feel more empowered. It's been a part of me as an artist and performer," Morissette revealed. "Growing up, I've had a lot of hits-and-misses, but I enjoyed—and still enjoy—applying makeup and nail polish every step of the way."
Though Morissette has her own glam team, she admits to still doing some parts of her makeup routine. "I like curling my lashes, applying lipstick, doing the flick of my winged liner—I find it therapeutic!" she added.
For KZ, makeup makes her feel like she can transform into anything. "I have a ton of fun doing it! Creating looks that express my emotions—isn't it wonderful how we can do that with makeup?" she shared.
"Because I move around a lot on stage, I need to have a long-wearing foundation, a non-transfer lipstick, and a brow-setting gel in my kit. And since I'm holding a microphone all the time, nail polish that doesn't chip easily is a must—and I'm glad I can find everything I need from Flormar," she added.
Flormar offers a complete range for the face, eyes, lips, and nails that are all cruelty-free. Choose from primers, concealers, and foundations, to brow products, eyeliners, mascaras, and lipsticks to nail enamels, at friendly price points ranging from P79 to P849! The brand continues to adapt to trends and apply new ideas, technologies, and approaches to improve its products and ensure they remain pleasurable and easy to use. It is internationally certified (ISO 9001, GMB, and Halal) and is strictly audited through Bureau Veritas.
This collaboration of Flomar with the two music giants demonstrates how one art form contributes to another—music and makeup reverberating with creativity and emotions.
"Growing up, I didn't think I possessed beauty, therefore I never imagined I'd get to talk about it. I had a very limited concept of beauty when I was younger, but as time went on, I've come to realize that there are many different types of beauty. We must have the courage to demonstrate the fact that we all possess it and I'm able to do just that with the help of brands like Flormar," KZ revealed.
Enhanced cleanser, gel moisturizer
Summer in the Philippines is something that all Filipinos are looking forward to, it can be the time of the year where we can get to unwind, cool off from the heat and enjoy meaningful travels with family or friends. YOU Beauty shares how we can all enjoy this season without worrying the harmful effects from the sun.
Summer is the season where everyone enjoys their time outdoors, it is when everyone gets to spend time for leisurely adventures, may it be cooling down either at the beach or in the pool, appreciating the highland breeze by trekking on the mountain tops or taking advantage of the sunny weather to learn a new sport.
The dry season undeniably has a great and very noticeable effect on our skin. There is intensified heat that dehydrates our skin, sweat and pollution that clog our pores and cause impurities, and make-up that may further add to our skin's state of distress. It goes without saying that any tropic escapade you embark on requires taking ample steps towards giving your skin all the love and care it needs.
This summer,Y.O.U Beauty lets you enjoy all these activities with confidence, keeping your skin protected and glowing while you enjoy the sunny outdoors! The three main things you need to keep in mind to maintain a healthy summer glow are proper hydration, skin barrier protection, and sunscreen application.
The brand recently launched its Amino LowpH Mousse Cleanser, formulated with 28% Amino Acid Complex, 5x Ceramides and Korean Centella Asiatica for a gentle cleanse and fresher

skin–every pump gives you an extra soothing effect.
Hydration is a vital step you need to take to survive the scorching heat. Staying under the sun during the hot weather can severely dehydrate the skin, which often leads to a damaged skin barrier. Luckily, you can avoid this by applying a moisturizer that can lock-in skin moisture and repair your skin barrier! Applying moisturizer twice a day is highly recommended, and for that, there is Radiance Up! Deep Moisturizing Cream, a gel-like moisturizing cream that has dual-function, infused with Ceramide 1-3-6 and Powerful Brightening System to support skin barrier repair and boost skin radiance.
Skincare and cure
Aveeno's new and improved Skin Relief Lotion and Body Wash use the power of natural ingredients – the brand's oat – combined with science, to provide thoughtfully formulated beneficial and nourishing skincare solutions for sentive skin.
The new formulation comes with 50% more oat, making it ideal for those with sensitive skin. In just a minute, soothing relief can be experienced especially for those with dry and itchy skin. The new formula also keeps skin feeling hydrated and refreshed for up to 72 hours.
RELATED: Scents part of Filipino culture, what scents to use for what occasion — beauty experts
*****
Credit belongs to : www.philstar.com