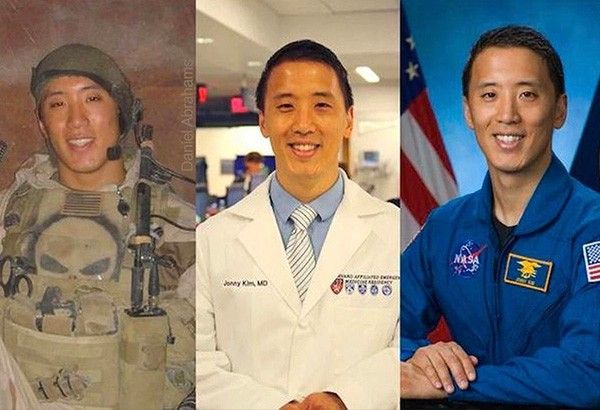 MANILA, Philippines — There are a lot of oppas in K-dramas who often play larger-than-life characters. But there's one Korean oppa who is quite impressive as he does not live in dreamland. Rather, Jonny Kim is a living embodiment of success, drive and determination.
Back in 2021, Jonny went viral for his achievements. "The Art of Prophecy" author Wesley Chu quipped about Kim's achievements.
At 39, Jonny has not stopped from taking courses and degrees that many would find intimidating to pursue.
Apart from being a National Aeronautics and Space Administration (NASA) astronaut, US Navy SEAL (Sea, Air, and Land) and Harvard Medical School-trained doctor, Jonny is now also a Naval Aviator.
The 39-year-old earned his Wings of Gold last March 24 upon completing advanced helicopter training.
My worse nightmare would be if Jonny's mom and mine are friends. https://t.co/eUMPkvBUi8

— Wesley Chu (@wes_chu) October 1, 2021
Like his long list of achievements, Jonny also aced his naval aviation training. He was included in the Commodore's List and graduated with distinction.
Jonny is a "dual designator," which the Navy describes as a rare group of individuals who is both a Navy flight surgeon and a Naval aviator as part of the Aeromedical Dual Designator Program.
"Growing up, I never thought about joining the military, but like a lot of young kids, I dreamt of being a hero and making a positive difference in the world. However, I didn't believe in myself or have the confidence I needed to impact the world in the way I wanted to. Then, at 16, I discovered the SEAL teams and the warrior spirit the teams cultivate. I thought maybe becoming a SEAL could change me to become the strong warrior I desperately wanted to be," Jonny said in an interview.
Born to Korean parents who emigrated to the United States in the 1980s, Jonny went to the Santa Monica High School in California. He graduated with the highest honors, summa cum laude, with a Bachelor of Arts degree in Mathematics from the University of San Diego in 2012.
In 2002, he enlisted with the United States Army and was assigned to SEAL Team 3. He was deployed to the Middle East twice.
In 2016, he earned a Doctor of Medicine degree from the Harvard Medical School.
While studying at Harvard, Jonny applied for the Astronaut Candidacy at NASA upon meeting astronaut-physician Scott E. Parazynski.
He was chosen from a pool of over 18, 300 applicants in June 2017. He began his duty two months later, in August 2017, and graduated from training in January 2020.
In December 2020, NASA chose Jonny to join 17 other astronauts to train for the 2024 Moon landing expedition.
Jonny is a Silver Star awardee, the third-highest military honor for valor in combat in the United States Armed Forces. As of March 2022, Jonny is still considered a SEAL with the rank of lieutenant commander.
RELATED: Space explorers wanted: NASA seeks next generation of astronauts
*****
Credit belongs to : www.philstar.com