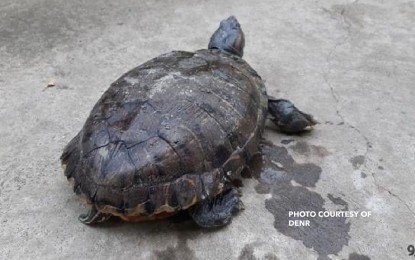 MANILA – The Department of Environment and Natural Resources (DENR) has warned about indiscriminately disposing of turtles commonly called "red-eared sliders", which people raise as pets.
Such turtles are actually invasive alien species (IAS) that threaten the environment and health, noted DENR-National Capital Region (NCR) development management officer Giselle Garcia.
"If people no longer want to look after those turtles, they must surrender these animals to us instead of just releasing them outdoors," she said.
She said the DENR-NCR will turn over the turtles to the Biodiversity Management Bureau's Wildlife Rescue Center for safekeeping.
IAS are "plants, animals, pathogens and other organisms that are non-native to an ecosystem, and which may cause economic or environmental harm or adversely affect human health," said Convention on Biological Diversity, the international legal instrument for biodiversity conservation.
Garcia is not discounting the possibility that the red-eared slider that DENR-NCR reported found earlier in Balisampan Creek in Makati City might be a pet that its owner no longer wants to look after.
"Red-eared sliders grow big, making it difficult to clean aquariums in which people raise them, so some owners may decide to release these turtles instead," she said.
Once released outdoors, however, she said red-eared sliders adapt to the environment, considerably multiply and compete with other species for food and space.
The turtles also eat native species in water bodies until these IAS become dominant while altering the local ecosystem, she continued.
"That endangers our country's native biodiversity," she said.
DENR-NCR likewise said red-eared sliders can be vectors or transmitters of diseases that affect humans and animals.
According to DENR-NCR, such turtles originated in the US and became one of the most popular reptiles in the pet trade.
Over 52 million red-eared sliders have been exported to foreign markets between 1989 and 1997 alone, DENR-NCR said.
The Philippines already disallows importation of such turtles, said Garcia.
She noted such restriction aims to ultimately help rid the country of those turtles.
Garcia said people who want to adopt red-eared sliders that are already in the country and raise these as pets, must first secure DENR's permit to do so.
This is in keeping with RA 9147 (Wildlife Resources Conservation and Protection Act), she said.
"We're still discouraging the public from having red-eared sliders as pets since these species are IAS," she said. (PNA)
*****
Credit belongs to : www.pna.gov.ph