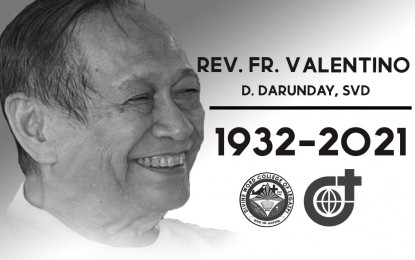 MANILA – Rev. Fr. Valentino D. Darunday, SVD, succumbed to the coronavirus disease 2019 (Covid-19) Monday morning at Lourdes Hospital in Manila.
He would've turned 89 on July 16.
This was disclosed by lawyer Roland Inting, a close friend of the Boholano priest, in a text message to the Philippine News Agency (PNA).
Claire Delmoro, a nurse at Christ the King Seminary on E. Rodriguez Avenue, Quezon City attending to sick priests, told the PNA that Darunday tested positive after a swab test on March 12.
Delmoro said three other SVD priests infected with Covid-19 are also confined at the hospital.
At one time during the two weeks that Darunday was gallantly fighting the disease, he requested a niece to prepare "suman", a sticky rice delicacy, as he was looking forward to eat some when discharged.
Unfortunately, Darunday's condition rapidly deteriorated Sunday night and he died at 1:59 a.m. the following day.
He entered Christ the King Mission Seminary after the Second World War in 1946, made his first profession of vows in 1952 and was ordained in 1958, according to a Facebook post of the Divine Word College (DWC)-Legazpi.
Darunday, a St. Joseph devotee, served as DWC-Legazpi's third president from 1973 to 1979.
From 1979 to 1987, he was at Catholic Trade Manila where he was the Rector of the community and manager of the store of religious goods. He also managed the Catechetical Media Center.
From 1987 until 1996, he was assigned at the St. Therese of the Child Jesus Parish at the University of the Philippines (UP) Los Baños as campus minister and parish priest. He was also the praeses (head) of the nearby Verbum House of Studies, which was the residence of priests who were studying in UP.
He then returned to Catholic Trade Manila but by 2004, health issues forced him to transfer residence to the SVD Retirement House of Villa Cristo Rey in Quezon City.
"Fr. Val is remembered for his jovial personality and booming voice with which he would greet everyone he meets. He is also well remembered in the small chapels in the neighborhood of Catholic Trade Manila for his consistent apostolate of celebrating masses for the simple people," DWC-Legazpi posted. (PNA)
*****
Credit belongs to : www.pna.gov.ph