It's a story that many people, especially with an OFW parent, can relate to. I am referring to Coming Home, directed by Adolfo Alix Jr. From a screenplay by Gina Marissa Tagasa, which is about an OFW (played by Jinggoy Estrada) who is returned to his wife (Sylvia Sanchez) by the nurse-mistress (Ariella "Ara" Arida) that he met at a Qatar hospital.
Line-produced by ALV Films for Maverick Films, the movie marks the first team-up of Sylvia and Jinggoy who is playing an OFW for the second time after Katas ng Saudi (2007) for which he won a FAMAS Best Actor award (the movie won Best Picture). Present during the presscon were Jinggoy and Ariella together with three of the actors playing the children — Julian Estrada, Martin del Rosario and Luis Hontiveros, with Shaira Diaz virtually joining from home and Sylvia from the locked-in set of a Kapamilya project.
Funfare asked them: What of themselves did they see in the story?
Jinggoy (saying he didn't pattern his character after anybody he knew): "Sa dami ng dinaanan ko sa buhay siguro sapat na 'yon para magampanan ko ng mabuti ang role ko. I drew inspiration from my life experiences."
Sylvia: "The same story happened to my own family. My dad is a seaman who got involved with another woman. He never came back. Up to now, my siblings and I can still feel the pain that it caused us and our mom. My role is exactly like my mom. In one scene, I tell my children, 'Kahit gaano kasama ang Tatay ninyo, wala kayong karapatang maging masama sa kanya dahil Tatay n'yo pa rin siya.' If you ask me if I have forgiven my father, yes, I have forgiven him a long time ago, in 1992 pa." (Asked if she would take back her husband if, supposing the same thing happened to her in real life, Sylvia said, "Yes, because I love him very much.").
Shaira: "I share the same experience. My dad is also a seaman. Same story with my family, except the part na isinoli ang Tatay." (Asked if she's hoping that this Christmas her father would show up, Shaira said, "Honestly, I'm not expecting it; ayokong ipalit. It's up to my dad. Besides, the situation is very complicated. I can't decide by myself, the whole family should discuss it… katanggap-tanggap pa ba siya, mapapatawad pa ba siya?").
Julian (Jinggoy's own son): "I play the quiet son and that's me in real life, tahimik. All I can say is that my scenes with my dad were intense because I felt na baka magalit siya if I committed a mistake."
Martin: "I can't imagine it happening to my family. We are very close. But I think all families go through all kinds of trials, every member has his/her own problem. But at the end of the day, the members will realize na ang pamilya ay ang pinaka-importante sa lahat."
Luis: "I drew mostly from research. I want people to watch the movie because there's a big revelation in the end. May malaking pagbabago."
Ariella (on who her "peg" was): "Wala akong kilala na naging mistress. All I did was watch movies featuring mistresses. But I do sympathize with Mercy, my character, because she would do anything for her family, para maitaguyod ang pamilya niya."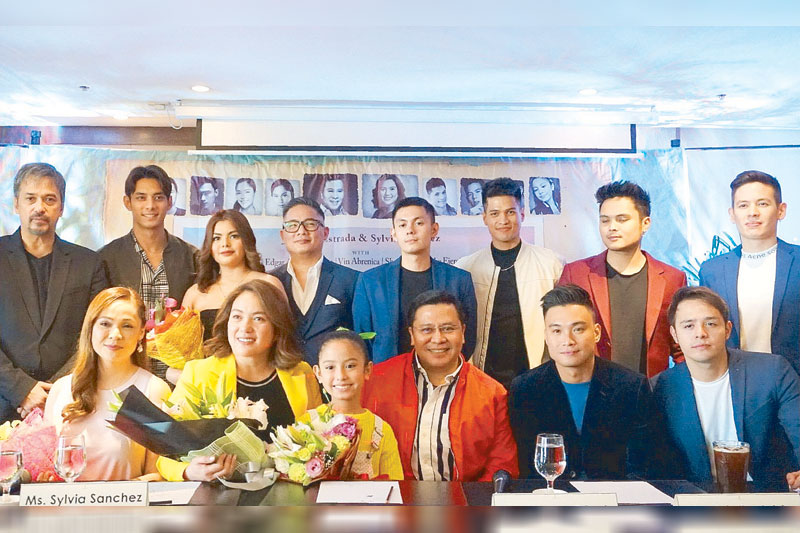 All accounted for: Jinggoy Estrada (red) and Sylvia Sanchez (in yellow) with the other stars of the family drama
Asked if they are expecting any award, Jinggoy and Sylvia said no.
Said Jinggoy, "When I do a movie, I concentrate on my performance and I don't think of winning an award."
Sylvia agreed, "If you think of winning, it can distract from your performance," adding how Jinggoy surprised her. "He's known for action roles but in this movie, ibang-iba siya. Nagulat ako! I believe that if one is gifted, lalabas at lalabas kahit paano. And that's what Jinggoy showed in this movie."
(E-mail reactions at rickylophilstar@gmail.com. For more updates, photos and videos, visit www.philstar.com/funfare or follow me on Instagram @therealrickylo.)
Credits belong to : www.philstar.com