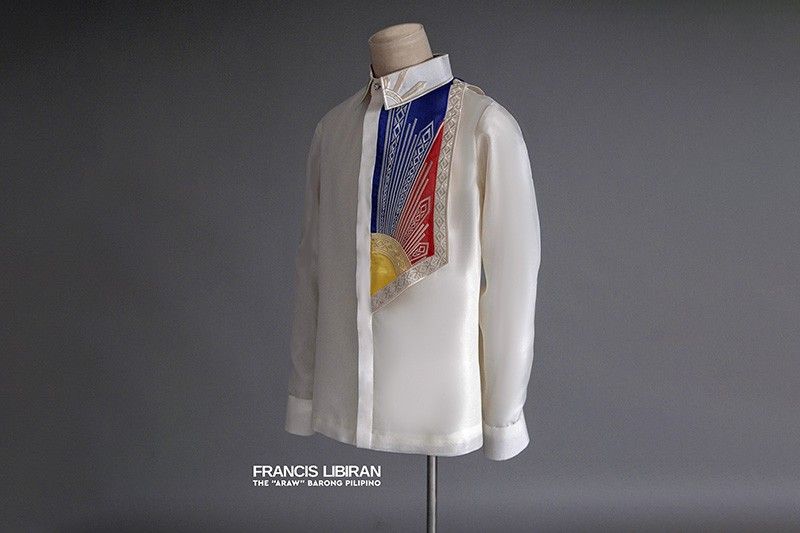 MANILA, Philippines — The Barong Pilipino is the official national outfit of the Philippines. It is a symbol of Philippine heritage and nationalism. Once again, Filipino fashion icon Francis Libiran has taken this piece of highly respected clothing and woven some magic into it when he recently designed the "Araw" Barong Pilipino for Team Philippines to wear for the opening ceremony of the 32nd Southeast Asian Games (SEA Games) taking place today, May 5, in Phnom Penh, Cambodia.
Showing liberty, peace and valor, "Araw" is made of Philippine jusi fabric with embroidery using fine threads and materials. It features the art of the Philippine flag, with hues of blue that overlap a small bed of red. The focal point of the entire Barong Pilipino is the intricately embroidered sun or "araw" and its rays stretching over the sash and collar.
Libiran's love affair with the SEA Games began in 2019 when he was appointed by the Philippine Sports Commission (PSC) to design the official parade uniforms for more than 2,000 athletes and officials for the 30th SEA Games being hosted by the Philippines. He created the iconic "Flag" barong for the event. It received critical acclaim.
In 2022, he was commissioned to be the official designer for the parade uniforms of Team Philippines for the 31st SEA Games that took place in Hanoi, Vietnam. He created the "Agila" barong, which featured intricate art deco embroidery of the Philippine eagle.
Being chosen to design this year's SEA Games barong was a natural consequence of Libiran's impressive previous outputs. With over two decades in the fashion design industry, Libiran is one of the most sought-after fashion designers in the Philippines and has become a favorite among celebrities in Hollywood and the Middle East. He is best known for his signature art deco design details, which are a staple in all his artistic works.
RELATED: Belle Mariano goes full circle from flower girl to prom queen in Francis Libiran creations
*****
Credit belongs to : www.philstar.com