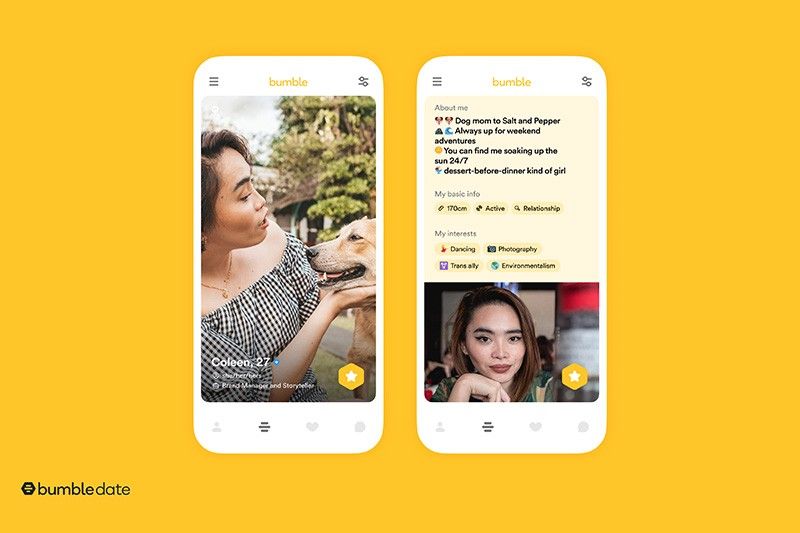 MANILA, Philippines — These days, it is not enough that a man and a woman seem to be compatible and feel a certain mutual attraction to each other for them to start dating and hope to forge a long-lasting romantic relationship.
They need to share a strong passion and sense of environmentalism, as well, and this is non-negotiable. According to a new survey by Bumble, touted to be the women first dating app, it is important for seven out of 10 Filipino singles to live an environmentally sustainable lifestyle and want their partners to be the same.
With 78% of Millennials and 80% of Gen Zs consciously trying to reduce their environmental impact, single Filipinos are making changes to their lifestyle one green act at a time, and this includes their dating and love lives.
Going green is now being seen as a "Green Flag," which is a positive signal that gives bigger chances for the relationship to work and to finally end up as a perfect match. More and more Gen Zs and Millennials are becoming aware of the importance of protecting and taking care of the environment and the only way to do that is to use eco-friendly products and to adopt eco-friendly practices in their day-to-day activities. According to Bumble's most recent survey, 94% of Filipino singles lead an environmentally sustainable lifestyle and expect the same from a potential partner. This new trend is called Green Dating.
"For Gen Z and Millennials, conversations about the environment are front and center and, over the past couple of years, we've seen this impact dating lives more and more. On Bumble, people can connect over shared lifestyles, values and beliefs. To show their interest in an eco-conscious lifestyle and find others that feel the same way, Filipinos on Bumble can add the 'environmentalism' badge to their profile or also select badges for 'vegetarian' or 'vegan' diets. Last year, we saw an increase in the addition of the 'environmentalism' values badge to Bumble profiles in the Philippines," says Lucille McCart, Bumble's APAC communications director.
So, if you're ready for Green Dating, here are some tips on what you can do together:
1. Bring your date to a local weekend market in Makati. You will be checking off your shopping list while at the same time getting to know more about your date.
2. Cook meals together using locally sourced organic ingredients. Low-key dates are the way to go in 2023, and why not lower your carbon footprint by supporting local farmers while you're at it?
3. Participate in a beach clean-up activity. Then you'll really know if your date shares the same environmental values.
4. Take a relaxing walk in a public park. There are about 100 parks in Metro Manila these days, and most of them are pet-friendly.
5. Be proud to be an environmentalist. Wear an 'environmentalism' badge on your Bumble dating profile to attract like-minded potential partners and eliminate the opposite.
RELATED: 'I had to make sure it was love, not lust': Aga Muhlach reveals why he married Charlene Gonzalez
*****
Credit belongs to : www.philstar.com