The making of the Netflix musical comedy The Prom is a true showbiz tale worth telling, especially after how it struggled but succeeded with its completion amid COVID-19.
Adapted from the Tony award-winning musical of the same title, The Prom tells the story of disgraced stage stars Dee Dee Allen (Meryl Streep) and Barry Glickman (James Corden) who, after suffering an epic flop with their latest Broadway production, tried to redeem their reputations by dashing to small-town Indiana to help a high school student Emma Nolan (newcomer Jo Ellen Pellman).
Emma is banned from attending the prom with her girlfriend who also happens to be not out. Seeing her plight as the "perfect cause" to activate their celebrity activism at the same time repair their public image, Dee Dee and Barry hit the road with a pair of actors looking for a career boost as well — forever chorus girl Angie Dickinson (Nicole Kidman) and Juilliard graduate-slash-bartender Trent Oliver (Andrew Rannells).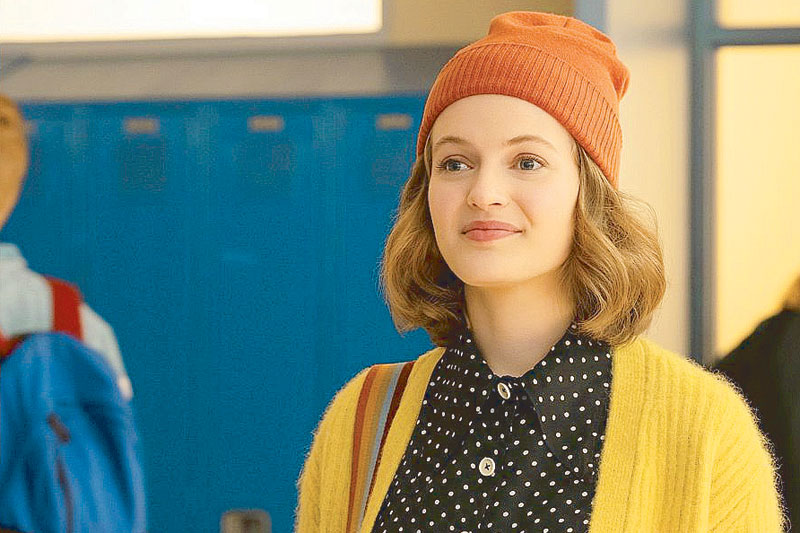 Showbiz newcomer Jo Ellen Pellman as Emma in her fi rst-ever movie.
The film is funny, glitzy and feel-good and, as you would expect from its director Ryan Murphy of Glee fame and an ensemble cast of this caliber, pure showmanship.
But getting the film done faced major bumps as Ryan recalled in a recent virtual presscon that just when they had three days left to shoot, and these were the most important scenes, production was forced to shut down because of the pandemic.
"We couldn't finish the movie. We went into quarantine for two months, but we thought it was important for the movie to come out for the holidays," he said.
They had to work with a team of epidemiologists to draw up a back-to-shooting plan that took account of new-normal protocols. "All of these things were incredibly difficult, but joyful and it was a showbiz tale. It reminded me of old classic musicals, like Singin' In the Rain where part of that DNA of those musicals is to roll up your sleeves, figure it out, and put on a show. And that's what we did," Ryan said.
During a Zoom chat with The Philippine STAR and other press members, stars Jo Ellen Pelman, James Corden and Andrew Rannells also looked back on this experience.
Jo Ellen said, "I will always remember what would be our last day of filming before we got shut down and then we didn't start back up again until July… and we were one of the first productions to start back up in Los Angeles, and so the safety protocols that we had were so strict, they were so researched.
"Personally, I felt so safe, but it was a little scary because like no one had ever worked like this before. And we were all learning the ropes but it started from Ryan Murphy at the top who made sure that we had every single safety protocol in place so that everyone on the crew, not just the actors, but everyone felt safe doing their job."
Meanwhile, here are more excerpts from our interview with James, best known as a late-night talk-show host but unknown to many is a Tony winner in his own right; Broadway royalty Andrew; and newbie Jo Ellen, whose performance blew away her more seasoned co-stars.
Said James, "I remember saying to Jo Ellen, I remember saying, 'I'm gonna spend the rest of my life telling people that I was in Jo Ellen Pellman's first-ever film.'"
How are you doing this quarantine period?
Andrew: "I feel like I've been reaching out to a lot of folks that I haven't normally spoken to, or with any sort of regular basis, which I think a lot of people are doing like I strangely talk to my family much more than I used to. I've reached out to friends that I haven't talked to him in a long time. So, in an odd way, you know, as much as we don't actually get to see each other, it has made me reach out to folks that I maybe haven't talked to on a regular basis and connected with folks that I haven't seen in a while."
Jo Ellen: "When we sat down filming, I immediately flew back to my home in Cincinnati, Ohio with my mom and I have been here ever since. And it's probably the longest time I've spent with my mom since I was in high school. And so I've really just been enjoying spending time with family, and like strengthening our relationship and I also rescued a cat. During this time, the cat in our neighborhood has been, like, truly getting me through this difficult time. I'm very thankful for family and for cats."
James: "I think when it first happened, the sort of feeling locked down, we were also concerned with all of the things that we couldn't do. And then, it was just sort of a matter of changing my mindset really. I know what I can't do but what can I do, and what you realize is well, what you can do is just be reminded of all the blessiangs that certainly, I personally feel like I've got to count, you know, and spending time with my family and I've really found it a very sort of optimistic time oddly.
"You know, if I think about when I would call friends of mine at home (in the past), they'd be like, how you doing, yeah, I'm great, you, great, yeah. Whereas now, it feels like there's just so much more honesty in the air. I'll call friends and say, 'How are you doing?' They'll go, 'Do you know what I'm struggling?' And that I think is a monumental leap forward for humankind, to just be open with each other and be open enough to say I'm finding this really difficult. And I hope that's something that remains post all of this. I really do!"
The Prom also takes a satirical look at showbiz, was it fun or difficult to poke fun at your own industry?
Andrew: "Well, I think it's a little bit of a cautionary tale, as an actor to play a self-absorbed actor. It's a good reminder to not be self-absorbed. But it was very fun and what I loved most about when I saw the show on Broadway and in getting to be a part of this was that there are a lot of very small sort of inside jokes about Broadway, that I think are very funny even if you don't know exactly what they're talking about but it is a real inside baseball scripts, you know, of some very specific, weird jokes for us theater geeks out there. So it was really a lot of fun. You know, having come from the theater to get to play these people."
Jo Ellen: "And I would say that even though, the Broadway troupe does come to Indiana with a sort of self-centered motives, what I just love about the story is they actually do become Emma's support system and they are the reason that Emma was able to find her voice and speak out in the way that's authentic to her. And so even though they might, you know, be a little selfish with their motives like they really do help her and maybe comfort her by the end."
James: "Well, sometimes I would think, 'Ah, this is too much, this level of sort of ego and narcissism.' And then I look to Andrew and realize that actually we were just under playing, you know (laughs). No, I don't think there's a performer on earth that doesn't have a bit of ego and a tiny bit of narcissism. And it was really, really good for them, particularly watching Meryl, who is just so far away from being a diva. Watching her kind of pull on all of the massive stories that she's got from her incredible career, that was the most thrilling part about all of it."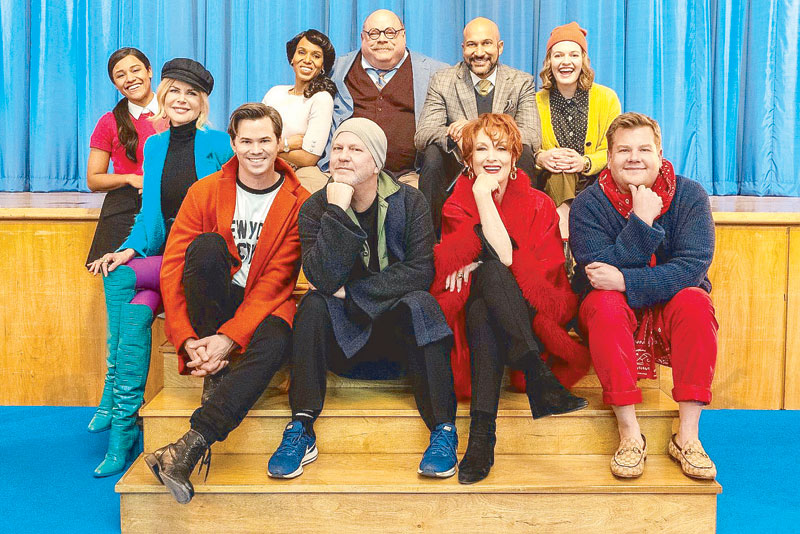 Meryl, Nicole, Andrew, James and Jo Ellen with the rest of the cast of the musical comedy — Riana Debose, Kerry Washington, Kevin Chamberlin and Keegan-Michael Key — and of course, director Ryan Murphy (front row, center).
Photos courtesy of Netflix
Can you share with us your own prom experience? Were your memories good or bad?
Andrew: "I wish that I had the prom that Emma had. I did not. I went to an all-boys Catholic school in the '90s, and so yeah, taking a boy to the prom was not really an option for me. But it was very exciting to get to film that actual prom sequence because we have this great group of dancers and background actors, a lot of whom were queer youth that Ryan had invited to come in and join that scene.
"It really did feel like a celebratory experience and I think, you know, it took many days obviously to film that, but I would say every day, when those kids were there and we were all there together, it really did feel like we were doing, we were celebrating in a way, and that the joy that was in that room when we were filming, it was palpable. So, hopefully that comes across in the film but it was, it was certainly the prom that I wish I had."
Jo Ellen: "I am right there with Andrew, even though I went to a pretty progressive high school where you could take whoever you wanted, you know, I still wish I could have had that wonderful, celebratory prom that we have at the end (of the film). I remember for my prom at least like I loved what I wore. I wore this red off the shoulder dress that I had rented and these turquoise earrings and I went with friends and just like, danced the night away. But if I could have had that level of inclusivity and celebration at my prom that would have meant the world to me and so I'm really excited that we can you know bring this experience to kids across the world."
James: "We didn't have proms in Britain. We had like, a ship disco. We've got sort of a disco, but you wouldn't really ask someone to go with you. You just go with all our friends and we'd kind of drink cider and someone would inevitably break down too early. But then we had a great time."
The Prom is now streaming on Netflix.
Credits belong to : www.philstar.com