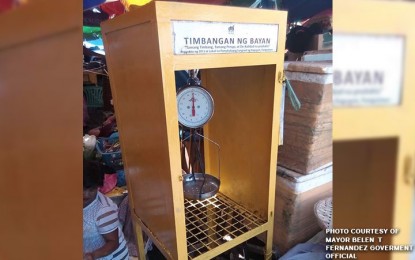 MANILA – Timbangan ng Bayan centers would soon be established in all public and private markets nationwide as a measure proposing such has been overwhelmingly approved on third and final reading at the House of Representatives.
During Monday's plenary session, the chamber approved with 175 affirmative votes House Bill 3255, which provides for the establishment of a Timbangan ng Bayan Center in all markets nationwide to protect consumers from deceptive and unfair sales acts and practices.
Timbangan ng Bayan Centers will provide consumers with an effective means of checking the accuracy of the weight and the quantity of the goods that they are buying.
Under the bill, a Timbangan ng Bayan Center shall be established in public and private markets, including flea markets, where instruments for determining weights and measures shall be open and accessible to anyone who wants to accurately weigh and measure the products they purchase.
The amount necessary for the initial implementation of the proposed law would be charged against the national tax allotment and other funds of the local government units (LGUs) concerned.
In her sponsorship speech, Bulacan Rep. Lorna Silverio, author of the bill, said the proposed Timbangan ng Bayan centers would enhance transparency for consumers and accountability of unscrupulous traders.
The bill provides that the safekeeping and maintenance of said instruments shall be under the control and supervision of the market supervisors.
The market supervisors shall keep a record of every product found to be underweight or substandard and identify the erring establishment and its owner or manager. (PNA)
*****
Credit belongs to : www.pna.gov.ph