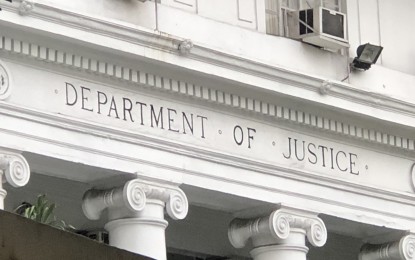 MANILA – It's about time to amend a 29-year-old law that compensates victims of heinous crimes and those who have been wrongfully convicted.
Department of Justice (DOJ) Secretary Menardo Guevarra told reporters via text message on Monday that his agency supports the amendment to Republic Act (RA) No. 7309, the law that created the Board of Claims (BOC) for victims of unjust imprisonment or detention and victims of violent crimes.
"The DOJ will give its full support for the amendment of RA 7309 to increase the amount of compensation," Guevarra said. "The law was enacted in 1992 and the value of the award has not kept up with the changing times."
The House of Representatives will consolidate bills amending RA 7309, filed by Jesus Suntay (4th District, Quezon City), Manuel Cabochan (Magdalo party-list), Luis Campos (2nd District, Makati), Evelina Escudero (1st District, Sorsogon), and Mercedes Cagas (Lone District, Davao del Sur).
The lawmakers pointed out a decrease in the PHP18.66 million paid by the Board of Claims in 2018 to PHP7.80 million in 2019 due to tedious processes that discourage applicants who would otherwise be qualified for compensation.
Among the proposed changes is to increase the current PHP1,000, which a wrongfully convicted individual is entitled to every month, to as much as PHP5,000.
"The amount provided in the law is not relevant considering the present economic conditions," Suntay explained in House Bill No. 5347.
Under the law, among those who may file for compensation are those unjustly accused, convicted and imprisoned but subsequently released by virtue of a judgment of acquittal; unjustly detained and released without being charged; victims of arbitrary or illegal detention by the authorities; and victims of violent crimes such as rape and offenses committed with malice which resulted in death or serious physical and/or psychological injuries, permanent incapacity or disability, insanity, abortion, serious trauma, or committed with torture, cruelty or barbarity.
In case of death or incapacity of any person entitled to any award, the claim may be filed by the heirs in the following order: by the surviving spouse, children, natural parents, and siblings.
Any person entitled to compensation must file within six months after being released from imprisonment or detention, or from the date the victim suffered damage or injury, Otherwise, the victim is deemed to have waived the claim.
Aside from the award ceiling of PH1,000 per month of detention for victims of unjust imprisonment or detention, in all other cases, the maximum amount for which the Board may approve a claim does not exceed P10,000. (PNA)
*****
Credit belongs to : www.pna.gov.ph