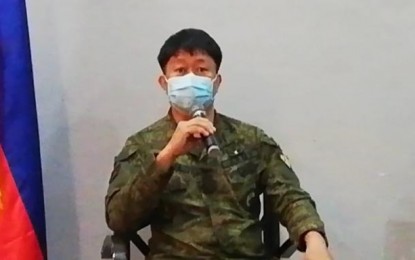 ILOILO CITY – Information from residents has preempted the planned harassment of the Communist Party of the Philippines –New People's Army (CPP-NPA) against teams for the Community Support Program (CSP) in the mountainous village of Miagao, Iloilo on May 15.
Tips from the locals were also used by the military to go after the rebels as their May 15 combat operations led to a 30-minute firefight with the terrorist group, said Colonel Joel Benedict G. Batara, commanding officer of the 61 Infantry Battalion (61IB) of the Philippine Army, in a phone interview on Friday.
A government soldier was wounded when hit by shrapnel from the antipersonnel landmine (APL) laid down by the NPA in the area during the encounter. The soldier is now in stable condition.
"There was community information on the presence of the CPP-NPA on the border of Barangay Alimodias, Miagao (in Iloilo), and Sibalom, Antique. We respond to information because it seems that the group will conduct harassment against our CSP teams," Batara said.
"There was no ambush. It was an encounter that we had initiated," Batara said in a phone interview to deny the May 17 statement released by the Ilaya Kanaway, Mt. Napulak Command of the Southern Front, Komiteng Rehiyon-Panay of the NPA that it was an ambush and not an operation initiated by government forces.
He added that it is also part of the NPA propaganda to peddle lies when it claimed that there were 10 casualties on the part of government soldiers.
"That's always part of their propaganda, we never hide if there are casualties," he said, adding that the government gives a hero's burial to soldiers killed in the line of duty.
It was also an open admission on the part of the terrorist group when it included in the statement that they used APL against the government troops, Batara said.
"This is a blatant violation of the IHL (International Humanitarian Law)- the making use of APLs. They have been doing it for many decades now, in Tubungan, Leon. We have been capturing a lot of APLs from them during encounters," he added.
The NPAs used to have mass support in the barangay but now are denouncing the presence of the terrorist group and helping the military by providing information, especially to the CSP teams whenever they monitor rebel presence in their area.
CSP is the military's primary tool in clearing the barangays of the influence of the insurgents.
The Communist Party of the Philippines-New People's Army (CPP-NPA), which has been waging a five-decade armed struggle against the government, is listed as a terrorist organization by the United States, the European Union, the United Kingdom, Australia, Canada, New Zealand, and the Philippines. (PNA)
*****
Credit belongs to : www.pna.gov.ph