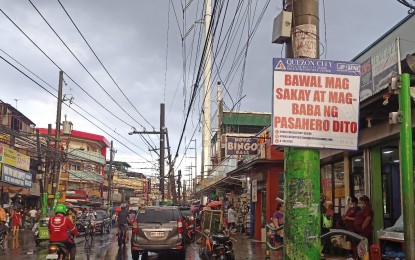 MANILA – Heeding the long-time and persistent clamor of both residents and motorists, the Manila Electric Company (Meralco) has begun relocating the power posts and cables encroaching or dangling on a portion of Gen. Luis Street in Barangay Novaliches Proper, Quezon City.
The transfer of the posts and cables that obstruct the flow of vehicular traffic in the area daily, especially during rush hour, is being undertaken in coordination with officials of Barangay Novaliches Proper, headed by Chairwoman Asuncion M. Visaya.
It is also in compliance with the road-clearing operations launched last year by the Quezon City government under Mayor Joy G. Belmonte, as ordered by President Rodrigo R. Duterte through the Department of the Interior and Local Government (DILG).
Meralco has already installed bigger and taller concrete posts measuring about 80 feet along the Gen. Luis Street perimeter of the Shop and Ride compound between Buenamar Avenue and SaveMore Supermarket.
The astray electric posts and unsightly dangling wires have been the subject of numerous complaints from motorists, pedestrians, and residents even during the administration of former mayor Herbert M. Bautista.
The residents criticized officials of the Bautista administration for allowing the widening of a portion of Gen. Luis Street from Susano Road to SaveMore Gen. Luis without requiring the contractor to remove or relocate first the electric post.
As a result, motorists could not use the widened portion of the road because of the obstructing electric posts and cables.
Oftentimes, the residents said, the empty spaces in between the astray electric posts were just used for parking by recalcitrant vehicle owners.
Gen. Luis Street, formerly called the old Novaliches-Polo Road, leads to the western portion of North Caloocan and the North Luzon Expressway (NLEx), as well as MacArthur Highway in Barangay Malinta, Valenzuela City.
Earlier, the Belmonte administration gave priority to the clearing of the Novaliches sidewalks occupied by vendors, obstructing the flow of both pedestrians and vehicles.
This was carried out through the joint efforts of the QC Department of Public Order and Safety, Novaliches District Center headed by Action Officer William R. Bawag, Task Force Disiplina under former Councilor Rannie Ludovica, and the barangay officials of Novaliches Proper, Sta. Monica, Gulod, Nagkaisang Nayon, Capri, San Agustin, Kaligayahan, Pasong Putik, Greater Lagro, North Fairview, Greater Fairview, Sta. Lucia, San Bartolome, and Bagbag.
The old Novaliches Plaza, the vicinity of the Bonifacio monument and the Novaliches Public Library were likewise cleared of illegal vendors who had occupied the areas for almost a decade. (PNA)
*****
Credit belongs to : www.pna.gov.ph